Air Fryer Ham and Cheese is the perfect easy lunch or dinner idea. Lightly toasted bread, warm ham, melted cheese and your favorite sauce!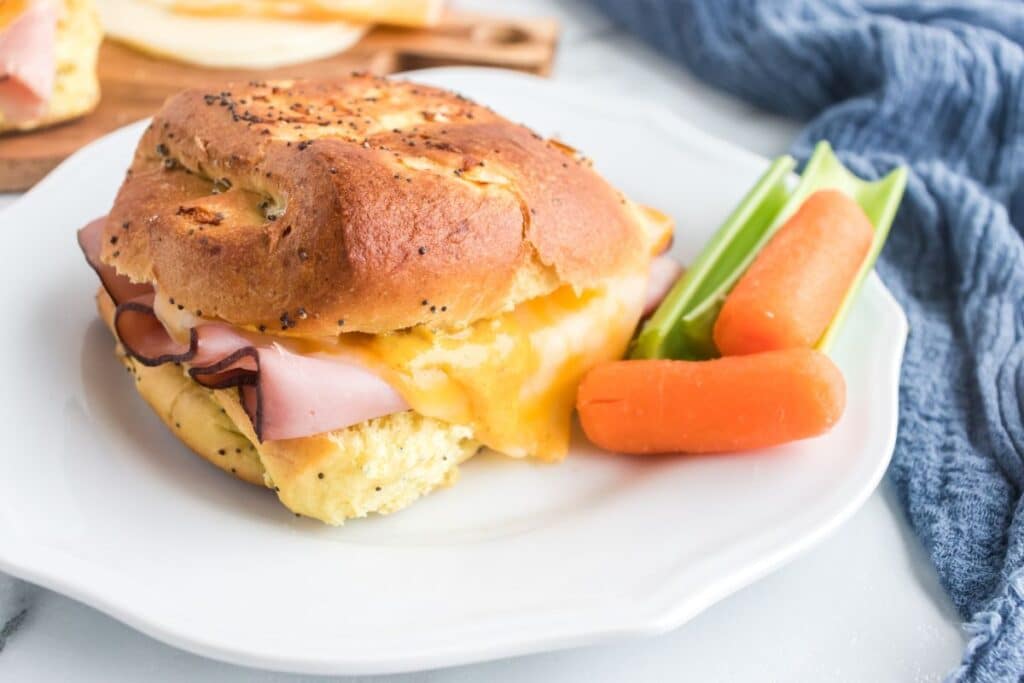 Air Fryer Ham and Cheese
Whether you are looking for a new way to enjoy ham and cheese or simply want to try out your air fryer, this recipe is sure to become a favorite in your kitchen.
So, get ready to indulge in a mouthwatering combination of salty ham and gooey melted cheese that will satisfy your cravings and leave you feeling satisfied!
If you are wanting to elevate your sandwich game, be sure to try out our Buffalo Ranch Chicken Sandwich, Bacon, Egg, and Cheese Sandwich, BLT Sandwich, and Air Fryer Reuben Sandwich.
Why You'll Love This Ham and Cheese Melt
Super simple
15-minute recipe
Customizable
Delicious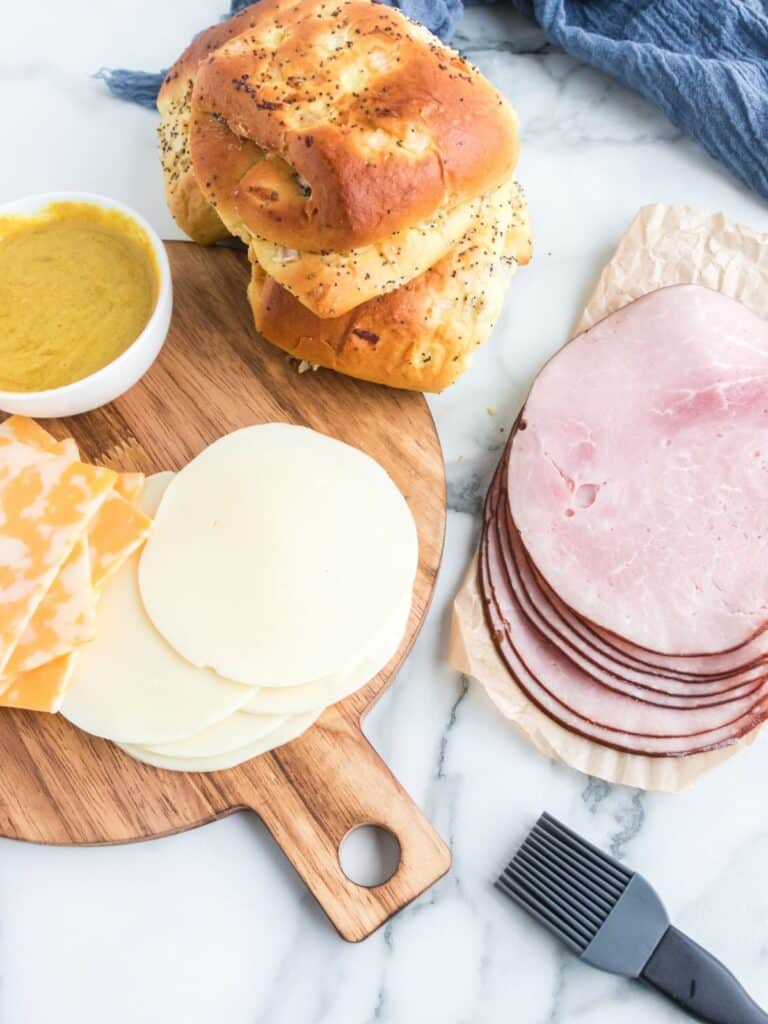 How To Make Hot Ham and Cheese In The Air Fryer
Step 1: Prep the sandwiches
Take the top bun and spread honey mustard (or your preferred sauce) over it.
Layer three slices of ham, one slice of Colby Jack, and one slice of Provolone on each bun.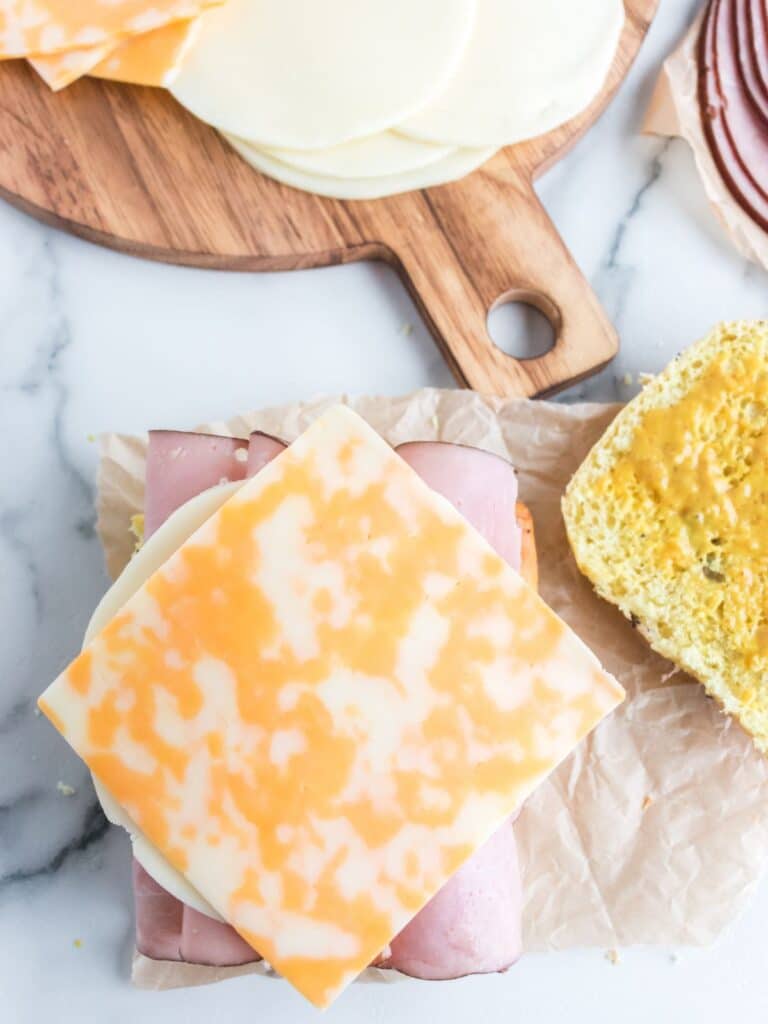 Step 2: Air fry sandwiches
Put the prepared sandwiches in the basket of your air fryer.
Set the temperature to 370°F and cook for 8-10 minutes or until the bread is toasted to your liking and the ham and cheese are heated through.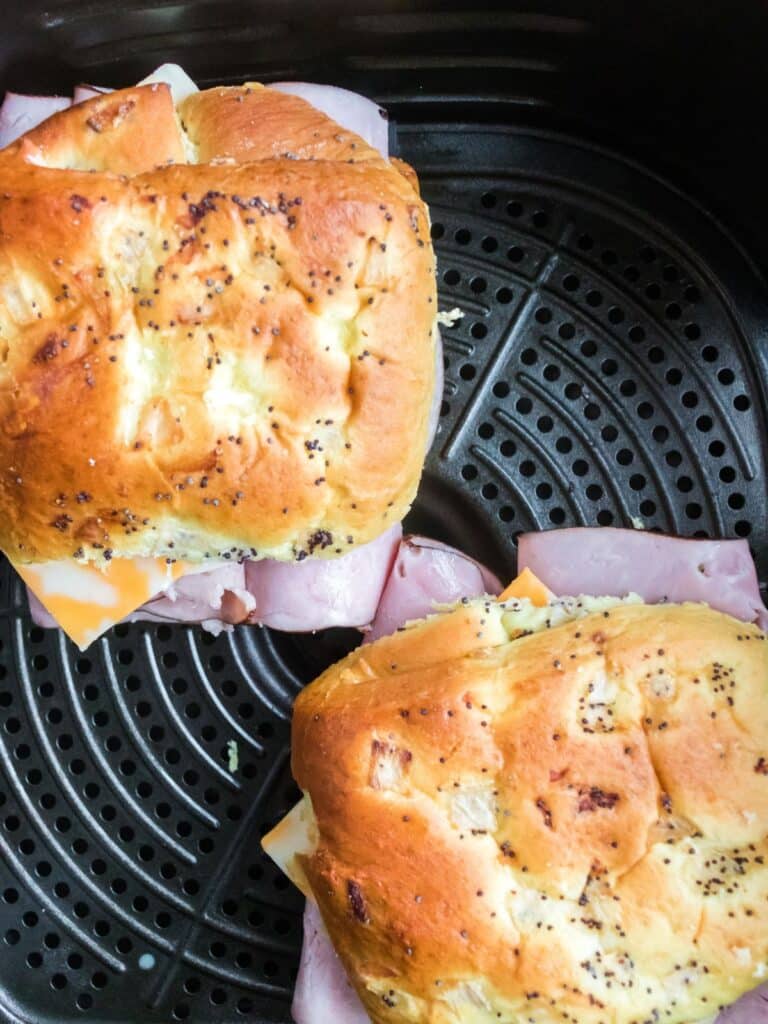 Tips & Tricks
Use thin slices of ham and cheese: Thin slices of ham and cheese cook faster and more evenly in an air fryer than thicker slices. Plus, they'll get crispy and melt better.
Don't overcrowd the air fryer basket: Be sure to leave enough space between the sandwiches in the air fryer basket so that the hot air can circulate freely around them. Overcrowding can cause the sandwiches to cook unevenly and not get as crispy.
Adjust the cooking time and temperature: Depending on the size and thickness of your bread and the type of cheese you're using, you may need to adjust the cooking time and temperature to achieve the desired level of toastiness and melting.
Experiment with different sauces and toppings: While honey mustard is a classic choice for ham and cheese sandwiches, feel free to experiment with other sauces and toppings, such as mayonnaise, Dijon mustard, pickles, or tomatoes, to create your perfect sandwich.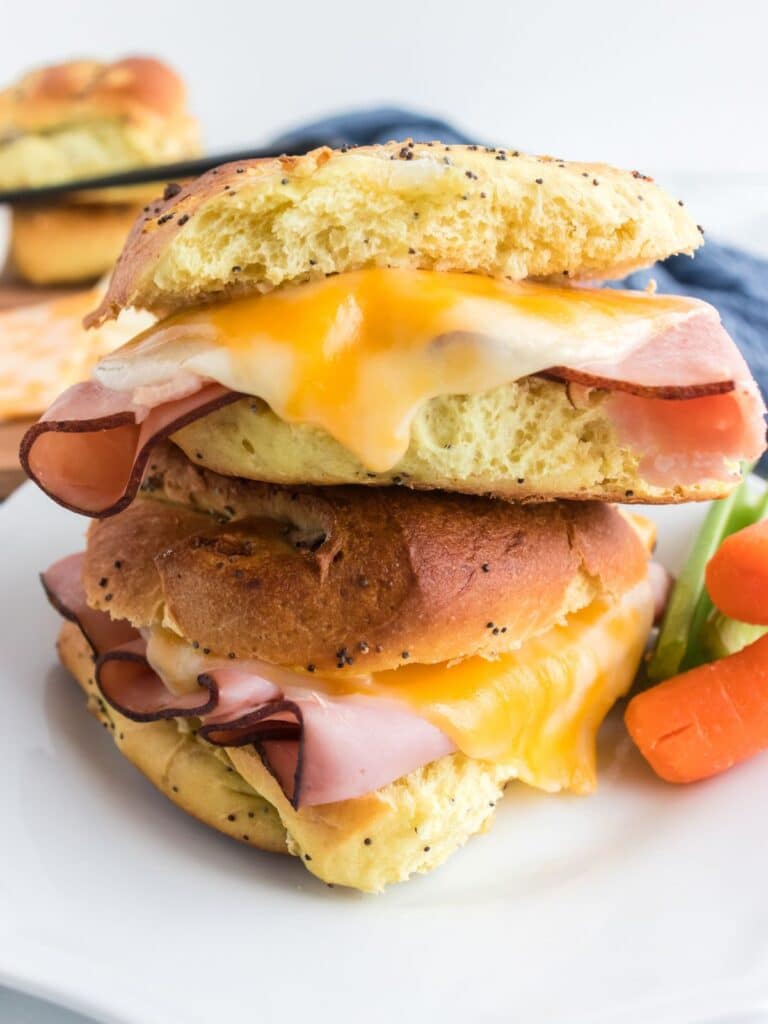 FAQs
Can I make this recipe in the oven?
Yes, you will need to follow all of the steps except wrap each sandwich in aluminum foil and bake in the oven at 370 degrees F. for 25-30 minutes or until hot.
How do you store leftovers?
Allow the sandwich to cool to room temperature.
Wrap the sandwich tightly in plastic wrap or aluminum foil to prevent it from drying out or absorbing any odors in the refrigerator.
Alternatively, you can store the sandwich in an airtight container or a resealable plastic bag.
Label the container or bag with the date and store it in the refrigerator for up to three days.
To reheat the sandwich, place it in a preheated toaster oven or air fryer for a few minutes until heated through and the cheese is melted.
What kind of bread should I use?
Sourdough: Sourdough bread has a sturdy texture that can withstand the heat of grilling or toasting, and its tangy flavor pairs well with the salty ham and rich cheese.
Ciabatta: This Italian bread has a chewy texture and a crispy crust. It also has plenty of nooks and crannies to hold the melted cheese.
French bread: With its crusty exterior and soft, chewy interior, French bread is another great option for making a ham and cheese melt.
Rye bread: If you prefer a heartier, more flavorful bread, rye bread is a good choice. Its tangy, slightly sour taste complements the salty ham and cheese.
Whole wheat bread: For a healthier option, whole wheat bread is a good choice for a ham and cheese melt. Its nutty flavor and dense texture can hold up well to the melted cheese and ham.
Onion and Poppy Seed Rolls: This is what we like to use because they are super flavorful!
More Easy Recipes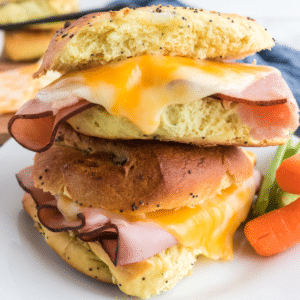 Ham and Cheese Melt
Air Fryer Ham and Cheese is the perfect easy lunch or dinner idea. Lightly toasted bread, warm ham, melted cheese and your favorite sauce!
Print
Pin
Ingredients
6

slices

ham

any variety

2

slices

colby jack cheese

2

slices

provolone cheese

2

tablespoons

honey mustard

or your favorite sauce

2

buns

any variety
Instructions
Add honey mustard (or sauce of your choice) to the top bun.

Add 3 slices of ham, 1 slice of colby jack, and 1 slice of provolone to each bun.

Place sandwiches in your air fryer basket. Cook at 370 for 8-10 minutes or until bread is the toastiness you desire and ham and cheese are hot.
Notes
Air fryers vary, so remove your sandwiches once they reach the desired doneness. 
Add your favorite sauce. We used honey mustard, but aioli sauce, mayo, ranch, or anything else you like will work.
Nutrition
Serving:
2
g
|
Calories:
541
kcal
|
Carbohydrates:
31
g
|
Protein:
38
g
|
Fat:
30
g
|
Saturated Fat:
14
g
|
Polyunsaturated Fat:
2
g
|
Monounsaturated Fat:
11
g
|
Cholesterol:
92
mg
|
Sodium:
1559
mg
|
Potassium:
302
mg
|
Fiber:
1
g
|
Sugar:
8
g
|
Vitamin A:
446
IU
|
Calcium:
491
mg
|
Iron:
3
mg