Get the crispy, juicy goodness of Southern-style fried chicken legs with this easy recipe. Perfectly seasoned and fried to perfection, these golden-brown chicken drumsticks are a classic and satisfying main dish that pairs well with a variety of sides.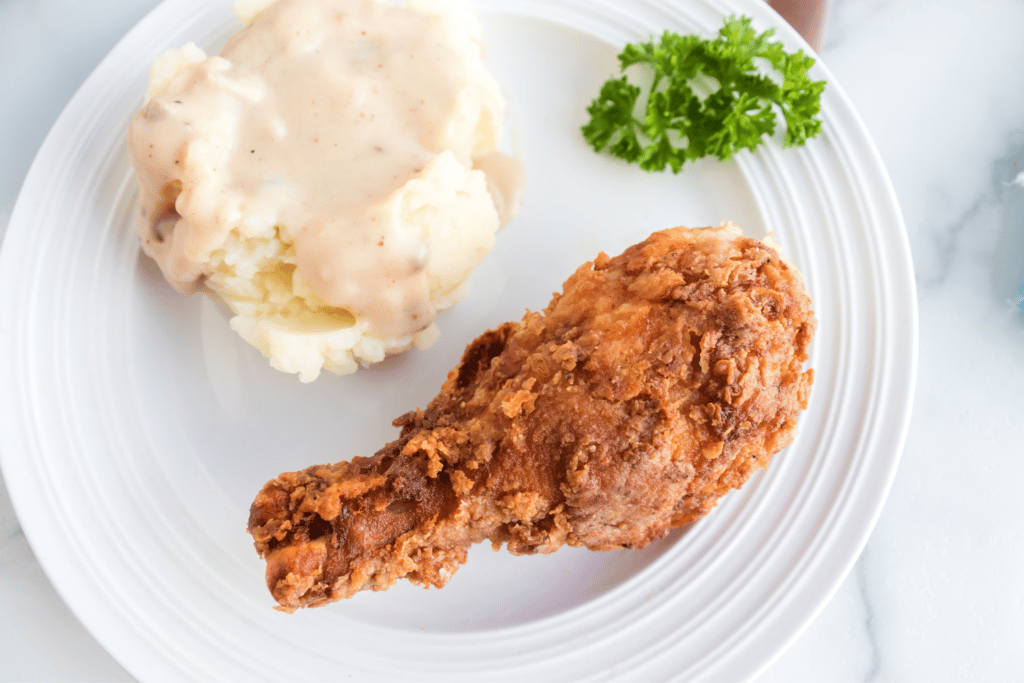 Fried Chicken Legs
Sometimes we just get in the mood for some good old-fashioned comfort food, and these easy fried chicken legs are there to save the day.
It's hard to beat pan fried chicken legs just like grandma used to make. Fried chicken drumsticks are crispy and flavorful, with a juicy and tender interior. The breading and seasoning on the outside give the chicken a savory and satisfying taste.
Next time you are in the mood for some comfort food try my Stovetop Chili, Ranch Roasted Potatoes, Little Cheddar Meatloaves, and Ninja Foodi Whole Chicken.
Why You'll Love Fried Chicken Drumsticks
Crunchy skin that is incredible
Super juicy meat
Worth the effort
Delicious
Will impress the entire family
Budget friendly
Fried Chicken Recipe Ingredients
Chicken drumsticks
Buttermilk
Buffalo Sauce
Pepper
Salt
Crackers
Cornstarch
Flour
Oil for frying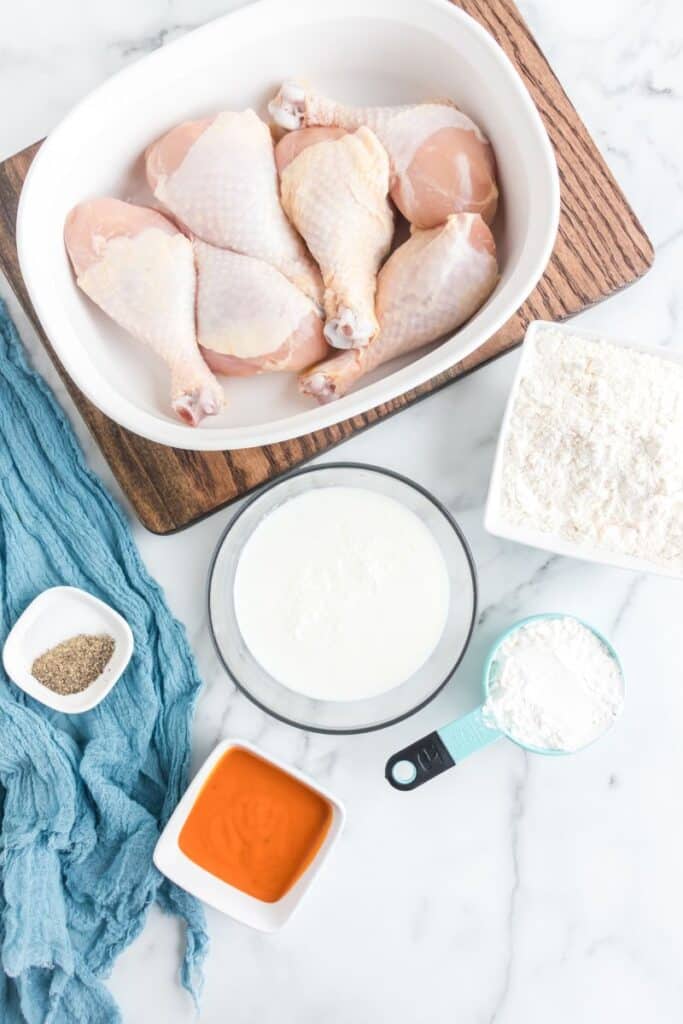 How To Fry Chicken Legs
Step 1: Soak chicken
In a mixing bowl, combine buttermilk, salt, pepper, and buffalo sauce. Pour the mixture over the chicken legs, making sure they are fully coated. Cover and refrigerate for 30 minutes to 1 hour.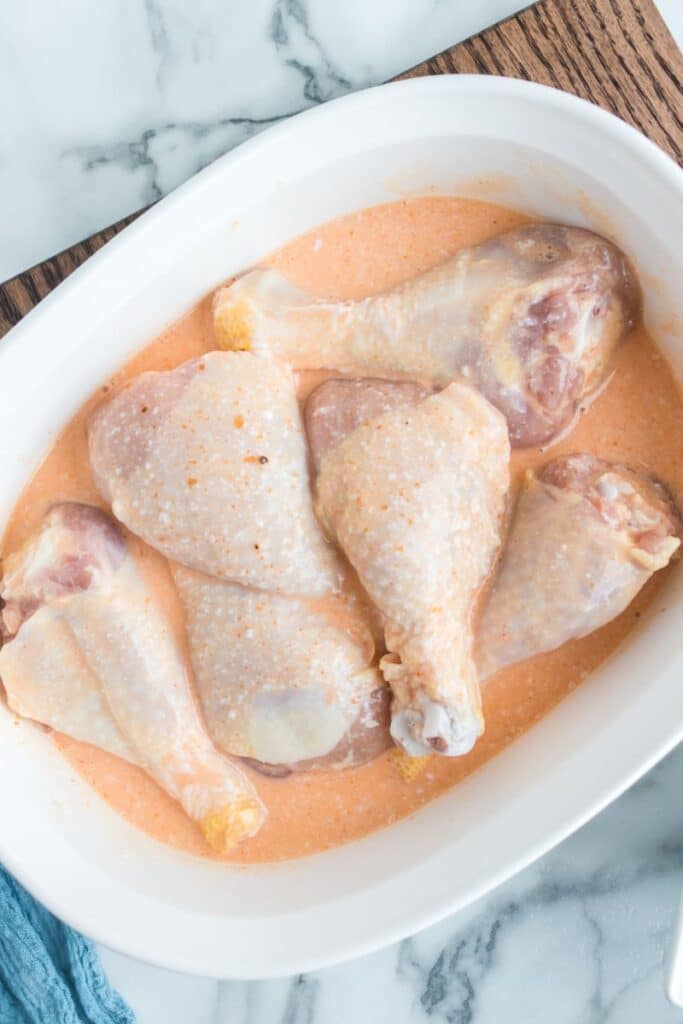 Step 2: Prep flour mixture
In a separate bowl, mix together cornstarch, flour, salt, pepper, crushed crackers, and any other desired seasonings.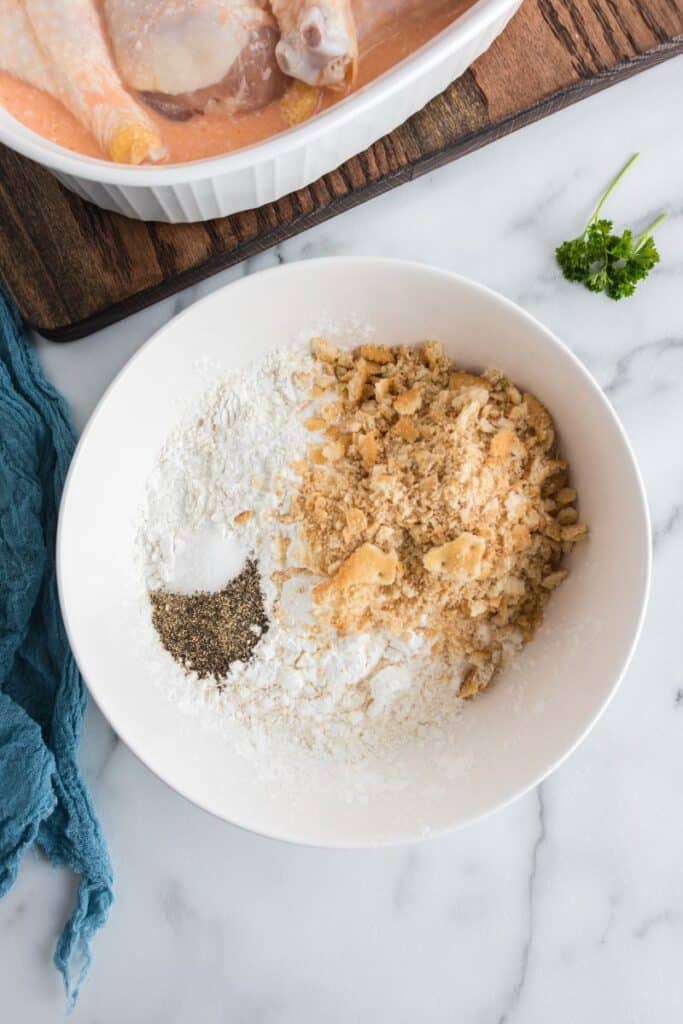 Step 3: Add breading
Remove the chicken legs from the buttermilk mixture and allow any excess to drip off. Dip each leg into the flour mixture, ensuring that they are coated evenly. Press the flour mixture onto each leg to help it adhere.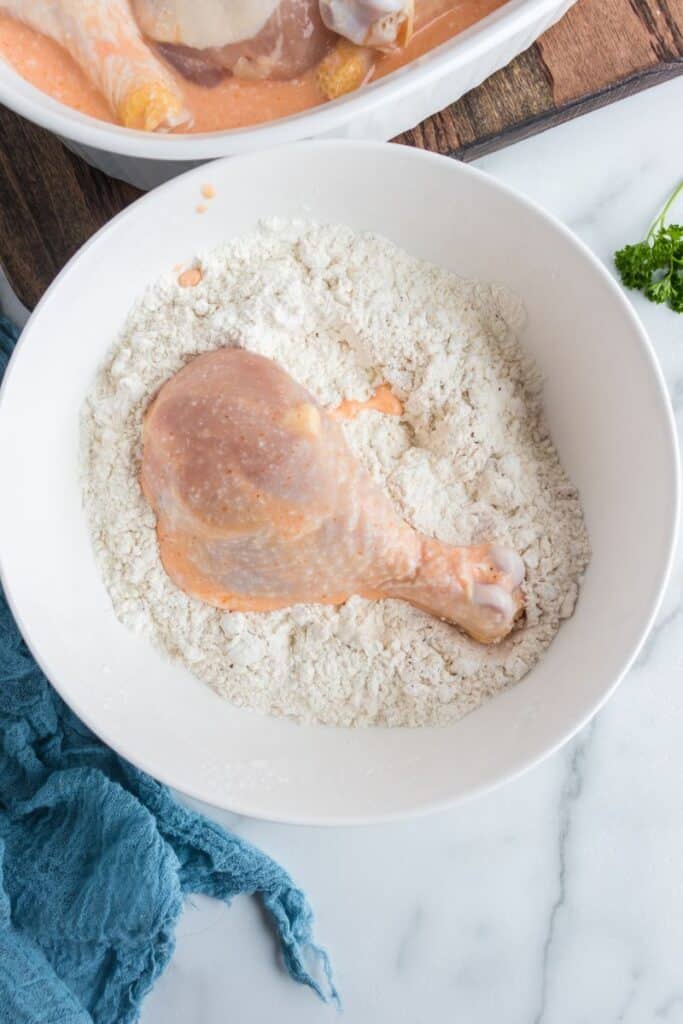 Step 4: Fry chicken legs
Heat up the oil in a skillet to 350 degrees Fahrenheit (175 degrees Celsius). Carefully place the chicken legs into the hot oil, being careful not to overcrowd the skillet. Fry for about 30 minutes, flipping the legs periodically to ensure that they cook evenly and do not burn.
Step 5: Remove and serve
Once the chicken is fully cooked (reaching an internal temperature of 165 degrees Fahrenheit or 75 degrees Celsius), remove it from the skillet and place it on a plate lined with paper towels to absorb any excess oil. Let the chicken cool for a few minutes before serving.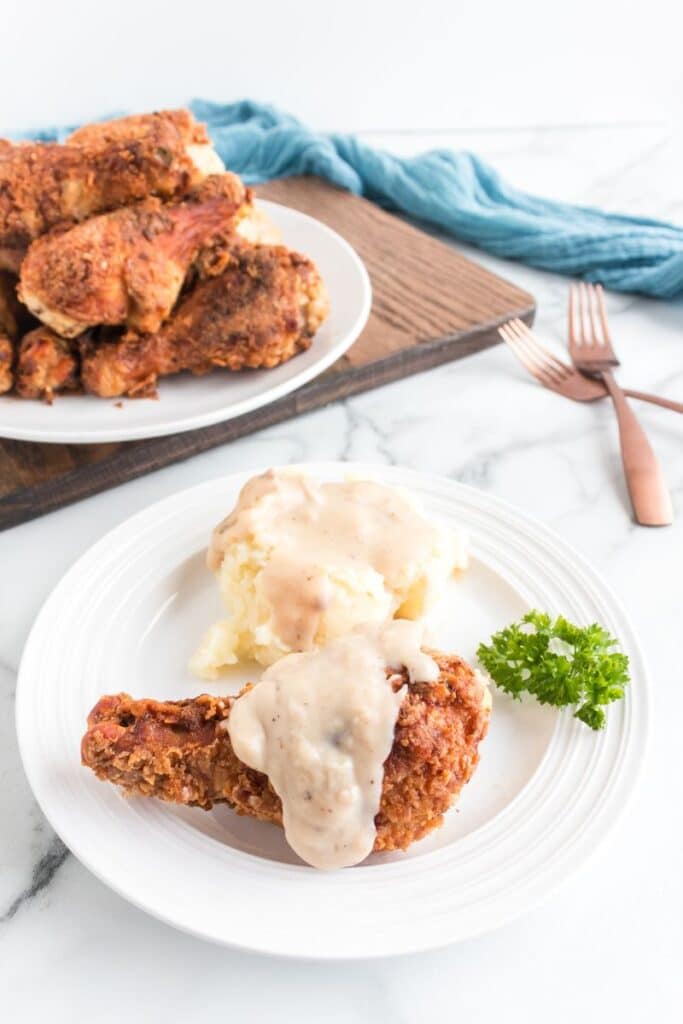 Fried Chicken Tips & Tricks
Use a heavy-bottomed skillet: A heavy-bottomed skillet will help distribute heat evenly, which is important when frying chicken legs.
Use enough oil: You want to make sure that the chicken legs are fully submerged in the oil, so use enough oil to fill the skillet about halfway.
Heat the oil to the right temperature: You want the oil to be hot enough to cook the chicken legs quickly, but not so hot that it burns the breading. Aim for a temperature of around 350-375°F (175-190°C).
Don't overcrowd the skillet: Frying too many chicken legs at once can lower the temperature of the oil and cause the chicken to cook unevenly. Fry in batches if needed.
Use tongs to handle the chicken: Tongs are the best tool for handling chicken legs as they allow you to turn and move them around in the skillet without disturbing the breading.
Drain the chicken on paper towels: Once the chicken legs are cooked, use a slotted spoon or tongs to remove them from the skillet and place them on a plate lined with paper towels to drain off any excess oil.
Let the chicken rest before serving: Let the chicken legs rest for a few minutes before serving to allow the juices to settle and the breading to crisp up even more.
Following these tips should help you achieve perfectly crispy and delicious fried chicken legs in a skillet.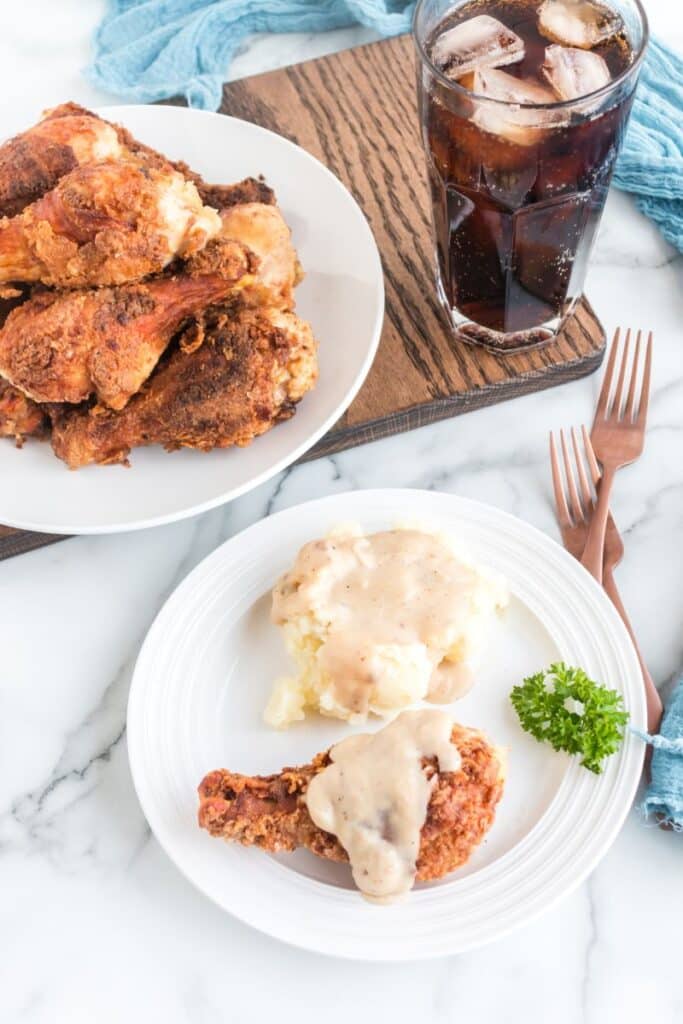 Deep Fried Chicken Drumsticks FAQs
What goes with fried chicken?
Fried chicken legs can be served with a variety of side dishes and accompaniments. Here are a few options:
Mashed potatoes: Creamy, buttery mashed potatoes make a great pairing with fried chicken legs.
Coleslaw: A tangy, crunchy coleslaw can help cut through the richness of the fried chicken.
Biscuits: Flaky biscuits are a classic Southern side dish that are perfect for soaking up the juices from the meat.
Mac and cheese: Creamy, cheesy mac and cheese is a comforting and indulgent side dish.
Cornbread: Sweet and crumbly cornbread is a perfect complement to crispy fried chicken.
Green beans: Fresh or sautéed green beans provide a healthy and flavorful side dish.
Gravy: A flavorful gravy made from the chicken drippings can be served over the mashed potatoes or the chicken itself.
Hot sauce: For those who like a little spice, hot sauce can be a perfect condiment to serve alongside chicken.
Can I use chicken breasts instead?
Yes, absolutely! This recipe is great for breasts or any bone-in chicken. Just keep in mind that the cooking time is going to vary. Use a meat thermometer to test the temperature.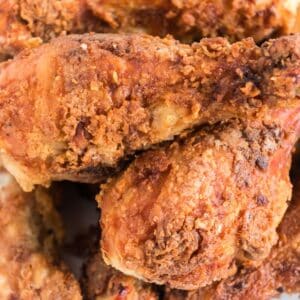 Crispy Fried Chicken Legs
Crispy Fried Chicken Legs are the perfect comfort food. Sink your teeth into a juicy chicken leg with crunchy breading!
Print
Pin
Ingredients
6

chicken legs

3

cups

buttermilk

1/4

cup

buffalo sauce

1

teaspoon

pepper

1 1/2

teaspoons

salt
Breading
1

cup

crackers

crushed, club or ritz

1/2

cup

cornstarch

2

cups

flour

1

tablespoon

salt

1

teaspoon

pepper

oil

for frying
Instructions
Mix together the buttermilk, salt, pepper, and buffalo sauce. Pour over the chicken and chill for 30 minutes – 1 hour.

Combine corn starch, flour, salt, pepper, crushed crackers, and any additional seasonings you want in a bowl.

Remove chicken legs from buttermilk and let excess drip off. Dip into flour mixture and coat well. Press the flour mixture onto each leg, so it sticks.

Fry in hot oil (350 degrees) until cooked all the way through, about 30 minutes. Flip periodically so it doesn't burn. Cook until internal temperature reaches 165 degrees F.
Notes
Add any extra seasonings you like. 
Feel free to omit buffalo sauce if you'd like. 
Make as many fried chicken legs as you'd like, working in batches. 
Serve hot and fresh or enjoy cold! 
Nutrition
Calories:
700
kcal
|
Carbohydrates:
81
g
|
Protein:
33
g
|
Fat:
26
g
|
Saturated Fat:
8
g
|
Polyunsaturated Fat:
5
g
|
Monounsaturated Fat:
10
g
|
Trans Fat:
0.1
g
|
Cholesterol:
133
mg
|
Sodium:
2287
mg
|
Potassium:
522
mg
|
Fiber:
3
g
|
Sugar:
6
g
|
Vitamin A:
320
IU
|
Vitamin C:
0.3
mg
|
Calcium:
165
mg
|
Iron:
4
mg