Marry Me Chicken is tender juicy chicken smothered in a creamy sauce made with heavy cream, sun-dried tomatoes, Italian seasoning & cheese.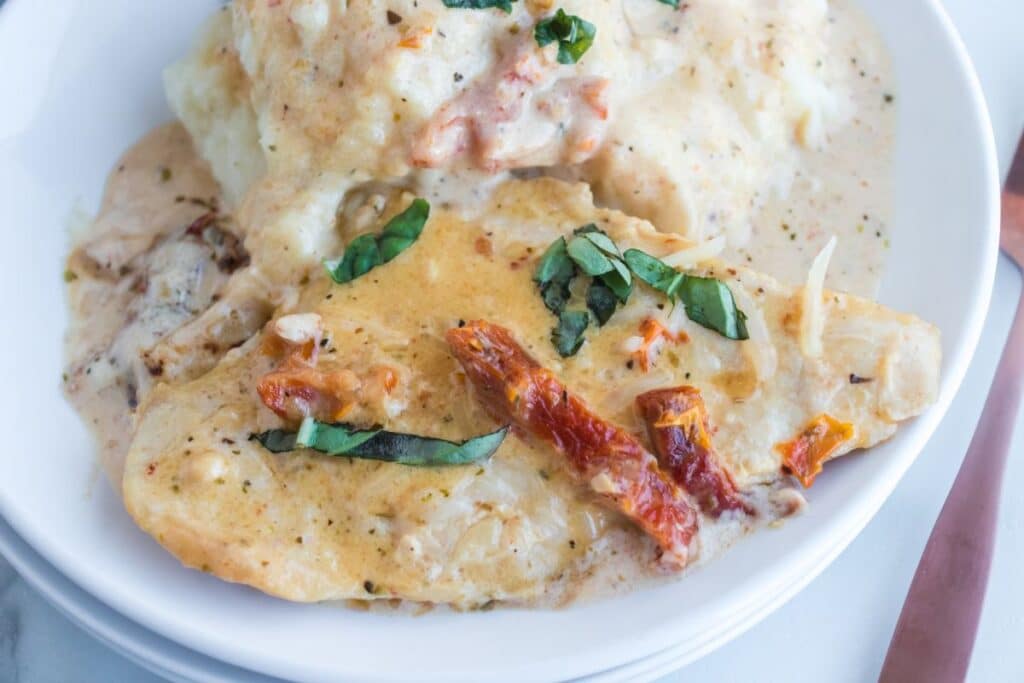 If you haven't heard of Marry Me Chicken yet, you have been missing out! Similar to a dish that you can get at Olive Garden…but better!
Creamy sauce with hints of sun-dried tomatoes, garlic, and Italian seasoning in every taste.
Be sure to try out my Shrimp Tortellini Alfredo, Homemade Hamburger Helper, Baked Cheese Ravioli Casserole, and Smoked Gouda Mac and Cheese if you are looking for easy and delicious dishes.
Why You'll Love Marry Me Chicken
The recipe is relatively easy and quick to prepare, requiring only one pan.
It makes for a delicious and satisfying meal that can be enjoyed by the whole family.
The creamy and savory sauce pairs well with the chicken cutlets, creating a balanced and flavorful dish.
The use of sun-dried tomatoes adds a unique and tasty twist to the dish.
The dish is customizable to personal preferences by adjusting the seasoning and adding favorite ingredients.
It can be served with various sides such as mashed potatoes, pasta, rice, or vegetables, making it a versatile meal option.
The dish can be made in advance and reheated for later meals, making it a convenient meal prep option.
It is a great recipe to impress guests with a restaurant-quality meal that is easy to prepare at home.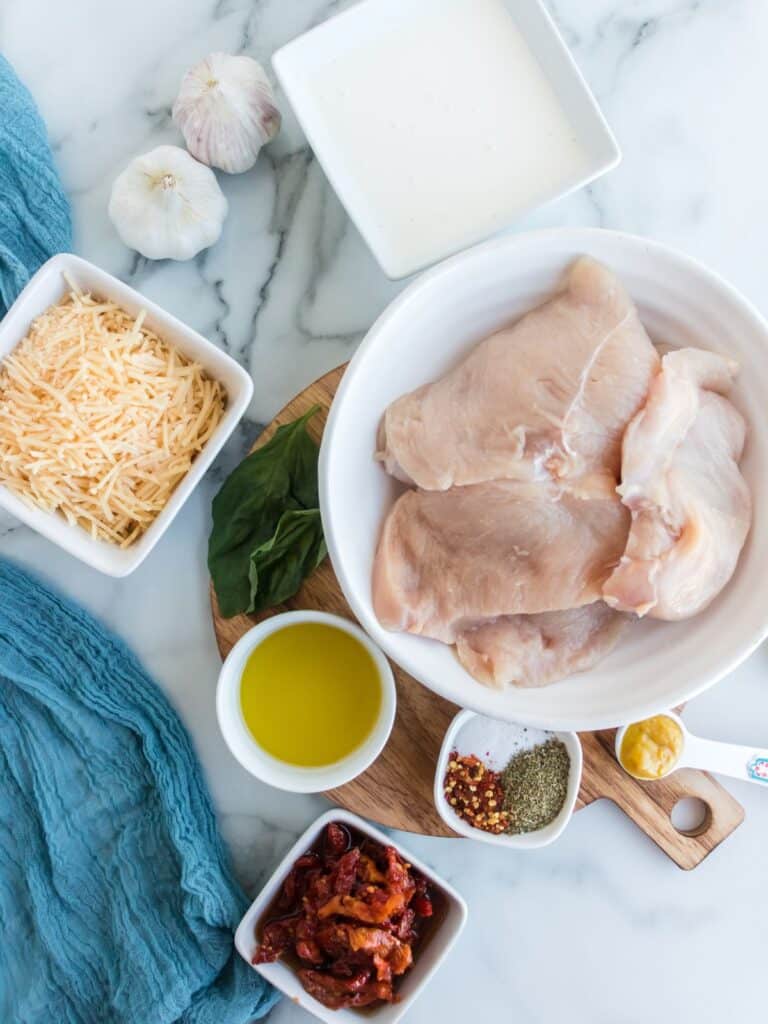 How To Make Marry Me Chicken
Step 1: Cook the chicken
Heat olive oil and butter in a cast iron skillet until hot. Add the chicken and cook for 6-8 minutes on each side, or until fully cooked. Remove chicken from the skillet and set it aside.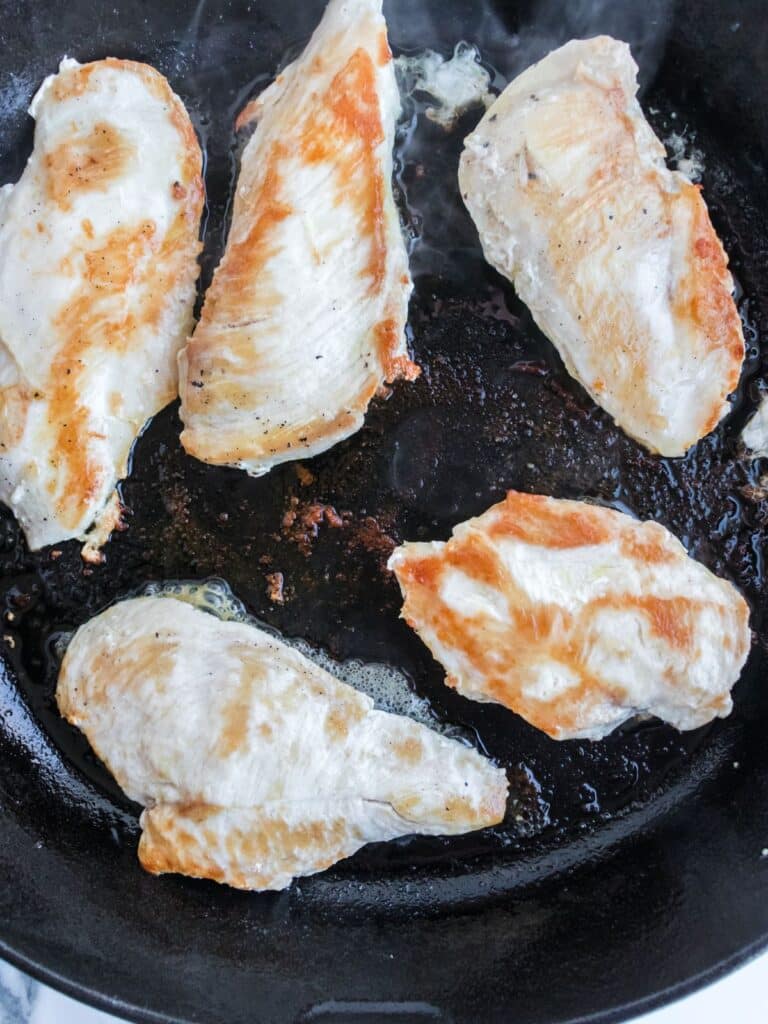 Step 2: Prepare the creamy sauce
To prepare the sauce, add minced garlic to the skillet and sauté until fragrant, for about 30 seconds. Add heavy cream, sun-dried tomatoes, Italian seasoning, chili flakes, and Better Than Bouillon Chicken flavor. Stir the ingredients well and let it cook for a few minutes.
Step 3: Finish cooking
Add Parmesan cheese to the sauce and stir until it melts. Once the cheese is melted, add the chicken back to the skillet and cook for approximately 5 minutes to reheat it.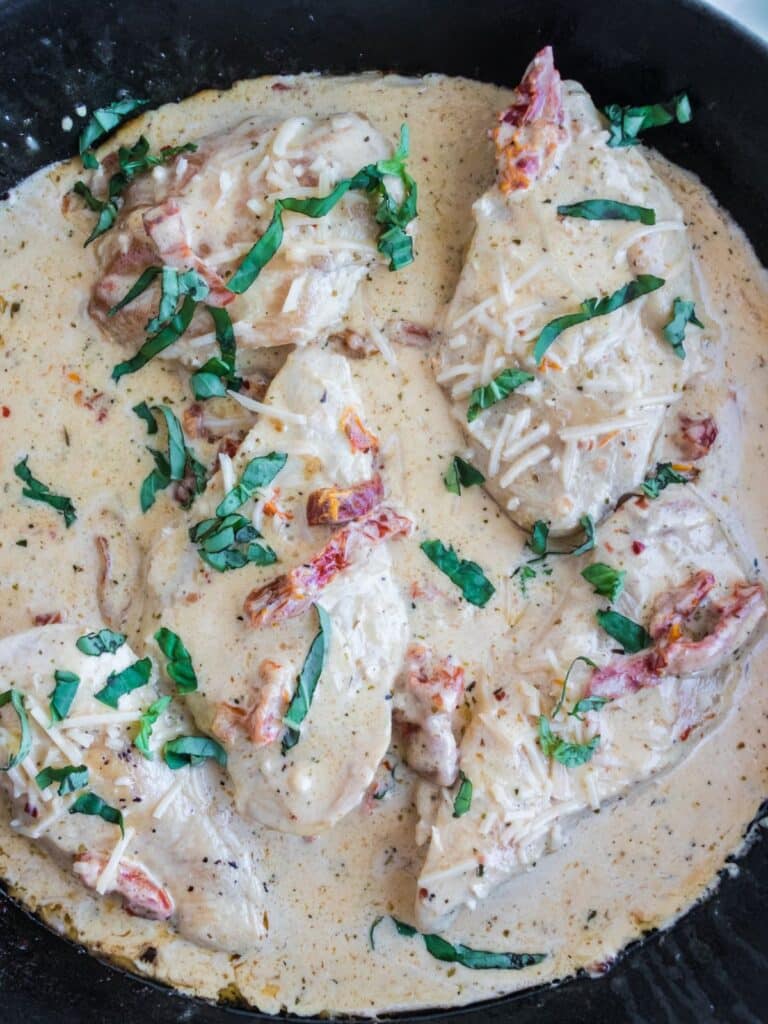 Step 4: Serve
To serve, sprinkle extra Parmesan cheese and chopped basil leaves over the chicken and sauce. Pair with your favorite side dishes and enjoy.
Variations
Swap chicken breasts with boneless skinless chicken thighs for a different texture and flavor.
Add vegetables like spinach, mushrooms, or broccoli to the sauce for extra nutrition and flavor.
Use different types of cheese such as Gouda, Fontina, or Gruyere to switch up the flavor profile.
Replace the heavy cream with coconut milk or almond milk to make the recipe dairy-free.
Use fresh tomatoes instead of sun-dried tomatoes for a lighter and fresher taste.
Add some white wine or chicken broth to the sauce for this Italian chicken recipe.
Use different herbs and spices like thyme, rosemary, or smoked paprika to add depth to the sauce.
For a spicier version, increase the amount of chili flakes or add some cayenne pepper.
Make it a one-pan meal by adding cooked pasta or rice to the skillet and letting it simmer in the sauce.
Grill or bake the chicken instead of pan-frying for a fun twist on this Italian chicken recipe.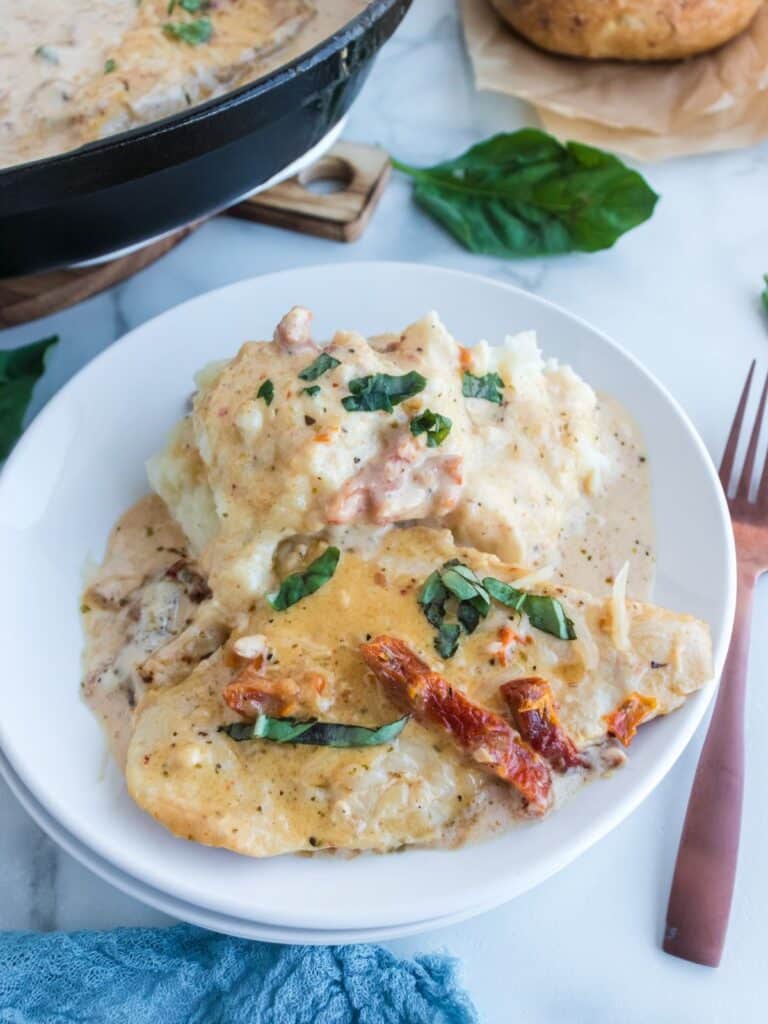 FAQs
Why is it called Marry Me Chicken?
The origin of the name "Marry Me Chicken" is uncertain, but the dish is rumored to have gotten its name from its delicious and irresistible taste. The story goes that the dish is so good that if you make it for someone, they will want to marry you.
While there is no evidence to support this claim, it is a fun and playful name for a dish that has become popular among home cooks and food bloggers. Regardless of its name, the Marry Me Chicken recipe is a delicious and flavorful dish that is sure to impress anyone who tries it.
What should you serve with marry me chicken?
Pasta: Serve the chicken and sauce over your favorite pasta, such as linguine, fettuccine, or penne.
Rice: Serve the chicken and sauce over a bed of fluffy white rice or brown rice.
Vegetables: Roasted or steamed vegetables make a great side dish, such as broccoli, asparagus, zucchini, or green beans.
Salad: A light and refreshing salad is a great complement to the creamy chicken, such as a Caesar salad or a mixed green salad with a balsamic vinaigrette.
Bread: Serve with a slice of crusty bread or garlic bread to soak up the sauce.
Potatoes: Mashed potatoes, roasted potatoes, or baked potatoes would all be delicious options.
Grains: Quinoa, couscous, or farro would be great choices to round out the meal.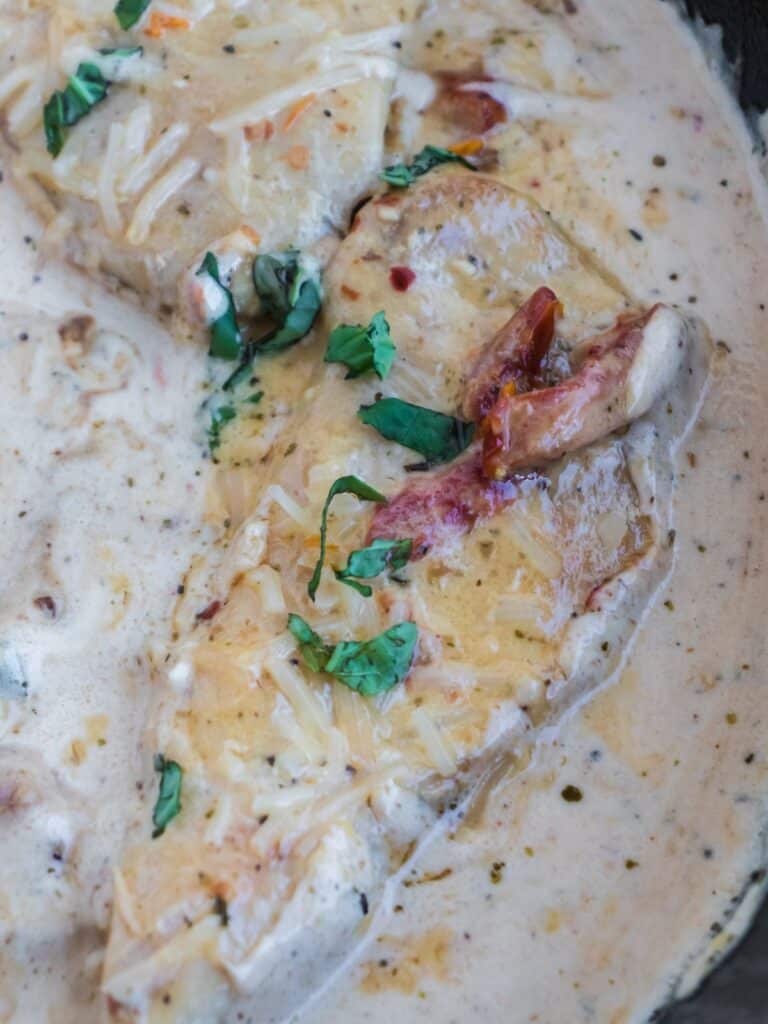 More Simple Recipes
Printable Recipe Card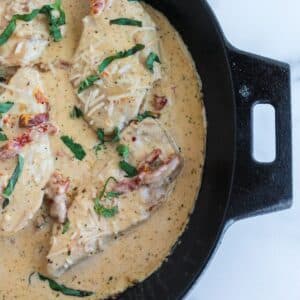 Marry Me Chicken Recipe
Marry Me Chicken is tender juicy chicken smothered in a creamy sauce made with heavy cream, sun-dried tomatoes, Italian seasoning & cheese.
Print
Pin
Ingredients
2

large

chicken breasts

cut into cutlets

3

tablespoons

olive oil

2

tablespoons

butter

2-3

tablespoons

garlic

minced

2

cups

heavy cream

1

cup

parmesan

1

teaspoon

Italian seasoning

1

teaspoon

chili flakes

1

16 ounce jar

sun-dried tomatoes

chopped

1

tablespoon

better than boullion

chicken flavored

basil leaves

as garnish, optional
Instructions
Add olive oil and butter to a cast iron skillet. Once hot, add chicken. Cook for 6-8 minutes, flip and cook for an additional 6-8 minutes or until the chicken is done. Remove from pan and set aside.

Prepare sauce by adding garlic and sauteeing until fragrant, about 30 seconds. Pour in heavy cream, tomatoes, and seasonings. Stir well. After it cooks for a few minutes, add the parmesan cheese.

After the cheese has melted, add the chicken back to the pan. Cook for about 5 minutes to reheat the chicken. Serve with extra parmesan cheese, chopped basil and your favorite side dishes.
Nutrition
Calories:
751
kcal
|
Carbohydrates:
7
g
|
Protein:
40
g
|
Fat:
63
g
|
Saturated Fat:
34
g
|
Polyunsaturated Fat:
4
g
|
Monounsaturated Fat:
22
g
|
Cholesterol:
225
mg
|
Sodium:
528
mg
|
Potassium:
404
mg
|
Fiber:
0.5
g
|
Sugar:
4
g
|
Vitamin A:
2135
IU
|
Vitamin C:
2
mg
|
Calcium:
413
mg
|
Iron:
2
mg