Hearty Stovetop Chili with lots of ground beef, beans, petite diced tomatoes, and chili seasonings. Whip up a pot of homemade chili tonight!
It doesn't get much better than warming up to a hot bowl of this 30 minute stovetop chili! The spices blend perfectly with the ground beef and beans to give you a delicious homemade chili every time!
Craving more delicious weeknight meal ideas? You will love my Instant Pot Pork Carnitas, Instant Pot Country Style Ribs, Chick Fil A Nuggets, and Bubble Pizza.
Why You'll Love Stovetop Chili
It's an easy 30-minute meal idea.
Family friendly
Easy to personalize with your favorite flavors.
Delicious
Excellent for meal prepping.
How To Cook Chili On Stove
Full printable recipe card listed below.
Step 1: Brown meat
To prepare this dish, start by browning the ground beef in a dutch oven and removing any excess grease.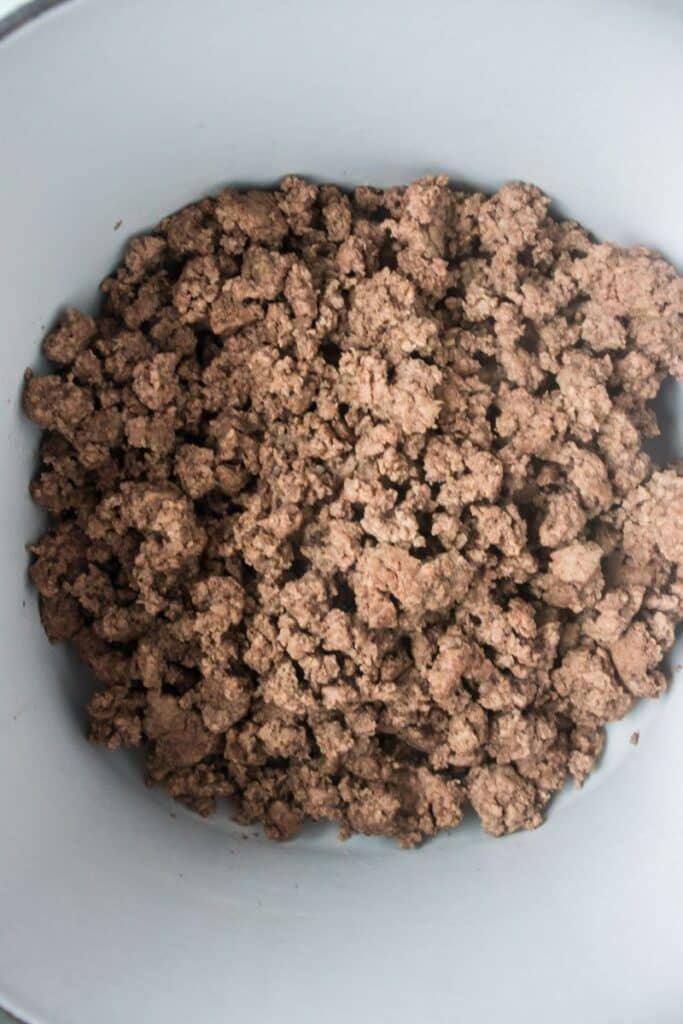 Step 2: Add ingredients
Next, add in the tomatoes, tomato juice, beans, and seasoning to the beef, and mix everything thoroughly.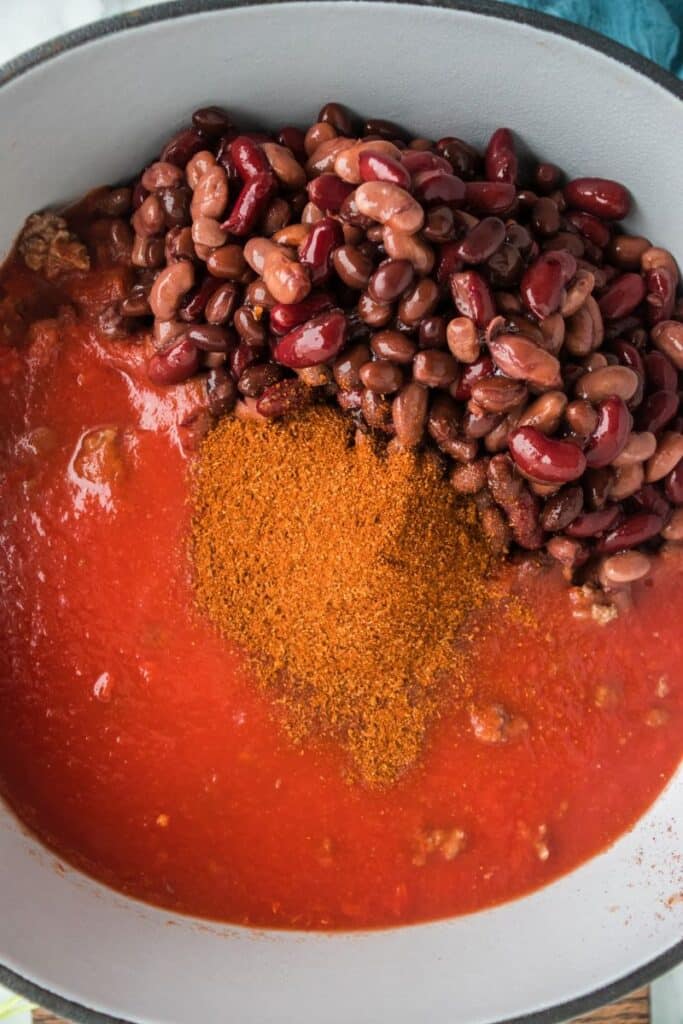 Step 3: Simmer & serve
Bring the mixture to a boil and then let it simmer for 20 minutes. Once it's ready, serve the hot dish with your preferred toppings.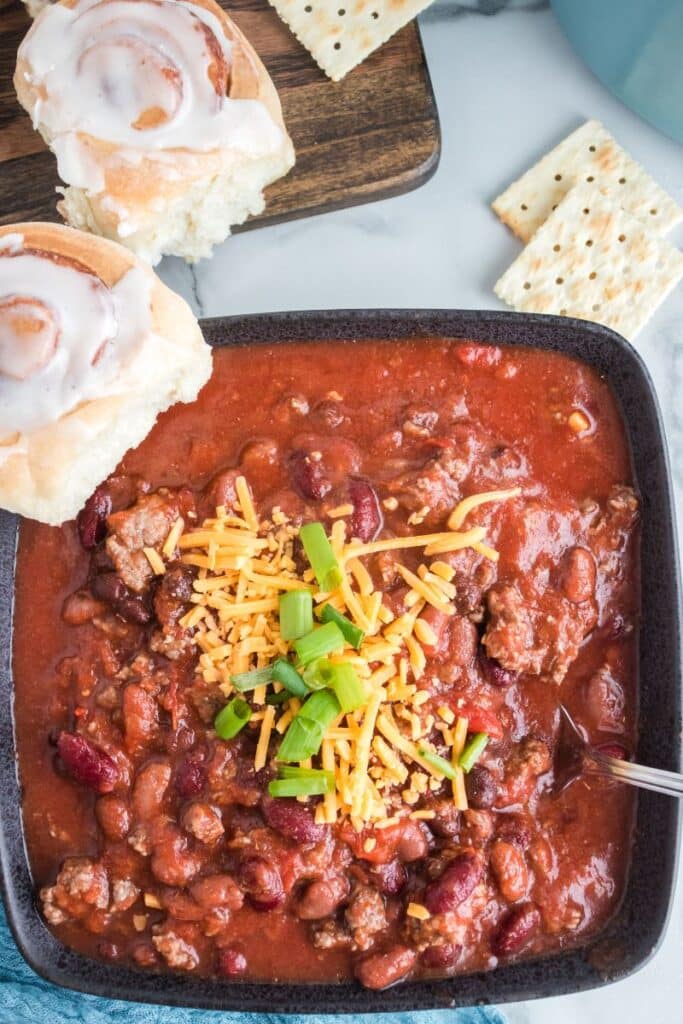 Easy Stovetop Chili FAQs
Do you cook chili with lid on or off?
When cooking chili, it's generally best to cook it with the lid on, after you have brought it to a boil. This helps to retain the moisture in the pot and allows the flavors to meld together more effectively.
However, it's also important to remove the lid periodically during the cooking process to check on the chili and stir it, which helps to prevent the bottom from burning or sticking to the pot.
Towards the end of the cooking process, you may want to remove the lid to allow some of the liquid to evaporate, which can help to thicken the chili to your desired consistency.
What is the secret to making good chili?
There are many secrets to making good chili, and they can vary depending on personal taste and the recipe being used. Here are a few tips that may help you make a delicious pot of chili:
Start with quality ingredients: Use fresh, high-quality ingredients for the best results. This includes using fresh vegetables and herbs, quality meat, and flavorful spices.
Build layers of flavor: To create a depth of flavor in your chili, consider using a variety of ingredients and spices. This can include using different types of chili powder, cumin, garlic, onion, and fresh herbs.
Don't skimp on the cooking time: Allowing your chili to simmer for a longer period of time allows the flavors to meld together and can result in a more complex and richly flavored dish.
Adjust the seasonings: Taste your chili as you go and adjust the seasonings as needed to achieve the desired flavor. Adding a touch of acidity, such as a splash of vinegar or lime juice, can help to brighten the flavors.
Serve with toppings: Serve your chili with a variety of toppings, such as shredded cheese, sour cream, chopped cilantro, or sliced avocado. This adds texture and additional layers of flavor to your dish.
By following these tips, you can create a delicious pot of chili that is full of flavor and sure to please.
How do you heat chili up in the microwave?
To heat up leftover stovetop chili in the microwave, follow these steps:
Transfer the desired amount of chili to a microwave-safe bowl or container. It's important to choose a container that is big enough to allow for some expansion as the chili heats up.
Cover the bowl or container with a microwave-safe lid or a paper towel. Leave a small corner of the cover open to allow steam to escape.
Microwave the chili on high for 1-2 minutes. If your microwave has a turntable, make sure the bowl is placed on it for even heating.
Carefully remove the bowl from the microwave and stir the chili to distribute the heat.
Return the chili to the microwave and heat it in additional 30-second increments, stirring after each interval, until it is heated through to your desired temperature.
Once the chili is heated to your liking, remove it from the microwave and let it cool for a minute or two before serving.
Be careful when handling the heated container, as it may be hot to the touch. And remember to check the chili's temperature before eating to ensure that it's hot enough to be safe to eat.
More Easy Recipes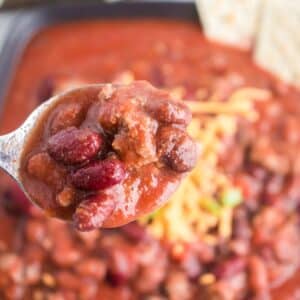 Best Stovetop Chili Recipe
Hearty Stovetop Chili with lots of ground beef, beans, petite diced tomatoes, and chili seasonings. Whip up a pot of homemade chili tonight!
Print
Pin
Ingredients
1-2

pounds

ground beef

4

cans

beans

black, red, or combination, rinsed & drained

1

can

petite diced tomatoes

1/4

cup

chili seasoning

any variety, store-bought or homemade

46

ounces

tomato juice

any variety
Instructions
Brown ground beef in a dutch oven and drain off excess grease.

Add the tomatoes, tomato juice, beans, and seasoning to the hamburger. Stir well.

Heat to a boil, then cover and simmer for 20 minutes, stirring frequently. Serve hot with your favorite toppings.
Notes
Add in cooked onions, peppers, or other veggies as desired. This is a base recipe that can easily be customized. 
For some added heat, sprinkle in some red pepper flakes or a dash of cayenne pepper. 
Nutrition
Serving:
8
g
|
Calories:
198
kcal
|
Carbohydrates:
13
g
|
Protein:
12
g
|
Fat:
12
g
|
Saturated Fat:
4
g
|
Polyunsaturated Fat:
1
g
|
Monounsaturated Fat:
5
g
|
Trans Fat:
1
g
|
Cholesterol:
40
mg
|
Sodium:
124
mg
|
Potassium:
755
mg
|
Fiber:
3
g
|
Sugar:
8
g
|
Vitamin A:
2506
IU
|
Vitamin C:
35
mg
|
Calcium:
52
mg
|
Iron:
3
mg