Finding some kitchen remodel ideas that are budget-friendly can sometimes be a bit difficult task. Let's face it; the kitchen is the heart of the home for most of us. If you are like me, then your kitchen is a place where you can spend quality time with family and friends while chomping on some fantastic meals and snacks. When your kitchen is ugly and uninviting it isn't as enjoyable to hang out in so then you know it is time for a kitchen update. Take a look at these wonderful ideas to complete your kitchen makeover while keeping money in your bank account.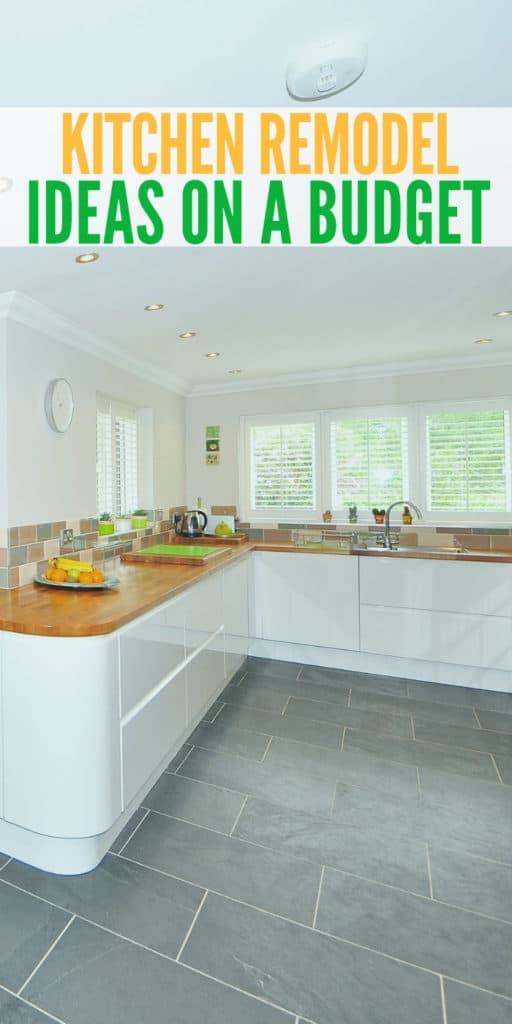 If you love doing DIY projects and organizing your home, you should take a look at these other posts that you might love:
Some of the links in this post are affiliate links. This means if you click on the link and purchase the item, I will receive an affiliate commission at no extra cost to you. All opinions remain my own.
Kitchen Remodel Ideas You Have To Try
Painting
Updating your wall color with paint may seem like a no-brainer, but lots of people rarely add a fresh coat of paint. Paint is inexpensive and makes a room feel cleaner and brighter. Bright white is a fantastic color to add to any room, but it goes above and beyond when you put it in a kitchen. Grays, navy blue or anything that has a green hue compliment wooden cabinets. If you want to go a little wild, you can add a red or yellow accent wall. The sky's the limit when it comes to painting.
Painting your cabinets is another excellent way to add beauty and character to your kitchen. You can go as bold as you want with colors. Or you can stick with a more mellow tone. Either way, the updates will be well worth your time and money. It doesn't matter if you hire someone to do it or if you want to tackle the project yourself. 
Add Shelving or Glass Doors
If you have some free wall space add some free-floating shelving
. It's amazing how shelving can completely transform your space. You can choose shelving that has a rustic style or something a little more contemporary. This is a tip that can drastically change the overall look of your kitchen. 
If you do not have any space for shelving, you should consider replacing your wooden cabinet doors with a few glass doors. Putting your beautiful dishes or containers with food on display can completely change the look of the room. It's incredible how satisfied you will feel once you put all your organizing skills to work!
Put In A Coffee Or Wine Bar
Is coffee or wine drinking one of your favorite things? If so, why not add an area that is devoted to all your different wines and coffees. It will make you feel like you are in a bistro! Plus, all your fantastic drinks are in one orderly location. You could add a chalkboard, wicker or wire style baskets and a plant to spruce it up. Don't forget to have some mugs and glasses. Your new coffee or wine bar is going to be functional and look amazing!
Lighting
Adding new light fixtures
is an inexpensive way to spruce up the place. Adding a new chandelier, recessed, or track lighting will look great and be completely functional. No matter what you choose, you want to make sure that the kitchen can be very bright when you want it to be. You want to be able to see the food you are cooking to ensure that it is adequately prepared, and it is so much easier to do when you have proper lighting. You can also have a dimmer switch put in, so you can set the mood based on the occasion.
Get Organized
Getting organized can make a huge difference in your space. It will allow you to fit things into cabinets better and it just feels good when everything is in its proper place. There are so many inexpensive canisters and containers on the market to aid in organizing your kitchen. Make sure everything is a similar style, so it looks sleek and updated. Label everything, so you know exactly what goes where all the time. This new look will impress your guests!
Faucet & Fixtures
Hard water, lime build-up, and soap scum can wreak havoc on your kitchen faucet. It's a good idea to change them out every once in a while. The look of a new faucet
will immediately make the room feel more updated. Changing a faucet is typically a task that even a beginner can tackle.
Updated cabinet pulls, and hinges can also transform the room. If you have old-looking brass, you could go with a black pull
or stainless option. Be careful when you are shopping because the cost of the fixtures can add up quickly if you don't pay attention. Find something that you like that fits your budget, and you will be shocked by how different your kitchen looks when you are done. 
Introduce Some Flair
Adding a rug
or an island to a room can be an easy way to give it an updated look. You could also add some stylish wallpaper or artwork to provide the room with a pop of color. A valance, curtains or shades will give the place a fun or sophisticated look depending on your style. Don't hesitate to go a little crazy with your decorating. Adding color and different shapes can go a long way with updating a space.
Now is a great time to start remodeling your kitchen! What is your favorite kitchen remodel idea?