The weather is warming up and it's perfect for a Slushy Pineapple Rum Drink! This slushy cocktail is made with pineapple juice, heavy cream, rum, and pineapple! It has such an amazing tropical feel you'll love!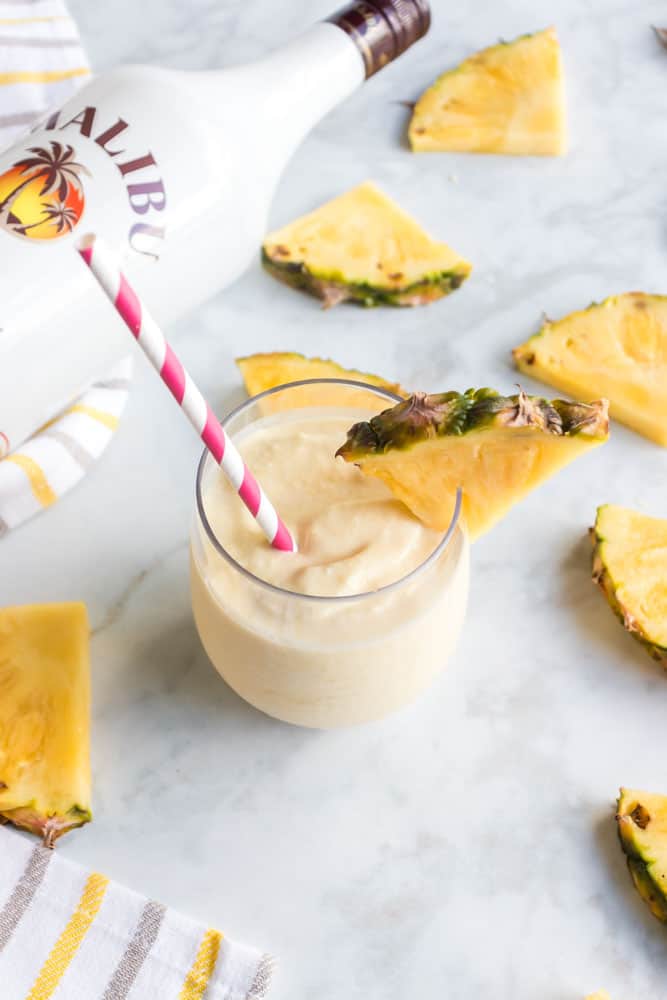 Slushy Pineapple Rum Drink Recipe
I've always been such a lover of those frozen cocktails that take you straight to the ocean, even if you're sitting in the middle of Kansas! It's very easy to make, only takes a few minutes! Plus, you'll find it's even easier to drink!
While I am not generally a huge drinker, I love to sit back and relax outside by the pool with a drink. There is just something so fun and enjoyable about this pineapple alcoholic drink that I can't get enough of. It's sweet and creamy. Plus, you can make it kid friendly by leaving out the rum, so that's a great option too.
Whenever you are sipping on a tropical drink you can't help but feel like you are on a vacation even if it's just in your backyard. Serve these pineapple slushy for 4th of July, or any other holiday you can think of!
What You Need To Make This Slushy Pineapple Rum Drink
Firstly, you'll need is a blender to get this started. You definitely want your pineapple frozen, otherwise you'd have to add ice to get it frozen. If you're blender isn't big enough, you can split up the recipe and make it twice.
20 ounces of frozen pineapple
1/2 cup pineapple juice
1 cup Malibu Rum
1/2 cup Heavy Cream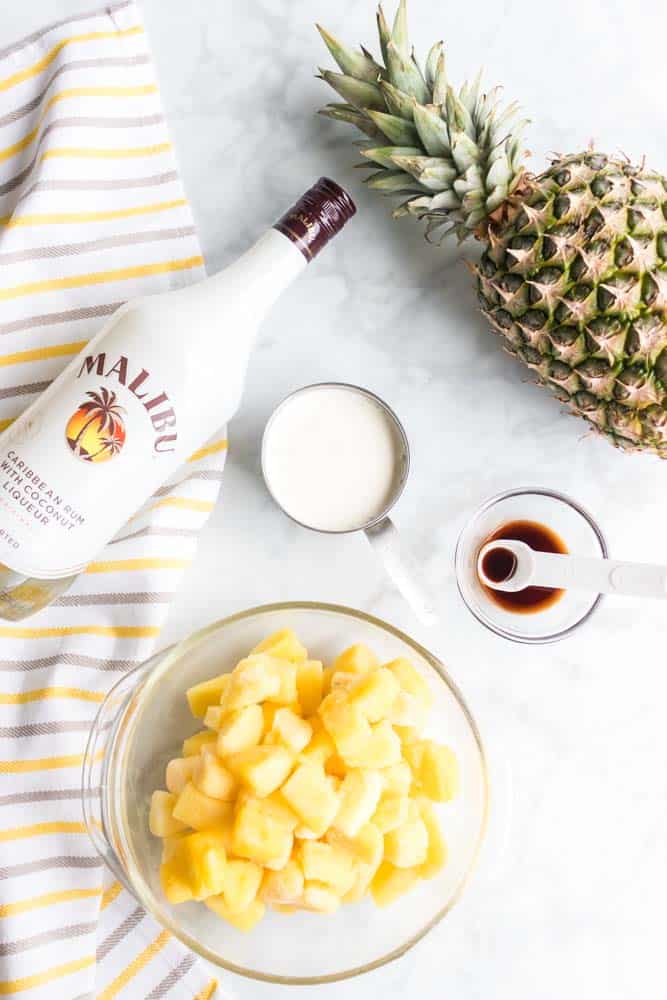 How To Make This Frozen Rum Drink
This can be done in just a few easy steps! And the great thing about making a delicious cocktail, once you make, it's even easier to make again and again. Once again, make sure your pineapple is frozen or you'll have to add ice!
Gather your ingredients. Add frozen pineapple, pineapple juice, Malibu rum, and heavy cream to blender. Blend until smooth.
Serve! You can add umbrellas, cute straws, and even a pineapple slice!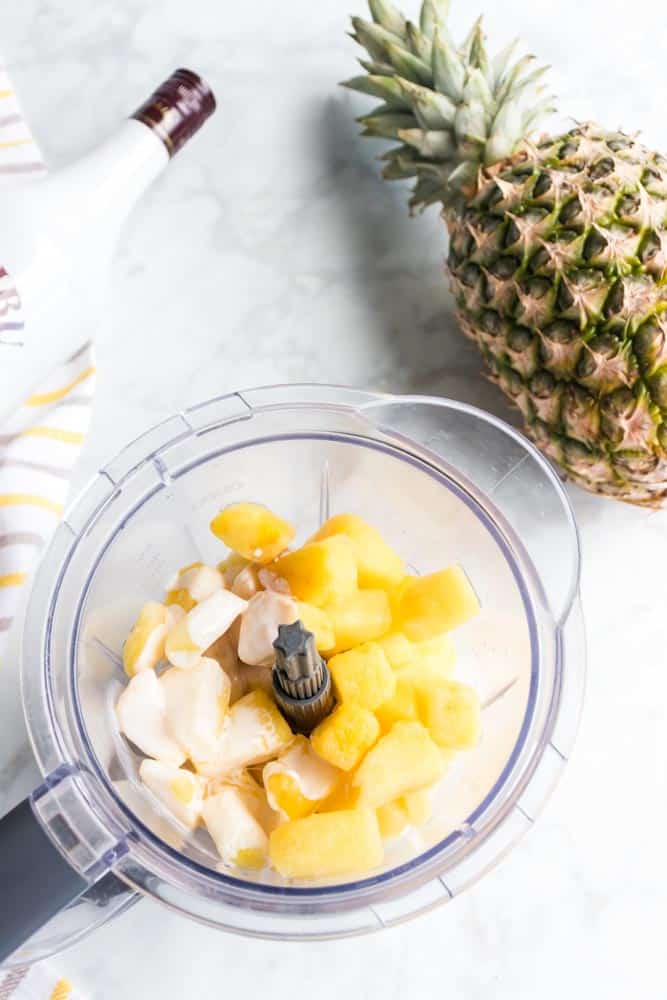 Pineapple Rum Cocktail Variations
Maybe you're not a big fan of pineapple and you want a different fruit. You can obviously substitute the frozen pineapple and pineapple juice with something else that is more suitable to your palate. If you decide to not use pineapple juice, you can substitute apple, orange, or even cranberry juice for something different!
Strawberries– You can use frozen strawberries instead of the pineapples. Try it with orange or apple juice.
Mango– Mangoes would go so nicely with the coconut rum!
Bananas– freeze up some banana slices and you'll definitely feel that island feel.
Blueberries– Not only will they give you some nutrients, but they are gorgeous in slushy drinks. Consider adding a few to see! Fresh or frozen are both great.
How Do You Store Leftover Rum Slush?
Of course, you can save leftovers, but it might not taste as good the next day. Certain alcohols don't freeze or freeze unevenly. I suggest using the whole mix up, but if you do want to freeze it, store in an airtight container. Use within a few days.
Can I Trade Malibu Coconut Rum For A Different Alcohol?
That's the fun of making cocktails! There's so many different flavored rums now, the possibilities are almost endless! Malibu makes a lot of flavors that will definitely give you a new kick when you don't want coconut.
Malibu Banana
Malibu Mango
Malibu Pineapple
Cruzan Rum has citrus, guava, raspberry, or vanilla could also give you a different flavored mix!
Supplies
The weather is warm. The sun is shining and you're ready to drink your tropical cocktails outside by the pool or on the porch. To truly live up to the magical tropical feel, check out these amazing products below. Umbrellas for your drinks, or hurricane glasses give it that extra special feel you need to relax and be taken away.
Some‌ ‌of‌ ‌the‌ ‌links‌ ‌in‌ ‌this‌ ‌post‌ ‌are‌ ‌affiliate‌ ‌links.‌ ‌This‌ ‌means‌ ‌if‌ ‌you‌ ‌click‌ ‌on‌ ‌the‌ ‌link‌ ‌and‌ ‌purchase‌ ‌the‌ ‌item,‌ ‌I‌ ‌will‌ ‌receive‌ ‌an‌ ‌affiliate‌ ‌commission‌ ‌at‌ ‌no‌ ‌extra‌ ‌cost‌ ‌to‌ ‌you.‌ ‌All‌ ‌opinions‌ ‌remain‌ ‌my‌ ‌own.‌
Looking for more delicious recipes and fun stuff?
Boozy Strawberry Watermelon Drink — Another fruity delicious cocktail.
The Most Adorable Pineapple Decor — Not a recipe but if you love pineapple like i do, why not decorate?
Incredibly Easy S'Mores Cookies — These amazing cookies will be great for a relaxing night.
Easy Cucumber Onion Salad — A super easy and delicious salad if you need to offset all the sweetness of the cocktail.