If you have the desire to turn them into something unusual and breathtaking, then you should take a look at these fantastic DIY pallet projects. Often you will hear of people just giving away old pallets for free.  What I love about each of these ideas is that they are all different and there are plenty of options regardless of your skill level. Finding unique pallet ideas can be a challenge at times, and that is why I think you will love this collection.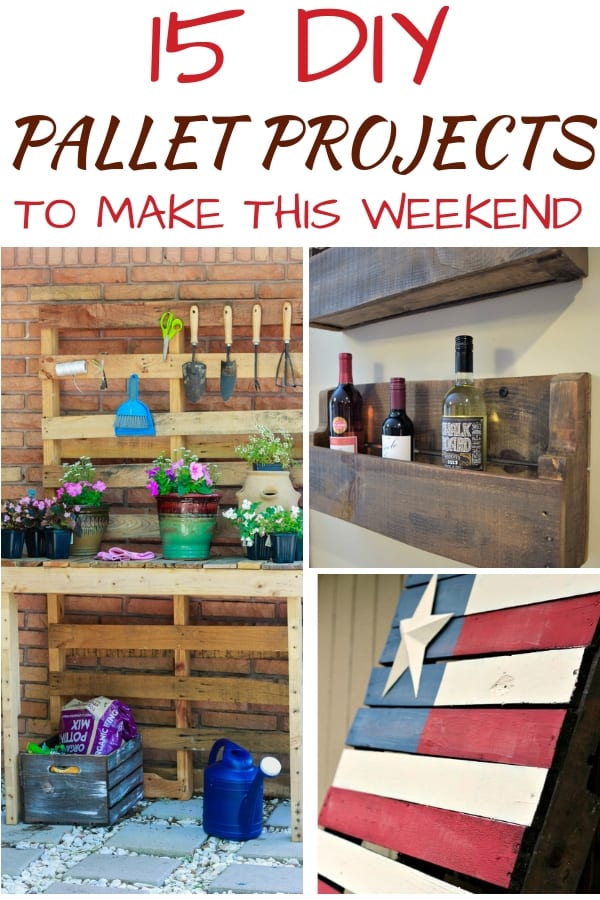 Whether you are seeking to make wood pallet furniture, craft ideas or just want to add to your home decorations you have come to the right spot. I have to warn you that you are probably going to fall in love along the way!
While you are in the mood for some projects, you should also take a look at these other articles.
Some of the links in this post are affiliate links. This means if you click on the link and purchase the item, I will receive an affiliate commission at no extra cost to you. All opinions remain my own.
Must See DIY Pallet Projects
Hanging dishes has been a classic decorating style through the ages. This coffee mug holder adds a rustic charm that is timeless!
Gardening is so much easier when you have a raised DIY pallet garden. You save the pain on your knees and back because you don't have to crouch down as far. Plus, they just look good!
If you are like me and you have a passion for plants, you are going to fall head over heels for this DIY monogram succulent planter. You will add a touch of elegance to your home with minimal effort! My favorite kind of project.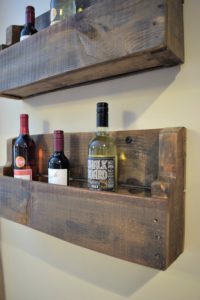 All wine connoisseurs need a place to store their precious bottles! Have a peek at this beautiful pallet wine rack. This would be wonderful if you don't have a lot of cabinet space too.
This project is even more unique because it doesn't call for the pallets themselves, but rather the shelving they sit on in warehouses. I love the funky creativity of this DIY greenhouse.
If your children have tons of books like mine, you understand how quickly you feel like you are running out of space! These functional and completely cool pallet bookshelves will also save your sanity.
Do you struggle with having enough outdoor seating? This DIY outdoor couch may solve your problems! It is simple to make, and you can add as much color as you want while recycling old pallets.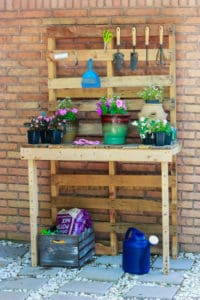 This one is just for all you gardeners out there! Your green thumbs are going to be in heaven when you complete your new DIY potting bench. The neighbors are going to be jealous too!
Family name signs are a fantastic way to decorate and use up old pallets you have laying around. Plus, these would make fabulous gifts too!
If you are fortunate enough to have a fireplace or you just use cut wood for outdoor fires you need a place to store it. This firewood storage solution is wonderful and doesn't take too long to build.
I literally squeal with excitement when I lay my eyes on this pallet wood side table! It is perfectly rustic, charming and simple to make. This is an excellent project for a beginner.
Here Are Even More Fun DIY Pallet Projects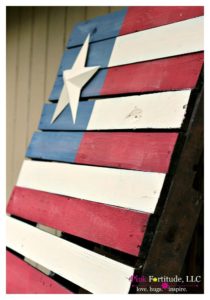 You can display this rustic American Flag DIY pallet project year round because it looks fantastic and is so patriotic. You will be thrilled by how simple it is to make too.
Take a look at this effortless upcycled pallet Christmas tree. You only need a few supplies and a little bit of time and you will have a beautiful decoration that your family will want!
Staying organized in the laundry room can be a hectic and daunting chore. Make your life more comfortable with this DIY pallet laundry shelf. It makes sorting laundry a snap!
Making your own outdoor pallet furniture has never been easier. You will only need a few supplies and then you can enjoy your new creation. Add some vibrant throw pillows for some extra pizzazz.
Which project are you the most excited about? Please let me know if the comments below.