So you are tired of looking at the same drab walls and are ready for a change. You should take a look at these mason jar decorations to spruce up your space! I love the overall look and style of decorating with old bottles and mason jars. You add some character while giving the room a farmhouse style feel to it. Here are several mason jar crafts, mason jar planters, and more for you to take a look at!
Whether you are looking for something elegant, timeless or fun, I have the perfect ideas for you to see! I always enjoy working on crafts and DIY projects with my kiddos because we love just hanging out and being creative. Whether you are crafting with your kids or on your own, I hope you have as much fun I as I do creating masterpieces!
Here are a few other projects for you to look at: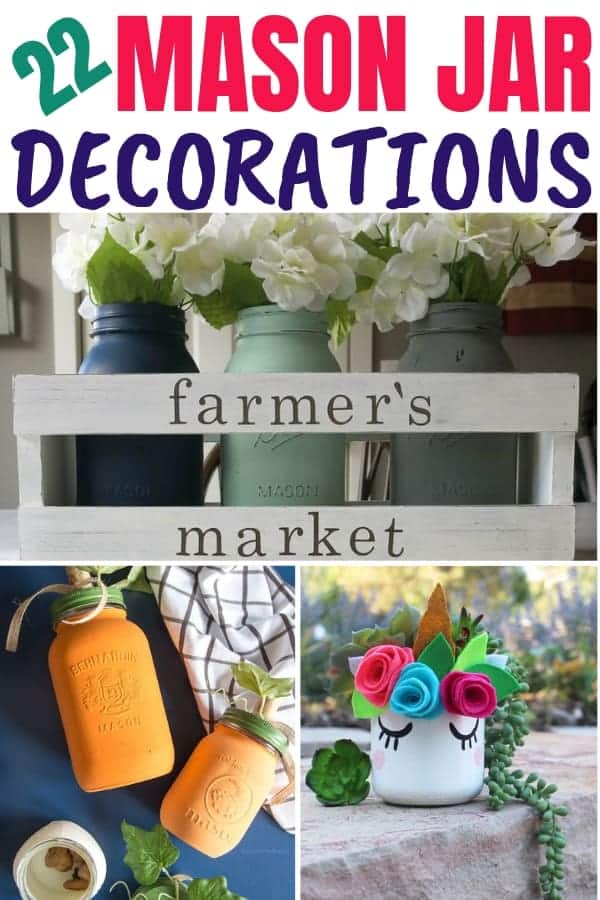 Some of the links in this post are affiliate links. This means if you click on the link and purchase the item, I will receive an affiliate commission at no extra cost to you. All opinions remain my own.
Fantastic Mason Jar Decorations
Add some pizzazz to your bookshelf with some DIY photos in mason jars. I love the look, and you can display all those individual photos in such a unique way. I am pretty sure this is one of the easiest projects ever!!
Lanterns never go out of style and add a unique ambiance to your room or outdoor living space. These easy DIY mason jar lanterns are practically effortless to throw together, and the result is beautiful. This is also a terrific project for your kids to help with or if you are a DIY beginner.
This DIY Galaxy Jar is perfect for glitter fans! This is an easy craft that kids can make and decorate themselves. The jars are also great kids to just look at and even relax a little.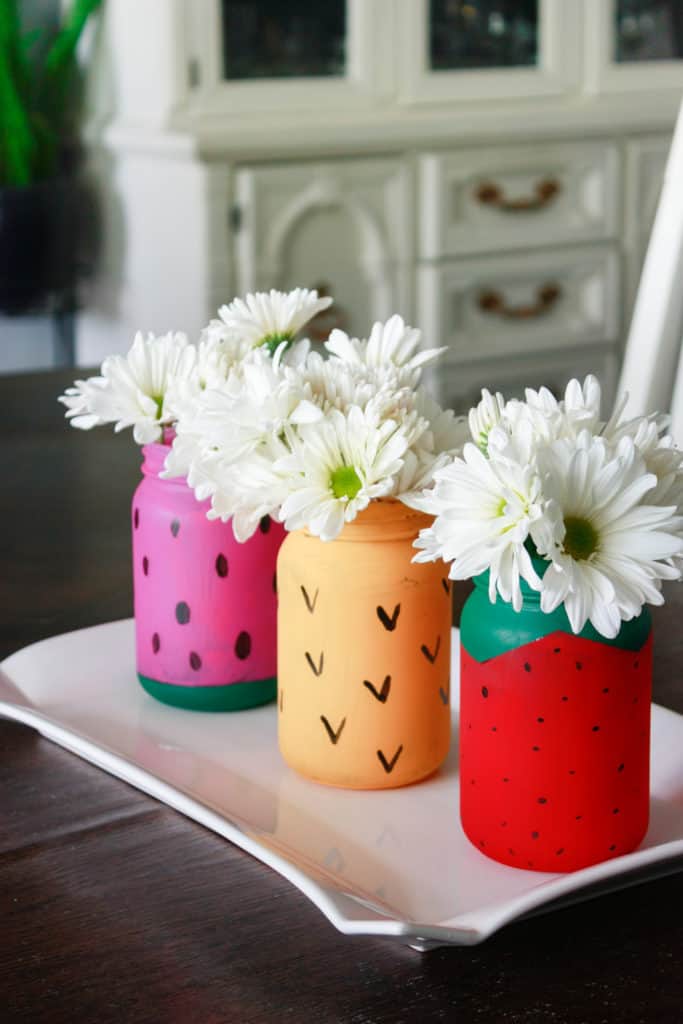 Add some bright spring colors to your living space with these fruit-themed jars. You can make a strawberry, watermelon or pineapple. It is even more fun if you make all three!
This mason jar tissue holder is sure to add some fun to your bathroom. It is stylish and playful. You can adjust the colors to match your theme too!
Kids of all ages will go crazy for this DIY mason jar lego guy! Not only is this lego guy adorable, but he is also super easy to make too! This is a project that your children can make almost all on their own.
I am so excited to share this DIY house number plaque with a wood slice because it is gorgeous! Plus, it gives a rustic farmhouse feel that is so popular.
Mason Jar Planters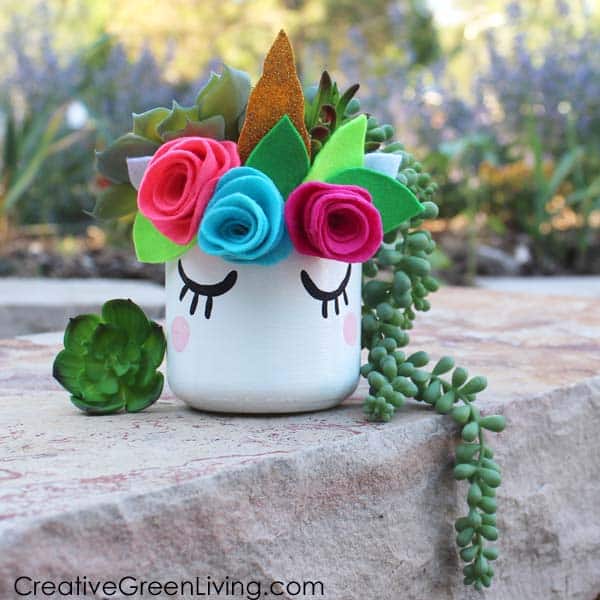 Unicorns are always fun and popular among adults and kids alike! Have a look at how to turn a mason jar into a succulent planter. Everyone is going to fall in love with this unique planter! You could even make them and give them out as gifts.
The easy and adorable DIY mason jar planter is a fantastic weekend project! Fill it with your favorite flowers or succulents, and you will have a lovely centerpiece for your table.
Trolls mason jars are beyond adorable! Your kids are going to go wild when they see how cute these are. These are also terrific if you are decorating for a party and need a simple centerpiece.
This DIY succulent planter has a rustic feel with vibrant colors. I love that it is made to look a little weathered. It adds to the overall look of the planter.
Holiday Themed Mason Jar Crafts
I love decorating for the holidays, and I love it, even more, when I can make crafts to decoration with. These beautifully decorated mason jars make a stunning centerpiece that will light up your dining room! You only need a few supplies that you probably already have around the house too.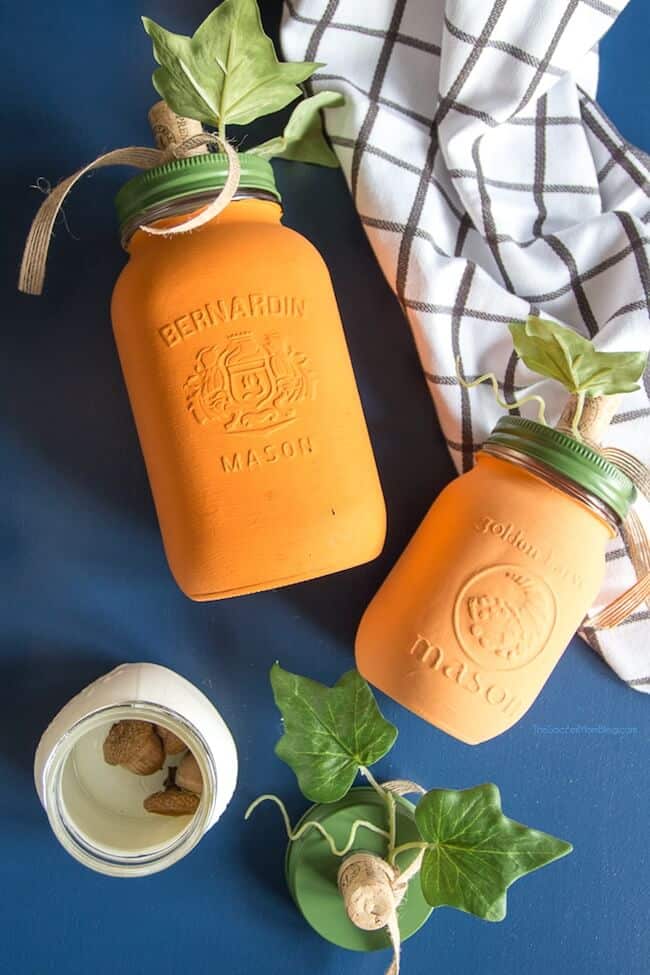 If you are looking for a craft that is related to fall decorating, then you are in luck! These cute DIY painted mason jar pumpkins add fun to any space and are simple to make.
You could make a gilded mason jar for Valentine's day! Thes mason jars make fantastic gifts and let someone know you care. Whether you make the jars as gifts or keep them for decorating, they will look fabulous!
This home mason jar centerpiece is elegant and would love wonderful on your dining room table or mantle. You can personalize it for Christmas or any other holiday.
These stacked snowman hot cocoa mason jars couldn't be any cuter! I promise if you deliver these to friends and family the recipient is going to be thrilled!
Patriotic mason jar craft ideas are perfect for your next summer celebration! I love anything that is red, white, and blue and these jars turned out perfectly.
Even More Fun Mason Jar Decorations
At my house, the kitchen is the heart of the home! I am always trying to find unique ways to add character, and this mason jar utensil holder does just that!
This farmer's market farmhouse centerpiece is stunning, and you will be shocked by how quickly you can make it. This piece could be used to decorate any room in your house, and it has a romantic ambiance about it.
If you have children that are in school, you understand how it feels to have your house taken over by box tops! This creative box tops mason jar holder is perfect because it gives you one place to keep them all.
DIY tinted mason jars for spring can really add some vibrant colors to your home or office. Plus, these would also be fantastic to hand out for May Day, Easter, or any other event.
Chalkboards are all the rage! Why not make these DIY chalkboard mason jars? The jars are fantastic for giving as gifts, filling with bathroom essentials, organizing your jewelry, or just about anything else you can come up with. Did I mention that these jars would be perfect for the beginning DIY'er?
Which DIY Mason Jar Decorating Craft Are You Most Excited About?