Have you ever tried to think of a way to re-use your old liquor bottles? I made this DIY Soap Dispenser with a repurposed liquor bottle in no time at all! Using materials you already have around the house to create something new is a terrific way to add character to any room. We aren't huge drinkers at our home, but we love the look of a Crown Royal whiskey bottle. We decided we would turn it into a soap dispenser. The bonus of using it as a soap dispenser is that it holds a lot of soap! Gone are the days of always having to refill it.
If you do not drink alcohol, certainly don't worry! You can use any other glass bottle that you love and turn it into a soap dispenser. My dad was a bottle collector, and I am just naturally drawn to the look of different bottles. I decorate my home with many of the bottles he had collected over the years.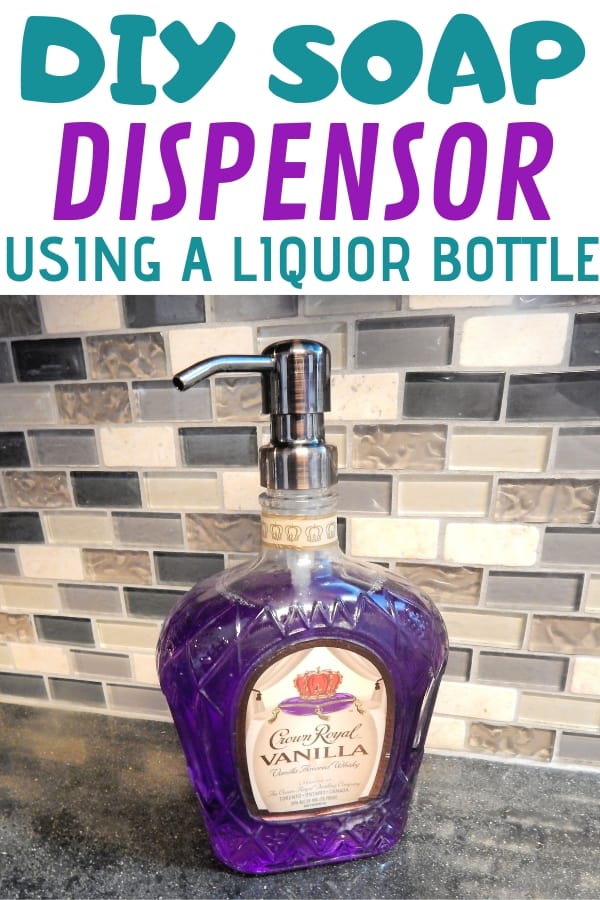 Looking for more fun DIY Projects and Decorating Ideas? Take a look at these articles:
Some of the links in this post are affiliate links. This means if you click on the link and purchase the item, I will receive an affiliate commission at no extra cost to you. All opinions remain my own.
Supplies You Need To Make A DIY Soap Dispenser
Thankfully, you need very few supplies when you are making your soap dispenser. This project is perfect if you are a beginning DIY'er because you don't need a lot of skill or materials.
An empty liquor bottle (drink up!) or other decorative glass bottles that you love
Soap Dispenser Pump – I bought the two pack because I want to make multiple bottles
How To Prepare Glass Bottle For Your Soap Dispenser
First, you are going to want to make sure that the bottle is completely empty and clean. We enjoyed drinking a few drinks before our Crown Royal bottle was empty! Anyway, after all the alcohol is gone, you are going to want to rinse it out with hot soapy water. You need to be extra careful not to get too much water on the outside of the bottle and damage the label. If you don't want to keep the label, you can easily remove it with a little bit of fingernail polish remover and scraping it off. We love the look of the Crown Royal label, so we wanted to keep ours intact.
All the bottle to air dry.
Once the glass bottle is dried correctly, you can merely paint thin layers of Modge Podge over all the labels. You don't want to put a dense layer on, just a light layer. Make sure to let each layer of Modge Podge dry for around 20-30 minutes in between. I did five coats on my DIY Soap Dispenser, but you can probably get away with 4. We knew that our soap dispenser would get a lot of water sprinkled on it from handwashing, so we wanted to make sure that label stays nice and attached.
How To Make Your DIY Soap Dispenser
Once you have made sure your labels are stuck on correctly, then it is time to assemble your soap dispenser. You are seriously going to be so surprised when you figure out how easy it is!
Take the soap dispenser pump and measure the plastic pump straw and cut to the correct length. You want to make sure to cut it at an angle so the soap will dispense adequately. I like to make sure that one side of the straw barely touches the bottom of the bottle.
Next, place the straw inside the pump lid and screw it onto your bottle. I always test it out and make sure that this will work properly before I add soap.
Once you like how everything is fitting, you can fill it with your favorite hand soap or if you are using it in your kitchen your favorite dish soap.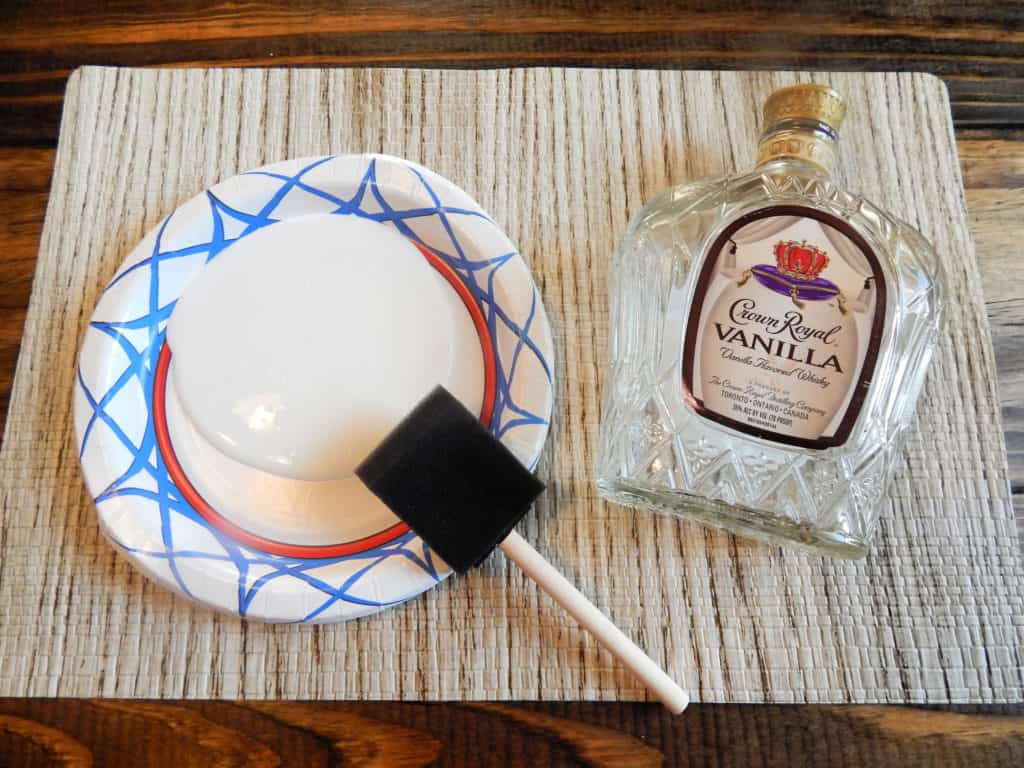 I wanted to answer some questions that you may have. If you have any other questions or concerns, please feel free to reach out to me because I am happy to help!
HOW DO YOU REMOVE RUST FROM SOAP DISPENSER?
You remove rust from a soap dispenser by several different methods. You can just use baking soda and vinegar to form a paste and scrub it off. I also like to add a little bit of lemon juice to the paste. Taking half of a lime and mixing some salt on it then scrubbing the bottle will is another idea to remove rust. If the bottle doesn't have any labels on it, you can also soak it in vinegar and scrub it to remove the rust.
CAN I MAKE A SOAP DISPENSER WITH A MASON JAR?
Yes, you can make a soap dispenser with a mason jar. They sell soap dispenser pumps that fit the lid of a mason jar perfectly. Using a top that has the pump in it will allow you to throw it together with no time at all.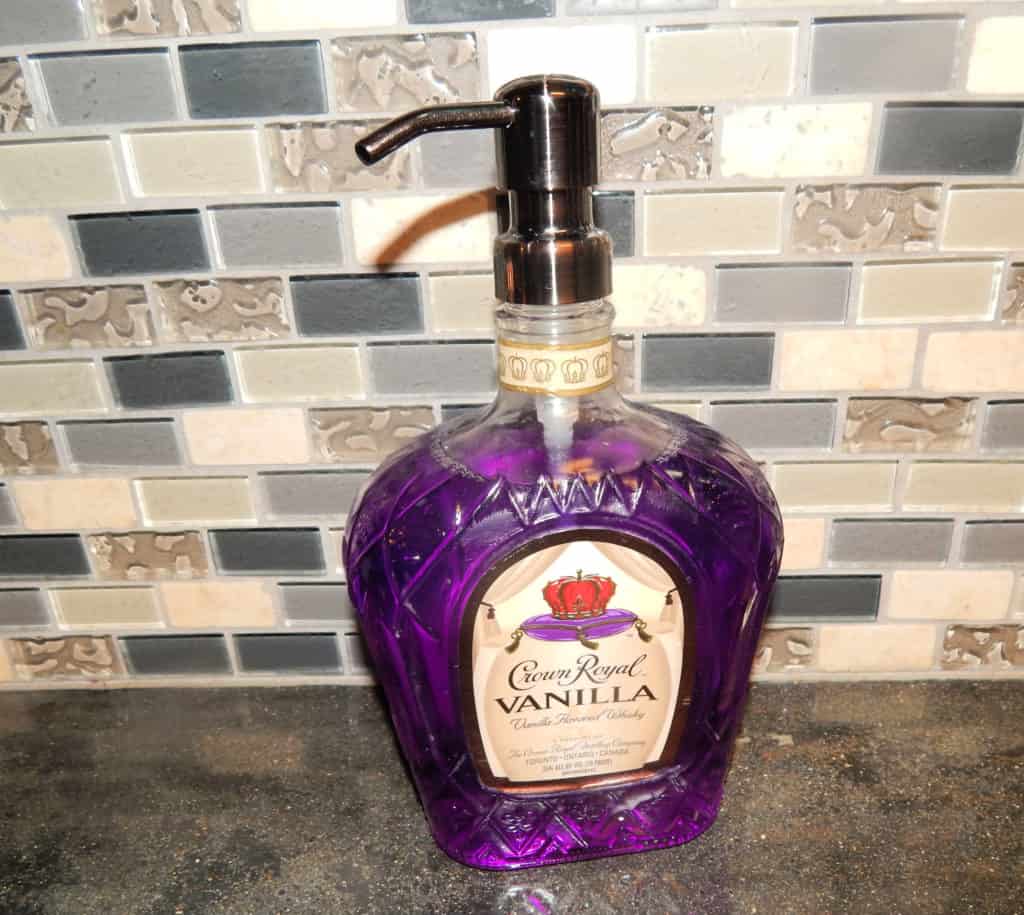 What Kind of Bottle Do You Want To Turn Into A DIY Soap Dispenser?