Do you scour the internet and Pinterest looking for a DIY project that involves pallets? Many people don't realize that you need to do a little preparation work on your pallet wood before you start a project. I have made this guide of useful information so you no longer have to guess! One of my favorite parts of working with pallet wood for projects is that you can use it for so many different things! We have made bookshelves, toy organizers, and furniture just to name a few! After you read these tips you will be ready to break out your hammer, nails, and saws and start your next DIY pallet project.
You may be asking yourself why you just can't grab a stack of pallets, take them apart and start constructing a new swing or table. Pallets often sit in dirty and dingy spaces, and you don't want to expose your family, friends or pets to anything that would harm them. Don't worry; I will explain it all to you. Just hang with me, and by the end of this article, you will be an old pro in no time.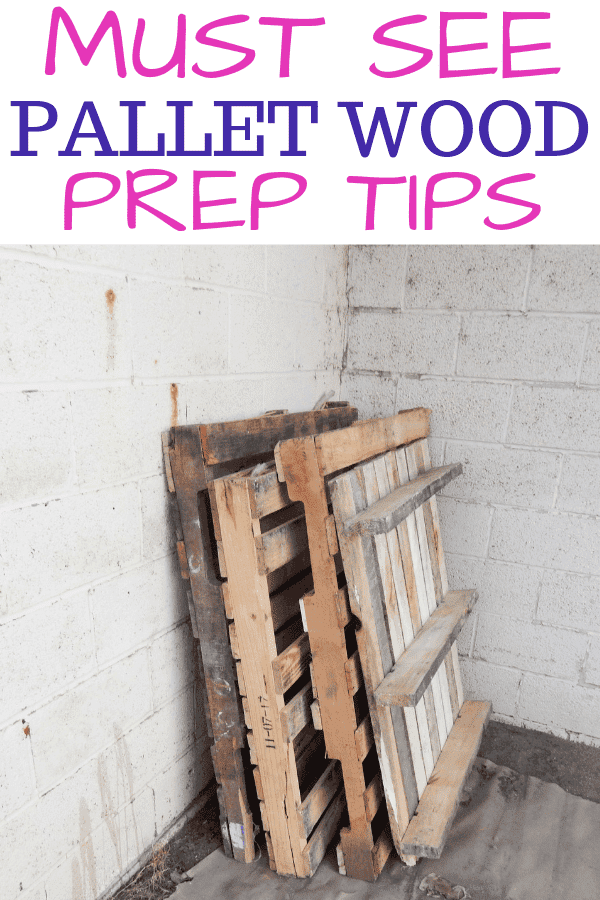 Before I dive in with all the good stuff, you should also take a look at these helpful articles.
Why Should I Clean My Wooden Pallets For Crafts?
When you think about it, pallets are used for many industrial companies and kids to all kinds of yuckiness. Imagine mice and other critters walking and even pooping on them! I know it gross, but this actually happens. If you are turning your pallets into a table or something for your kids bedroom you certainly don't want them to be exposed to that. Additionally, pallets are used to move various oils, chemicals and other things that could leak onto them. It's always a good idea to use gloves and goggles to protect yourself from all those crummy germs when you are cleaning it.
Some of the links in this post are affiliate links. This means if you click on the link and purchase the item, I will receive an affiliate commission at no extra cost to you. All opinions remain my own.
How Do You Prepare A Wooden Pallet For Painting?
The last thing you want to do is to paint a pallet and have it not stick! Your project will be in shambles in time if you skip this step. The best way to clean your wooden pallet is with a soft, wet cloth with some soapy water. I like to use ">orbital sander because it is easy for me to use and I like the finished look. A sanding block would be another method that would help you and not break the bank! You just want to make sure not to over-sand your wood. Part of using a pallet that makes it so fantastic is that they have tons of character and the defects make the finished project look even better. I recommend using an 80-grit up to 120-grit sandpaper, but you can really use whatever goes the best with what you are trying to accomplish.
After you have it sanded, then you will want to remove all of the dust. I like to wipe it down with a wet rag and let it air dry. At this point, you can either prime it and paint it our if you want a more rustic weathered look you could skip the primer. If you are going to skip painting and just using a stain, you can just follow the same steps.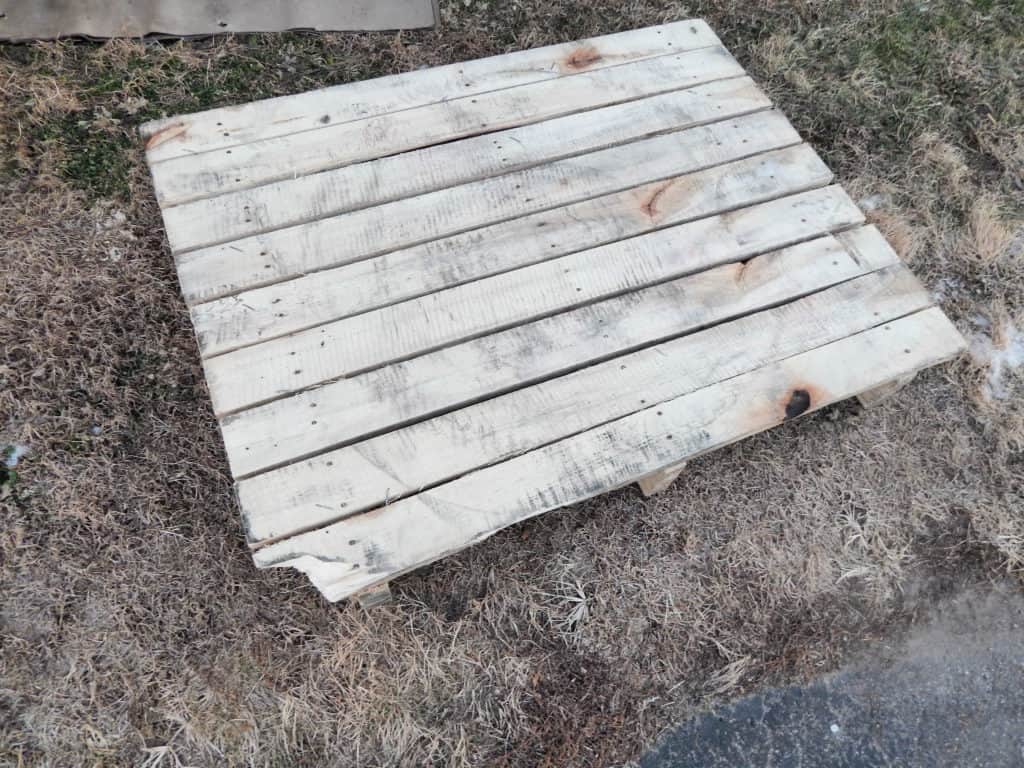 Is Pallet Wood Toxic?
If you look closely at your pallets, you will notice there is often a stamp or marking on them. The seals typically have a code so that way you can tell if it is toxic or safe to reuse. These are the typical markings or stamps:
HT – This means that it has been heat treated. Because of the wood being treated with heat which means that the parasites have been removed. This is safe to use for your DIY pallet projects.
DB – This means that it has been debarked. Debarking means that the outer layer of the bark has been removed. They do this with a large planer or other cutting tools. These pallets haven't been exposed to chemicals during the production process, and you can use them without cause for concern.
MB – This stands for Methyl Bromide. If you find a pallet with this marking, I recommend you NEVER use it for anything else. This is highly toxic, and you never want to be around it! It can cause damage to your eyes, skin, and more. Pallets made in the United States and Canada typically are not treated with MB, but once in a while, you will find a pallet with this marking.
KD – This means that the pallet has been Kiln Dried. Kiln drying wood will reduce the moisture in the wood which helps kill fungus, and it is safe to use.
No Markings – When there are no markings, it typically means that the pallet hasn't been heat treated. They are usually safe to use for your crafts and projects.
I plan to give step-by-step guides on several projects. What kind of pallet wood projects would you like to see in the future?