You can make this DIY wreath in less than 1 hour, and you will be stunned by the result. It is gorgeous, you can customize it to go with your color scheme, and you can put them anywhere you want in your home. You could make these wreaths to sell, give them away as gifts or decorate your house or office. No matter what you decide to do with your wreath, it is going to be beautiful!
The thing about making wreaths is that there are so many different designs and options available. You can find silk flowers almost anywhere you go, or you can check out some of my links below if you like what I did. Either way, don't be afraid to add as much character and style as you want. Make something that you love and don't worry about making a replica of mine.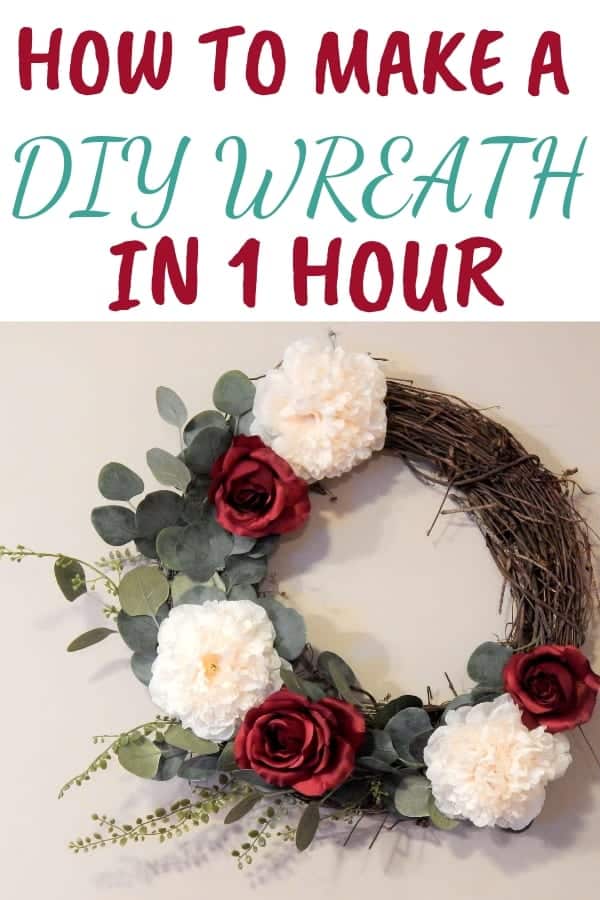 If you love decorating and completing projects, take a look at these ideas:
Some of the links in this post are affiliate links. This means if you click on the link and purchase the item, I will receive an affiliate commission at no extra cost to you. All opinions remain my own.
Supplies Needed To Make Your Own Easy DIY Wreath
Thankfully, you don't need a ton of supplies. Here is a list of the items I used to make my wreath.
Keep in mind when you are decorating your wreath, that you can change the flowers and greenery to whatever you love! I went with the cream-colored flowers and roses because they match my living room beautifully. So go wild and choose colors that work for you.
Instructions On How To Put Together Your Easy DIY Wreath
I like to lay out all of your materials on the table so I can see exactly what I have before beginning my project. You can skip this part if that isn't how you like to do projects.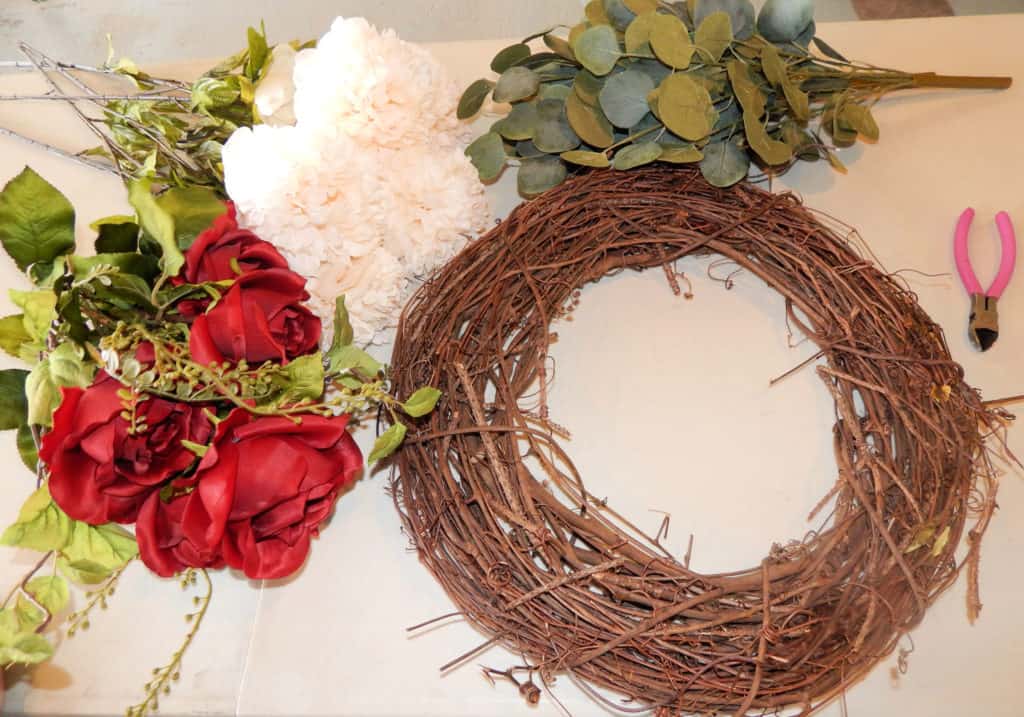 The next step is to cut the eucalyptus leaves apart as I did in the photo below. Also, trim your flower stems to around 3″ for each flower you are using. Then, what I like to do is arrange all the leaves how I want them on the wreath. Then I hot glue them down. They make the base of color, and it looks great if you try to get them to all go the same direction. I angled them as if they are going around the clock and aiming for the twelve. If you want to cover your entire wreath with leaves, you can certainly do that as well. I like the look of the grapevine, so I wanted to show that off a little in my finished product.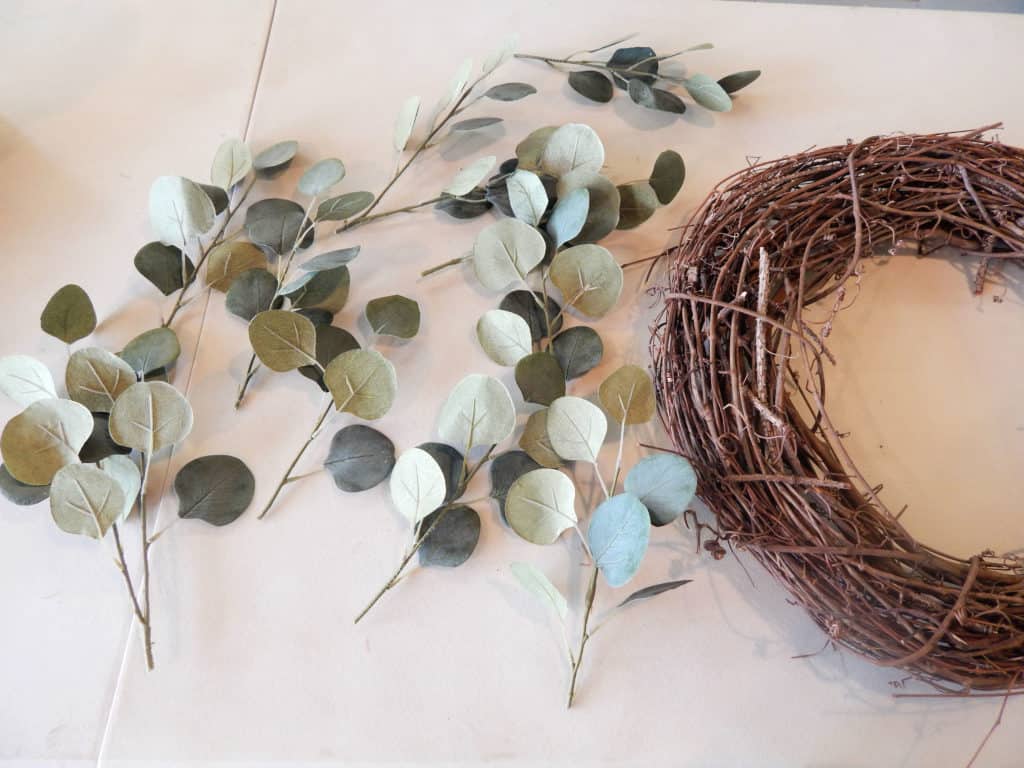 After you have your base of Eucalyptus leaves, then you are ready to start adding your flowers and greenery. You should always arrange them, so they have an odd number because it is naturally more appealing to the eye. So, I chose to do three red and three white to keep the odd number.
As you add flowers and greenery to your DIY wreath, tuck the flower stems into the grapevine and use a lot of hot glue. Because your wreath will be hanging upright on a wall or door gravity will take hold, and you want to make sure that each flower is glued correctly, so they don't fall off.
Lastly, you are ready to add some string, ribbon or wire so you can hang your wreath. I just used a little bit of wire to wrap around my wreath and hook it a nail. You could easily tie a ribbon around yours and hang it that way. I went with wire because you can't see it and it doesn't take away from the style of the wreath.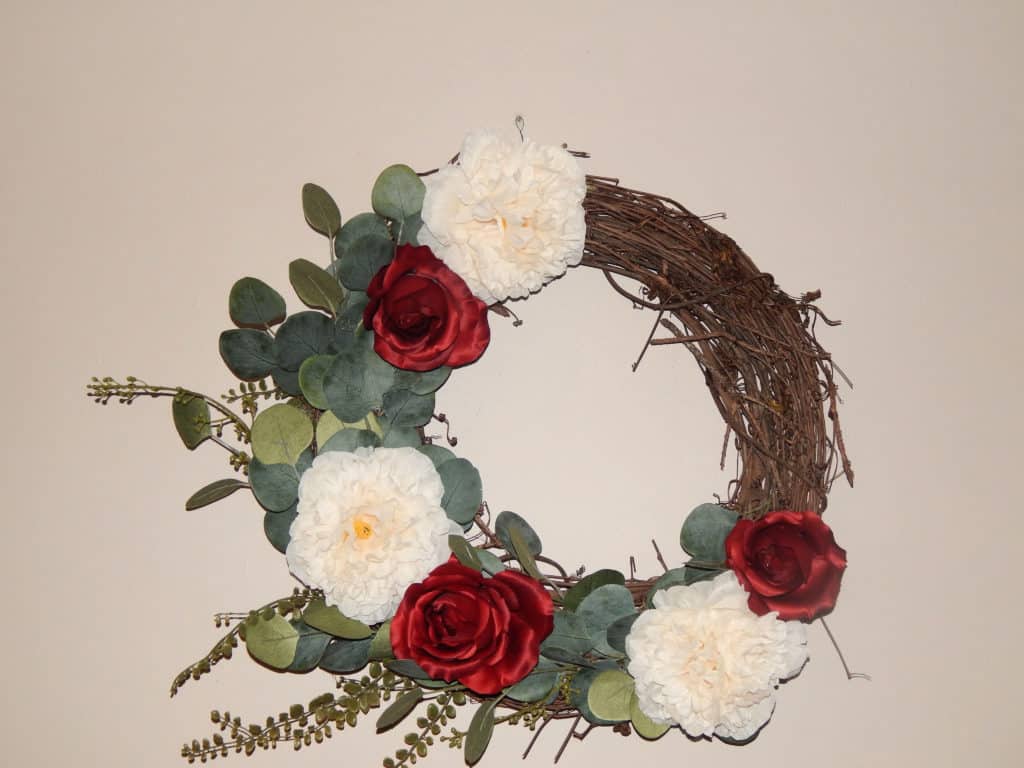 What Do Wreaths Symbolize?
Have you ever wondered why wreaths are shaped the way they are? Interestingly, the shape of the circle is for eternity. It is like your wedding band. There is no beginning and no end. Wreaths are a beautiful symbol of eternity that you can share whenever you hang one up!
How Do You Hang A Wreath On A Wooden Door?
The wreath I made was to hang on my wall, but could easily be hung on my door. The best way to attach a wreath from your door is to go purchase an inexpensive wreath holder. Then you can just put it over the door and hang the wreath directly on it. You just don't want to put a bunch of nail holes in your front door, because that wouldn't be a good look.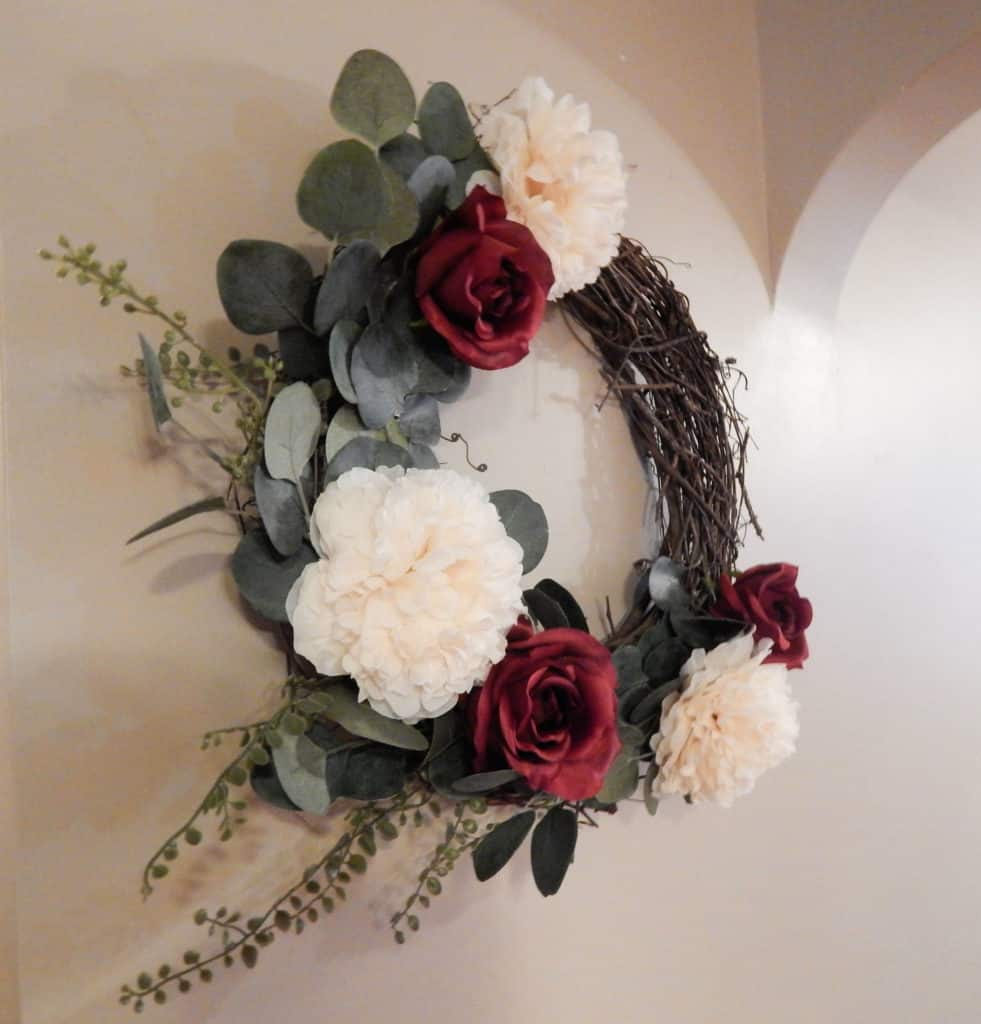 I can't wait to hear about your Easy DIY Wreath! What colors are you going to use?