Watermelon salsa is a delicious and easy summer salsa that is bursting with flavor. Sweet watermelon, crunchy cucumbers, mango, a kick of spice from jalapenos, and more. This dippable watermelon mango salsa is a homerun!
If you are looking for something to bring to your next potluck cookout, or what to snack on at the end of the night, try this salsa. All the fresh ingredients is incredible, and pair with salty tortilla chips, and I bet you can't stop munching.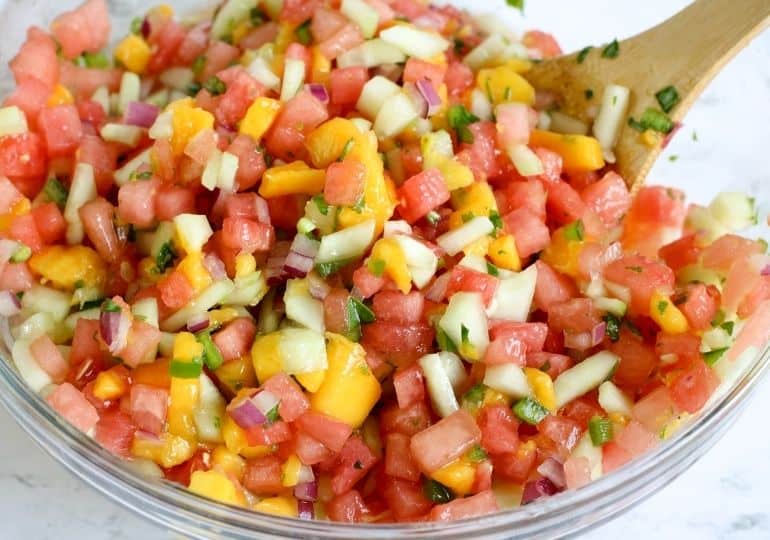 I am a sucker for summer flavors. If it isn't my cucumber salsa, it is this salsa. A must make for any and every occasion under the sun.
Why You Will Want To Make This Recipe
Fresh Ingredients
Simple to Make
Easy Prep
Full of Flavor
Sweet and Spicy
You Control Heat
Quick To Make and Serve
Ingredients Needed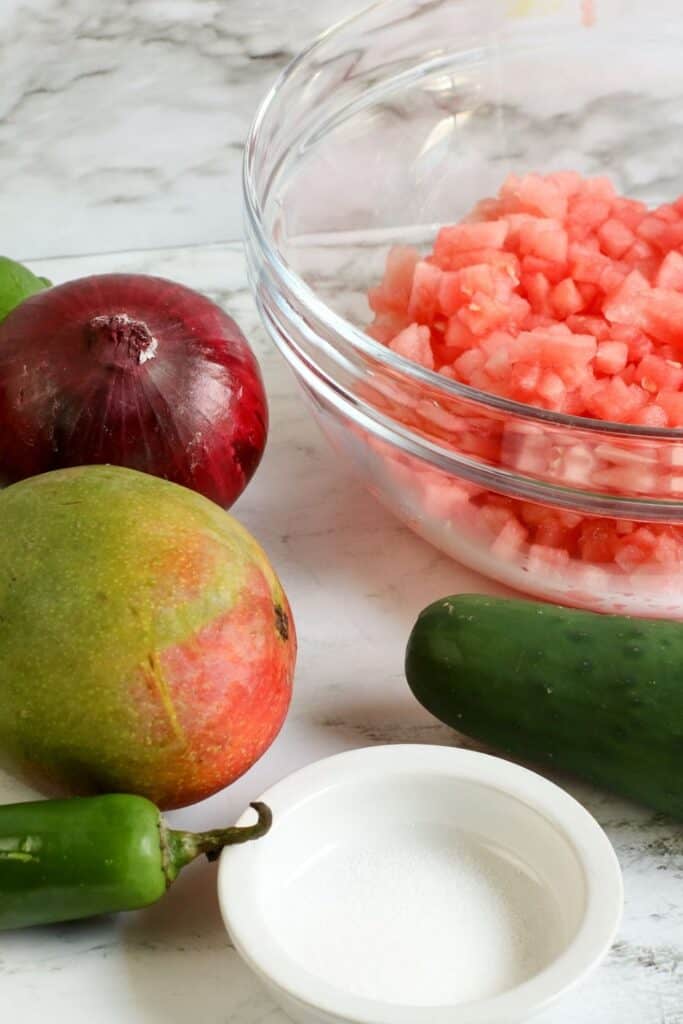 Watermelon
Cucumbers
Jalapeno
Mango
Basil
Red Onion
Basil
Garlic Salt
Lime Zest and Juice
Sugar
How to Make
Full directions for this watermelon salsa are in the printable recipe card below. This is a quick walk through on how to make this fresh salsa with watermelon.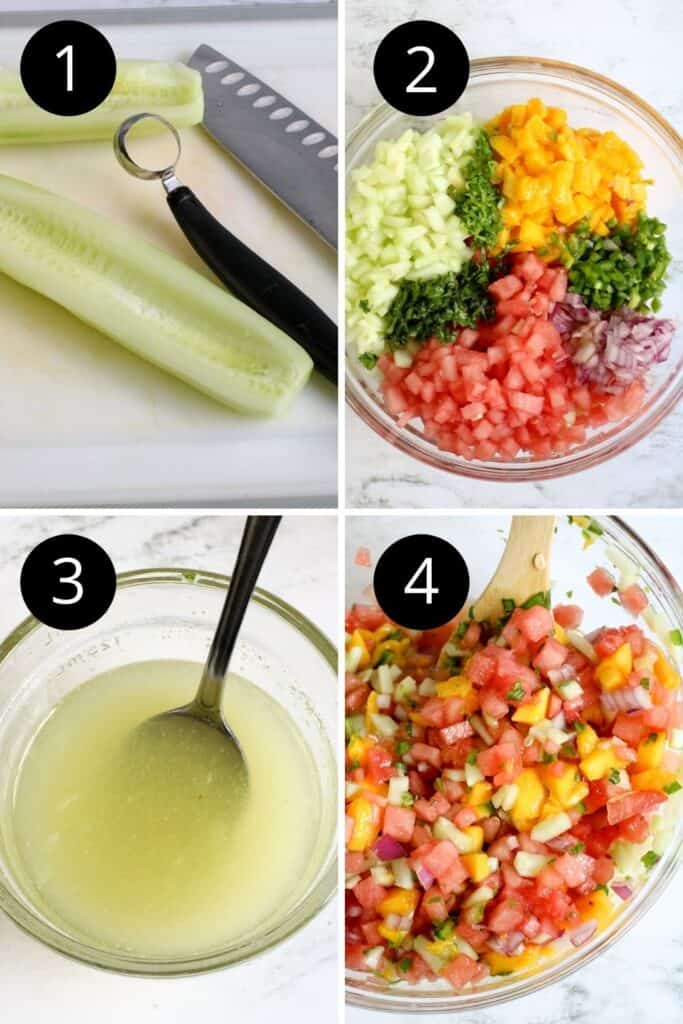 Step 1: The first step is prepping all the fruit and veggies. Then place them in a bowl along with the basil, and lime zest. Toss well to mix.
Step 2: In a small bowl whisk your lime juice, sugar, and garlic salt together, and then pour over the ingredients.
Step 3: Toss well to incorporate all the ingredients together, and then store in the fridge covered until you are ready to serve up this watermelon dish.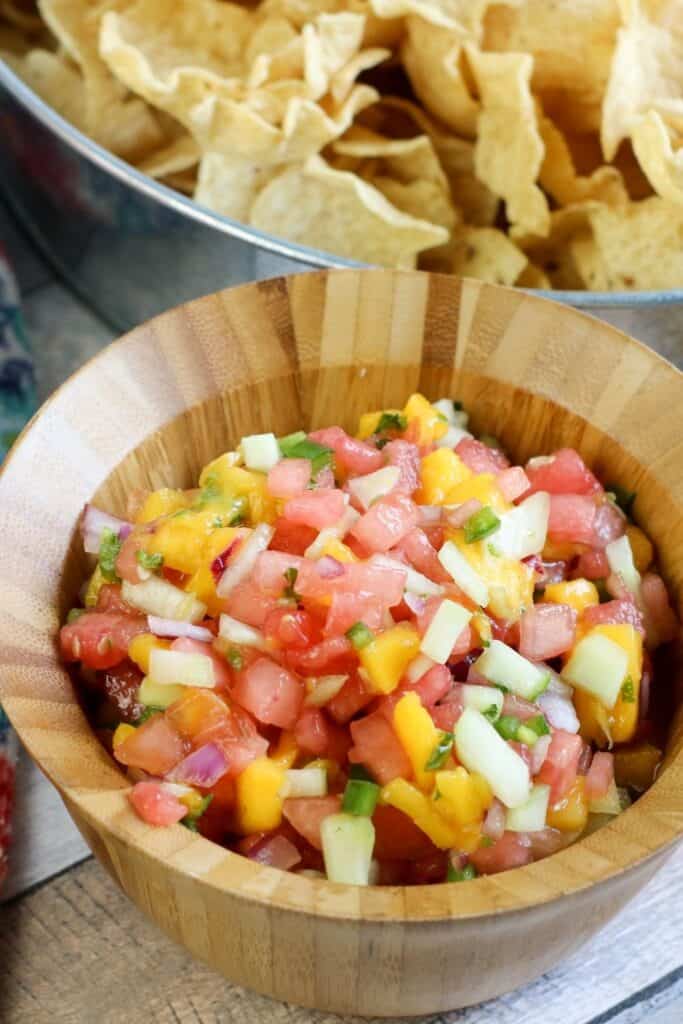 What to Serve With Salsa
We tend to eat our salsa with tortilla chips, corn chips, or even Triscuts or other crackers. I have also shared with celery sticks or larger pieces of sliced bell pepper. All items were gobbled up by my crew!
Storage
Make sure to store your salsa in an airtight container in the refrigerator. It will store for 3-4 days, at most. You will find after a couple of days the fruit will begin to break down a bit and become softer in texture.
Expert Tips And Variations
De-seed and cut out the white membrane in the jalapeno pepper to help tame down the heat. Use gloves as the oil can burn your hands if your skin is sensitive.
If you want the spice leave the seeds or some seeds in the pepper.
The mango adds a nice sweet and tropical flavor to the salsa, but it can be left out if you want.
You can double the recipe if you want extra to serve up at a party.
FAQs
What can I use instead of basil?
If you want go ahead and use cilantro in replace of the basil in the recipe if you want. Or leave out all fresh herbs for a change in flavor.
How to cut watermelon for salsa?
The first step is to cut your watermelon in half. Then work at cutting into wedges and cut off the white rind. Then take your larger pieces of watermelon and cut into smaller cubes. You want to aim for bite-size pieces.
How to peel a mango?
Hold your mango upright and cut on both sides, trying to avoid the pit in the center of the mango. You want to try to cut away from the stem area enough to avoid the pit, but get as much mango flesh as you can.
Then you will take the two pieces of mango that have the skin and fruit in it. Create criss cross cuts all over the fruit. I just into cubes. I do long horizontal lines, then vertical.
Now take your fruit holding the skin and fold it inside out, pushing all the fruit you cut to push out a bit, and the skin turns in. Then cut off all the fruit and you have perfect squares.
Can you freeze watermelon salsa?
The fruit will not hold texture or flavor if you freeze it. I recommend making only what you know you can eat in time before it spoils.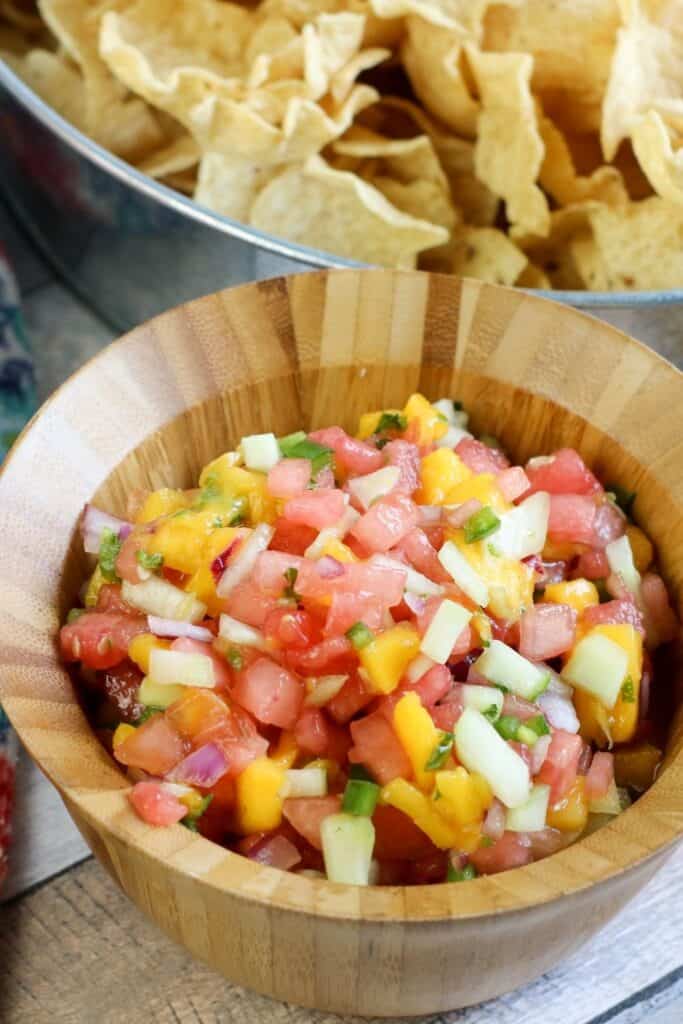 Related Recipes
Yield: 5-6 cups
Watermelon Salsa Recipe
Serve up this refreshing and delicious sweet and savory watermelon salsa recipe. Tons of fresh fruit, kick of spice from the jalapenos and more. Pair with salty chips, cracker, or even veggies.
Ingredients
3 to 4 cups seedless watermelon, finely diced
1 cucumber, peeled, seeded, and finely diced
1 mango, peeled, pitted, and finely diced
1 jalapeno pepper, seeded and minced
¼ cup small red onion, finely chopped
8 fresh basil leaves, finely chopped
½ teaspoon garlic salt
1 lime, zested and juiced
2 additional limes, juiced
1 tablespoon sugar
Instructions
In a bowl you will add the mango, watermelon, cucumber, jalapeno, onion, lime zest, and the basil. Toss to combine.
Now in a small bowl whisk the lime juice, sugar, and garlic powder in a bowl. Mix well.
Pour over the fruit mixture, and toss gently.
Cover and refrigerate the watermelon salsa until you are ready to serve it up.
Notes
Serving - I love serving with tortilla scoops, corn chips, or even celery sticks.
Spicy Factor - Devein and remove the seeds of the jalapeno if you want the salsa to not be as spicy. The clean pepper will add flavor, without adding heat if you remove seeds and white membrane.
Feel free to add or take away ingredients to create your own style of watermelon salsa.
Nutrition Information:
Yield:
16
Serving Size:
1
Amount Per Serving:
Calories:

56
Total Fat:

0g
Saturated Fat:

0g
Trans Fat:

0g
Unsaturated Fat:

0g
Cholesterol:

0mg
Sodium:

51mg
Carbohydrates:

14g
Fiber:

1g
Sugar:

11g
Protein:

1g