I can't help it! I'm in love with this homemade sausage breakfast pizza recipe. It's jam-packed with protein, tons of flavor and delicious sausage. What's not to love about starting your day with this amazing homemade breakfast pizza.
Easy Homemade Sausage Breakfast Pizza Recipe
This breakfast pizza recipe with eggs is perfectly customizable so you can make it a variety of ways. I love using sausage because it's one of my favorite breakfast foods ever.
One thing that is super fun about this sausage pizza recipe is that you can make them into mini pizzas so everyone can have their own! Kids go WILD for this idea!!
How To Make Breakfast Pizza
There are so many ways you can make breakfast pizza out there and guess what!! They are all amazing! Choose to make individual pizzas or make a large one. Either way, it tastes fabulous and is simple. Let's get started so you can make this easy breakfast recipe!
First Step: Preheat the oven and defrost or brown sausage.
Second Step: Sprinkle salt and black pepper, garlic powder, onion powder, and oregano in a small bowl and set aside.
Third Step: Grease a baking dish or pizza pan with olive oil or non-stick spray.
Fourth Step: Roll out the pizza dough on a floured surface and either cut it into 4 pieces or leave it as a full pizza. Sprinkle with seasonings.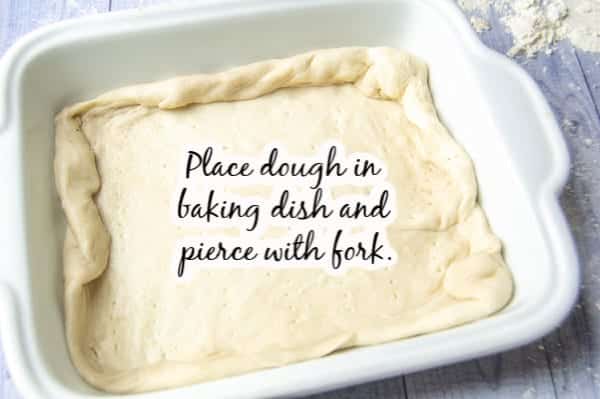 Fifth Step: Place the dough into the casserole dish or on the baking pan and stab it with a fork so there are holes all over.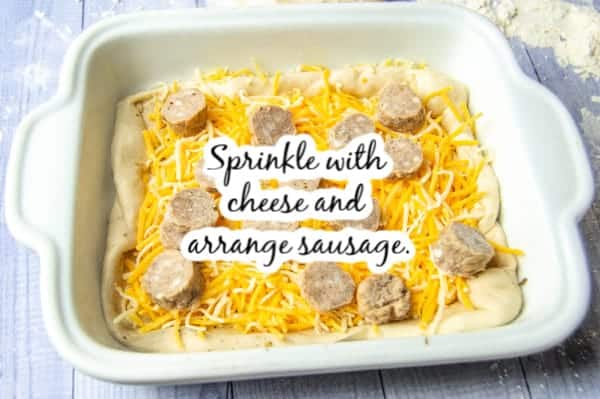 Sixth Step: Add cheese, sausage and break an egg open in the center of the dough. If making a large pizza you can add multiple eggs to the dough.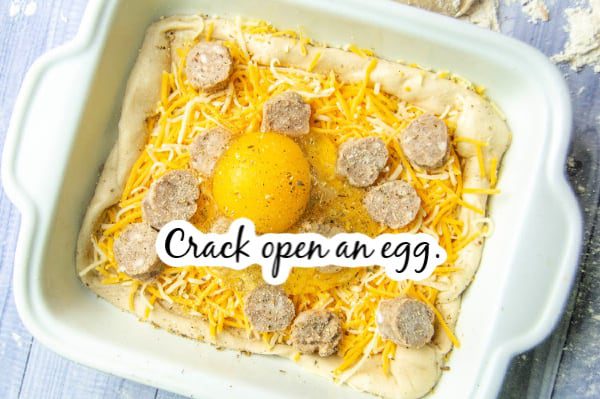 Seventh Step: Sprinkle with some more spices and bake for 10 minutes or until the dough is golden brown.
Helpful Breakfast Tips:
Here are a few helpful tips to try out and make your breakfast pizza turn out terrific.
You can use a baking sheet or casserole dish. Just use whichever you prefer.
If not using frozen sausage, cook it in a nonstick skillet. You can use crumbled sausage or cooked sausage links. You just need to make sure it's all the way done before baking.
Try out different topping ideas. Don't be afraid to try out all sorts of different flavors! It's your pizza so make it how you enjoy it.
Sausage Breakfast Pizza Variations
Try out some fun and tasty ideas to make your homemade pizza unique.
Bacon – Skip the sausage and use bacon instead. Crumble your favorite bacon and sprinkle the bacon bits on top.
Ham – Instead of sausage, you could also use ham. It's so good this way!
Vegetables – Sprinkle on some onions, bell peppers, mushrooms, black olives, tomatoes, or any other veggies you want.
Cheese – Stick with cheddar cheese or try out some other varieties. I love mozzarella, swiss, Colby Jack and other kinds of cheese.
Scrambled Eggs – If you don't want to use a cracked egg, you can easily scramble eggs and sprinkle them on the pizza crust instead.
Helpful Kitchen Gadgets For Homemade Pizza
Check out these kitchen gadgets that will make pizza making even easier! Plus, I'm addicted to anything that you use in the kitchen so I had to share. 🙂
More Tasty Recipes
Don't forget about these scrumptious recipes too. They are all so good!
Yield: 4
Easy Homemade Sausage Breakfast Pizza Recipe
This homemade sausage breakfast pizza is great for feeding a crowd. You can even serve this breakfast pizza recipe for brunch or other events. Learn how to make breakfast pizza and you will have a new favorite dish.
Ingredients
Refrigerated pizza dough (approx. 15 ounces)
Eggs (use 1 or 2 eggs per sausage pizza)
Shredded Sharp Cheddar Cheese (to taste)
Breakfast Sausage (frozen or thawed)
½ teaspoon pink Himalayan salt
½ teaspoon black pepper
1 teaspoon oregano
½ teaspoon garlic powder
½ teaspoon onion powder
Flour to sprinkle on the surface for dough
Oil
Instructions
Warm the oven to 425℉.
If using frozen sausage, take it out of the freezer to thaw. If not using frozen sausage links, brown sausage in a nonstick skillet.
Put the Himalayan salt, black pepper, garlic powder, onion powder, and oregano into a small bowl and mix.
Grease the baking dish lightly.
Sprinkle flour on a work surface for the pizza dough.
Layout the pizza dough and sprinkle the top with a little bit of flour.
Take the breakfast pizza dough and cut it into 4 equal pieces if you want individual pizzas. Otherwise, you can make a large pizza.
Roll out the dough for the homemade breakfast pizza until it's the thickness you want.
Put the dough in the baking dish and pierce it with a fork so there are little holes all over the bottom.
To form edges around the easy breakfast pizza, gently fold them over and don't put any toppings on the edge.
Add the mixture of spices and seasonings to the pizza dough.
Sprinkle the breakfast pizza with cheese.
Add the cooked sausage on top. You can use crumbled sausage or sausage links that's been cut into discs.
Put a cracked egg into the center of the breakfast pizza.
Add some more of the spice mixture to the top.
If making mini pizzas, repeat the process for each one.
Bake for 10 minutes or until the eggs are done and the pizza dough is cooked all the way through.
Notes
You can substitute sausage for bacon or omit the meat altogether.
Feel free to use a variety of cheese for these sausage breakfast pizzas like swiss, mozzarella, cheddar or Colby Jack.
If you want to add veggies to your easy pizza recipe if you want! Mushrooms, onions, peppers, tomatoes and anything else you love would be great too.