It doesn't have to be anyone's birthday to enjoy these Funfetti Pancakes. We love all things that have sprinkles at our house. They just make everything so much more fun.
Birthday Cake Funfetti Pancakes Recipe
These confetti pancakes have buttermilk and a touch of cinnamon to give you the best flavor ever. The base of this recipe is wonderful to add in all sorts of other ingredients too! I will give you some ideas shortly. But first, I want to talk about these sprinkle pancakes a little more.
Whether you want to make this funfetti pancake recipe for an upcoming birthday party or just for fun, you'll find they are so easy to make! There is minimal effort and they taste so much better than a boxed mix.
How To Make Sprinkle Pancakes
This recipe for birthday cake pancakes is super versatile and you can do so many different things with it. Set a batch out in front of some hungry kids and watch them disappear!
First Step: Gather all of your ingredients and preheat your pancake griddle to 350 degrees F.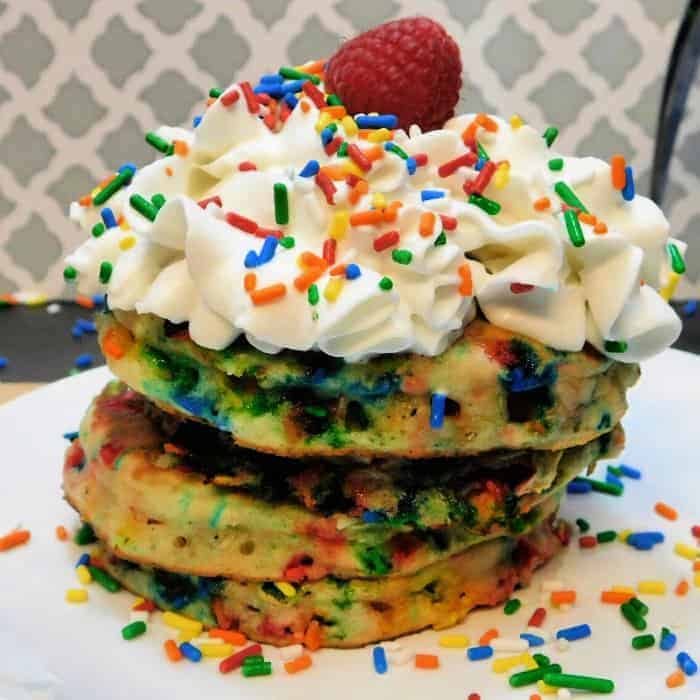 Second Step: Mix the all-purpose flour, sugar, baking soda, baking powder, salt, and cinnamon together in a large bowl.
Third Step: Whisk together the buttermilk, eggs, and vanilla in a medium-sized bowl. Make sure the eggs are fully combined.
Fourth Step: Add the wet ingredients to the dry ingredients and mix just until combined. You don't want to overmix or the pancakes will be super dense.
Fifth Step: Fold in sprinkles.
Sixth Step: If you feel like the batter is too thick, add in 1/4 cup of water and stir it again. This batter is fairly thick anyway, so you don't want to add too much water.
Seventh Step: Cook the pancakes on a hot greased griddle that has been sprayed with cooking spray and flip them after they have begun to bubble.
NOTE: Due to adding the sprinkles, they will burn if you leave the pancakes on the griddle too long. As soon as the pancakes are done, get them off the griddle.
Funfetti Pancakes Variations
I love using basic recipes and adjusting them to fit my needs and mood for that particular day. These buttermilk pancakes are just that! They are perfect for your birthday morning or any time of day really. Here are a few ideas for you to try.
Chocolate Chips – Skip the sprinkles and say "Happy Birthday" with chocolate chips instead! Okay, it can be for any occasion, not just birthdays. 🙂
White Chocolate Chips – Most of us use dark or semi-sweet chocolate when it comes to pancakes, but white chocolate is amazing.
Blueberries – Fold in some blueberries. They add a nice flavor and color to the easy pancake recipe.
Strawberries – Chop up some strawberries and add them to the mix for a playful spin on these pancakes that kids love as well as adults.
Almond Extract – If you love the flavor of almond extract, you can easily swap the vanilla for it. YUM!
Serving And Topping Ideas For This Funfetti Pancake Recipe
Just like the ingredients you can add to these confetti pancakes, you can also top them with several options as well. Take a look at some tasty ideas to get you started:
Whipped Cream – We chose to add some whipped cream to our sprinkle pancakes because it's such a delicious topping idea.
Melted Butter – If you aren't a fan of traditional pancake toppings, you can add some melted butter and enjoy them hot.
Strawberry Syrup – Every bite of your birthday breakfast will be insanely delicious when you drizzle these buttermilk pancakes with strawberry syrup.
Maple Syrup – Go the traditional route and just add some maple syrup on top. They are so amazing this way too.
Chocolate Sauce – If you want to go wild, add some chocolate sauce on top of easy pancake recipe. It takes them to the next level.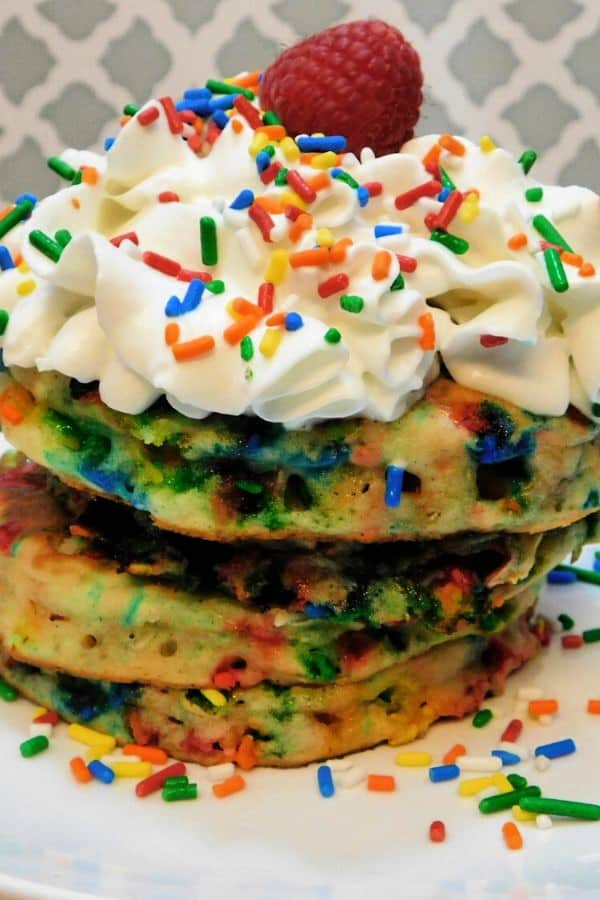 Do I Have To Add Cinnamon To These Funfetti Pancakes?
No, you don't have to add cinnamon if you don't want to. I love the flavor it adds, so I never go without. You could replace the cinnamon with nutmeg, pumpkin pie spice, or allspice if you want. Or you can leave the spices out altogether.
How To Make Homemade Buttermilk
If you don't have buttermilk on hand, you can easily whip up a batch of your own. Mix together 2 cups of milk and add 2 tablespoons of vinegar or fresh lemon juice. Then let the mixture sit for 5-10 minutes then continue mixing the birthday cake pancakes as directed.
Buttermilk can be fairly expensive unless you catch it on sale. So making it yourself at home is a frugal way to save money. These confetti pancakes are amazing with buttermilk, so don't skip that part completely or they won't turn out as good.
How Do You Store This Funfetti Pancake Recipe?
Let the sprinkle pancakes sit and cool for at least 15-20 minutes. Then place the confetti pancakes in an airtight container. The lid should fit tightly. Next, place the birthday cake pancakes in the fridge for 4-5 days.
I love this funfetti pancake recipe for making ahead breakfast for the week. They are so simple to warm up and they make an effortless breakfast on those hectic mornings.
You can also freeze the funfetti pancakes too.
Just lay them out on a baking sheet making sure they aren't touching. Then put the pan in the freezer for 2-3 hours.
Once the sprinkle pancakes are frozen, then pop them off the baking sheet and place them in a freezer-safe storage container. The confetti pancakes last 2-3 months in the freezer.
How Do You Reheat Sprinkle Pancakes?
The best way to reheat the birthday cake pancakes is by placing them on a microwave-safe bowl. Then cover them with a damp paper towel and warm them for 30 seconds or so. Check them and if they aren't warm enough heat for 30 more seconds. Repeat this step until they are hot.
Looking for more delicious recipes? Check out these amazing treats:
Birthday Cake Funfetti Pancakes Recipe
These Funfetti Pancakes are the perfect way to celebrate a birthday or any other occasion! Sprinkle pancakes are so EASY and delicious! Confetti pancakes will brighten your day and fill your belly.
Ingredients
2 C. All-purpose flour
1/4 C. Sugar
1 1/2 Tsp Baking Soda
3/4 Tsp Baking Powder
1/2 Tsp Salt
1/4 Tsp Cinnamon
2 Eggs (use room temperature eggs)
2 C. Buttermilk
1 Tsp Vanilla
Optional Toppings
Whipped Cream
Sprinkles
Syrup
Butter
Instructions
Mix together dry ingredients for the sprinkle pancakes in a large bowl.
Whisk wet ingredients in a medium bowl.
Combine the wet ingredients with the dry ingredients in a large bowl to make the funfetti pancake batter.
Fold in sprinkles to the pancake batter.
Cook confetti pancakes on a hot griddle that has been greased.
Top with favorite toppings and enjoy the birthday cake pancakes hot!
Notes
Serve the birthday cake funfetti pancakes with whipped cream, maple syrup, strawberry syrup, blueberry syrup or eat them plain. They also taste great with fresh fruit and sausage!
Nutrition Information:
Yield:
8
Serving Size:
1
Amount Per Serving:
Calories:

227
Total Fat:

4g
Saturated Fat:

2g
Trans Fat:

0g
Unsaturated Fat:

2g
Cholesterol:

53mg
Sodium:

580mg
Carbohydrates:

41g
Fiber:

1g
Sugar:

14g
Protein:

7g