Dreaming of something ooey and gooey? This Bacon Cream Cheese Dip is perfect for parties, get-togethers, potlucks and watching The Big Game! This bacon dip has melted cheese, tasty garlic, salty bacon, and spinach! Those drool-worthy ingredients are the reason why my family refers to this as bacon crack dip! It's impossible to stop eating it once you dig in!
Warm Bacon Cream Cheese Dip Recipe
Not only is this bacon cheese dip perfect for impressing your friends, but it's also great to munch on for a simple lunch too. I've been there a few times myself! No judgment here if you decide to do the same.
I love making this when we are having a holiday party and placing a huge bowl of tortilla chips. You won't believe how quickly the bacon spinach dip disappears. I take that as a compliment!
How To Make Bacon Cream Cheese Dip
Within 30 minutes you will be munching on the best hot bacon dip you've ever tasted! For real, this is such an easy cream cheese dip recipe. Let's get started:
First Step: Start by preheating the oven to 350 degrees F.
Second Step: Combine the cream cheese, one cup of mozzarella cheese, and parmesan cheese in a large bowl. Season with garlic and black pepper.
Third Step: Sprinkle in the chopped bacon and cooked spinach. Using a hand mixer blend all the ingredients together. Place the bacon dip in a cast iron skillet or baking dish.
Fourth Step: Add the rest of the mozzarella cheese and some bacon crumbles on top.
Fifth Step: Place the dish in the oven and bake for 30 minutes until it's hot and the cheese is melted and has started bubbling.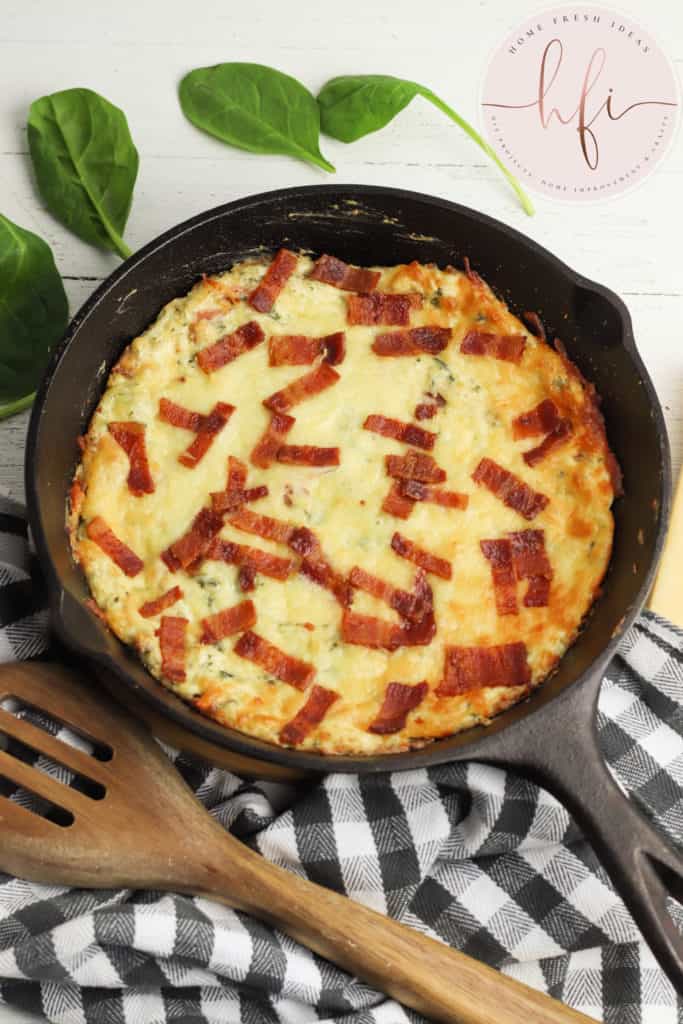 Bacon Crack Dip Variations
I love making recipes that I can adjust whenever I see fit. We get bored when we eat something the same way every time. So, I don't see anything wrong with updating my recipes here and there depending on what I have on hand. Here are some ideas for you to try when you are making cheesy bacon dip.
Pepper Jack Cheese – Okay, sometimes you just want something a little spicy and adding Pepper Jack to this hot cream cheese dip is always a hit.
Grilled Onions – Can you ever have enough caramelized onions? I love to add grilled onions to several warm dips. Just grill them with a little olive oil and mix them into the dip.
Turkey Bacon – If you aren't a fan of regular bacon, you can always switch it out for turkey bacon. It's delicious!
Crab – Toss in some crab and you will end up with a cheesy bacon crab dip that's out of this world!
Cheddar Cheese – I can never get enough cheddar cheese, so it makes sense to add it to this gluten-free dip!
Green Onions – Sprinkle some chopped green onions to this hot dip for some extra yummy flavor.
Ranch Dressing – This dip is often called crack dip, but when you add a little ranch dressing it enhances the flavors even more. Sprinkle a little bit of ranch dip mix into the cheese mixture with bacon bits.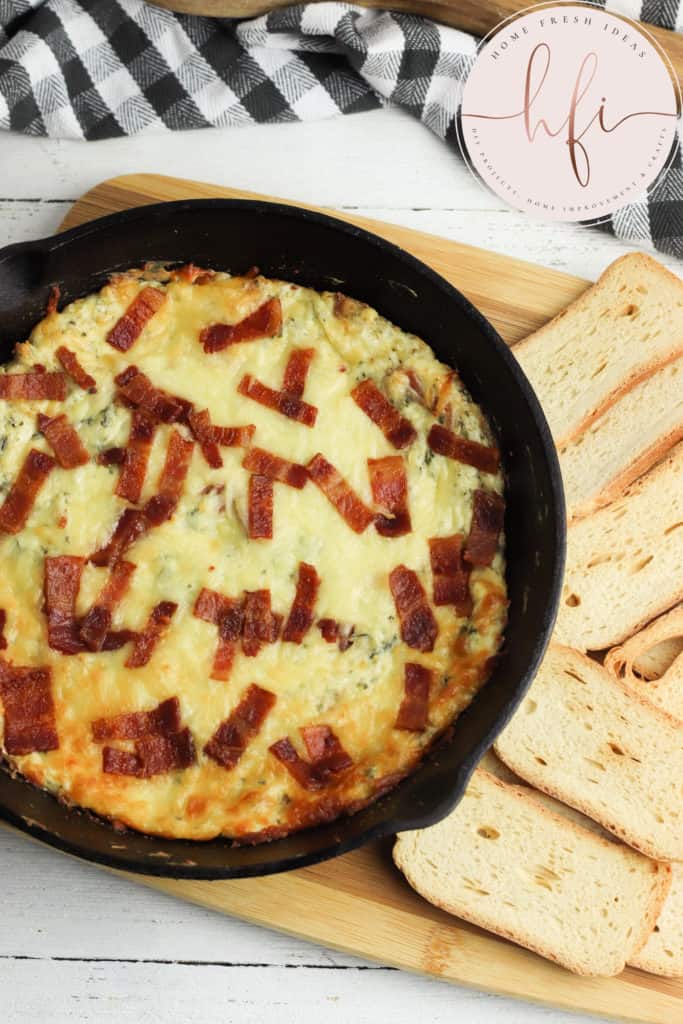 What Should You Serve With Bacon Cream Cheese Dip?
There are several things you can easily serve with this bacon cream cheese dip. It tastes amazing with a spoon if you ask me! Ha! Here are some of my favorite ideas to inspire you:
Crackers – Whether you have some cheesy crackers or any other flavor that you enjoy, give it a try. I am a cracker lover and can't resist the combination.
Tortilla Chips – The only bad thing about using tortilla chips is that it's almost impossible to stop eating bacon crack dip with them. Trust me, it's highly addictive!
Bread – Use your favorite bread and cut it into slices or squares to dip into the bacon cream cheese dip.
Veggies – Carrots, celery, and even broccoli are a great way to eat the bacon crack dip while getting some nutrients too.
How Do You Store Bacon Crack Dip?
If you don't eat every last drop of this bacon crack dip, don't worry you can save the leftovers. Just place it in an airtight storage container and put it in the fridge. It will last around 3-4 days in the refrigerator.
To warm up the bacon cream cheese dip, just heat it in a microwave-safe bowl for a couple of minutes in the microwave. Give it a stir and if it's not hot, heat it another minute or two. Once it's hot you are in luck and ready to chow down.
Looking for more delicious recipes? Take a look at some of these flavorful eats:
Helpful Items To Make This Bacon Cream Cheese Dip
None of these items are required, but they are my go-to gadgets and dishes for this dip. Take a peek:
Yield: 5
Warm Bacon Cream Cheese Dip Recipe
Dig into this drool-worthy Bacon Cream Cheese Dip with bread, chips, or veggies. You only need 7 ingredients for this bacon crack dip and it's incredible!
Ingredients
1 8-ounce package cream cheese, softened
2 cups shredded mozzarella cheese, divided
½ cup shredded parmesan cheese
2 cloves garlic, minced
½ teaspoon freshly ground black pepper
6 strips of bacon, cooked and chopped
8 ounces fresh spinach, trimmed and cooked
Additional chopped bacon for topping (optional)
Instructions
1. Preheat oven to 350 degrees.
2. In a large bowl, combine the cream cheese, one
cup of mozzarella cheese, and parmesan cheese. Season with garlic and black
pepper.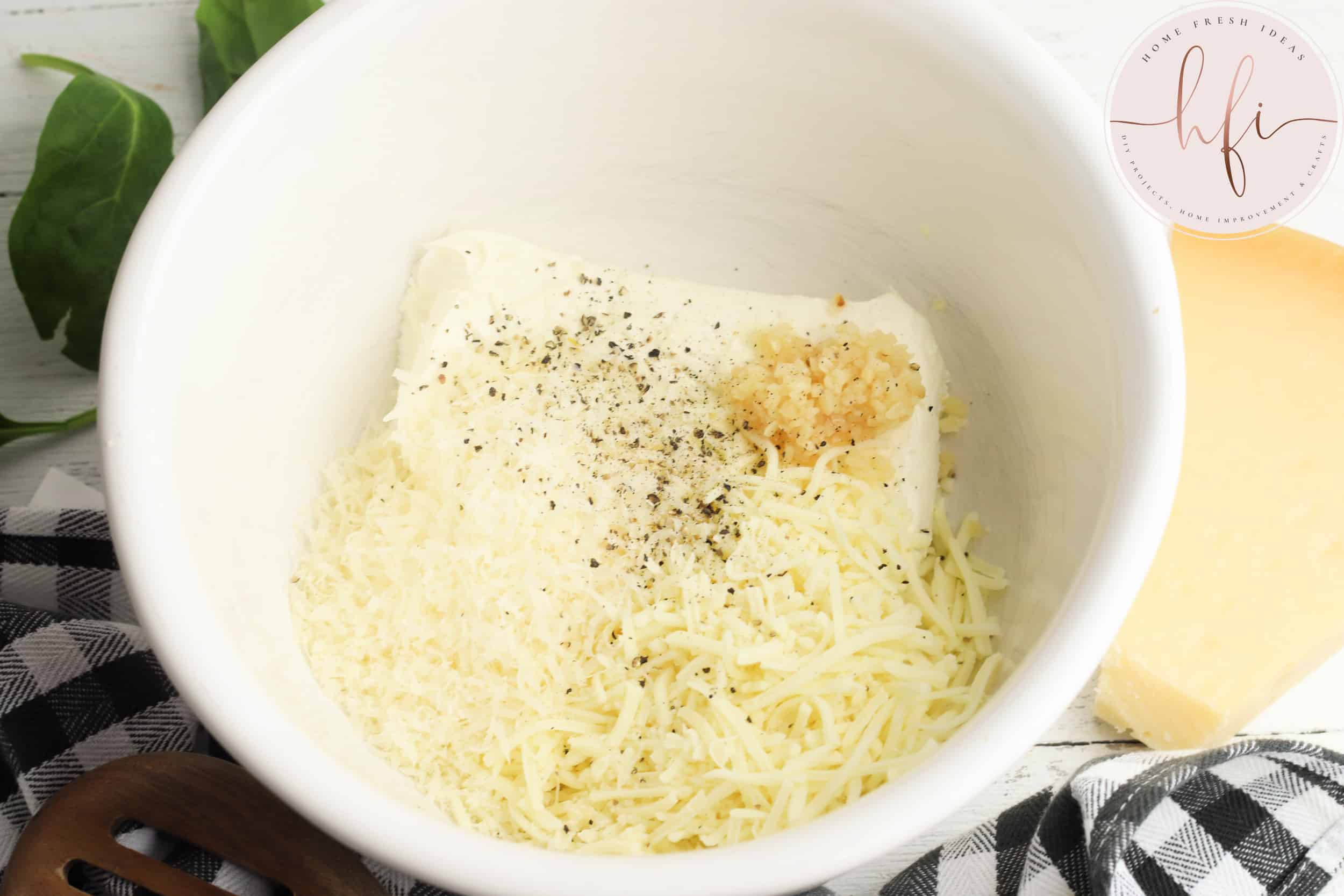 3. Add the chopped bacon and cooked spinach.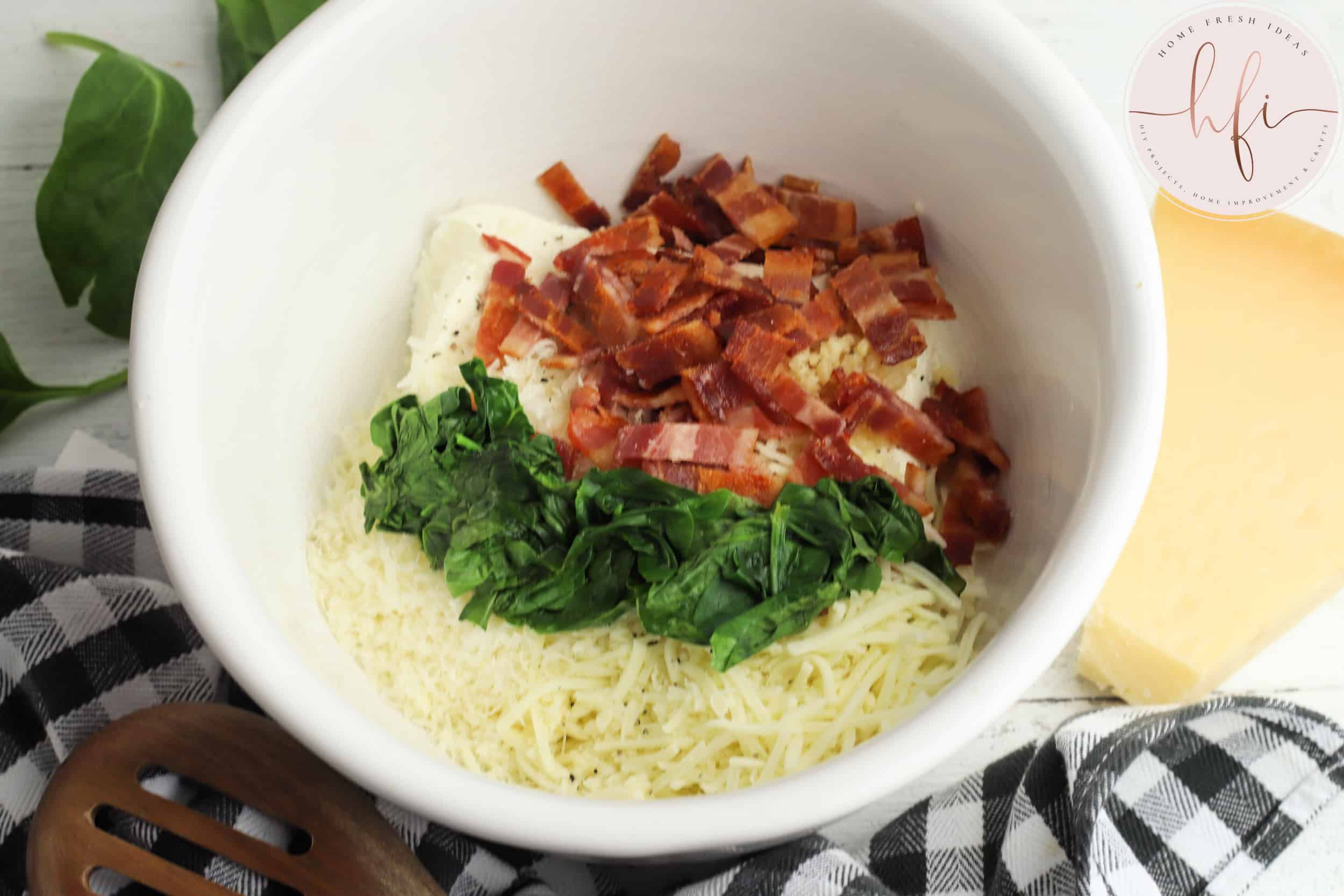 4. Use a hand mixer to blend the ingredients
together, then spread the cheese mixture into a baking dish or small cast iron
pan.
5. Top with remaining mozzarella cheese and
additional bacon pieces, if desired.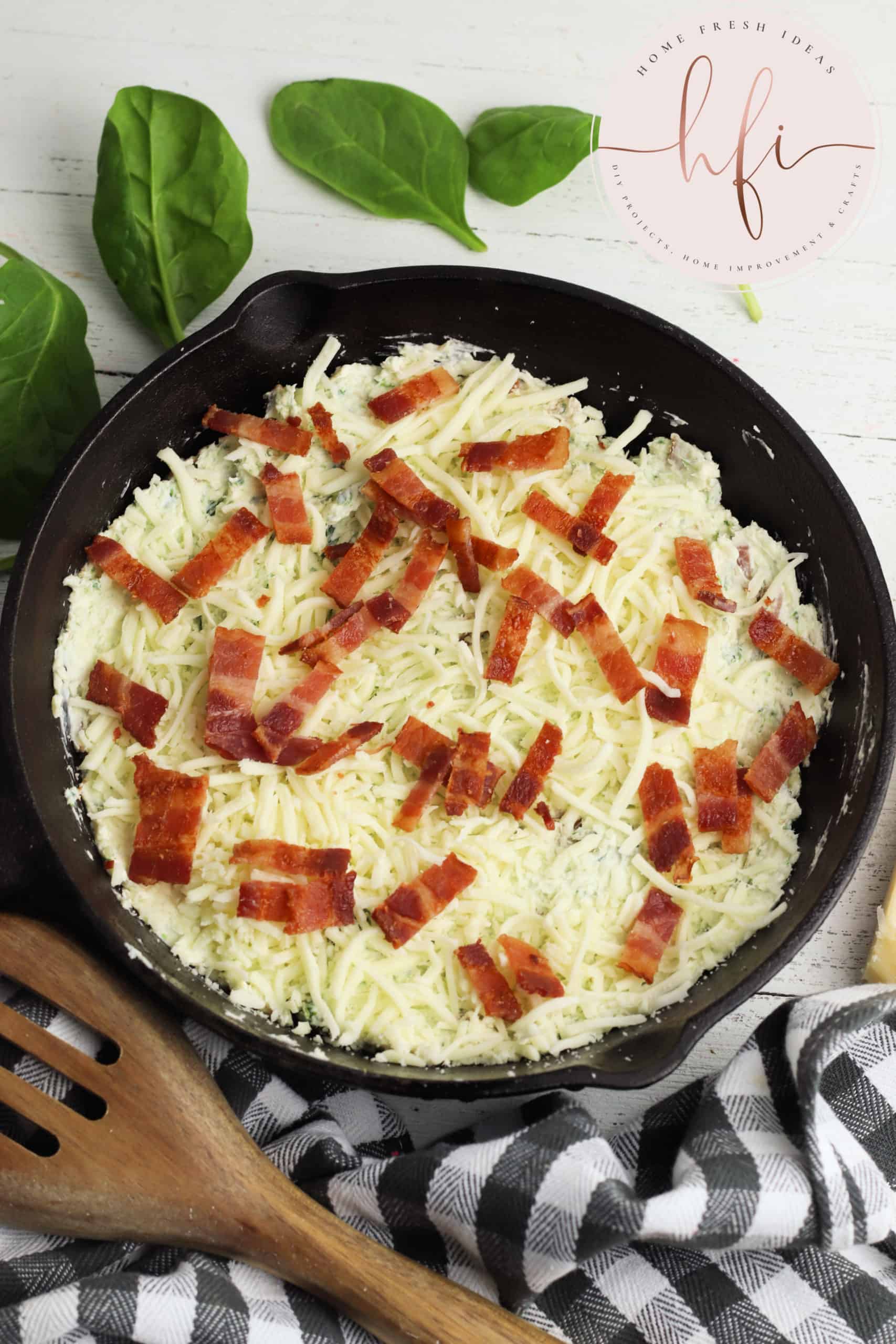 6. Bake in the preheated oven for 30 minutes, until
cheese is melted and bubbly.


Nutrition Information:
Yield:
5
Serving Size:
1
Amount Per Serving:
Calories:

406
Total Fat:

32g
Saturated Fat:

17g
Trans Fat:

0g
Unsaturated Fat:

12g
Cholesterol:

94mg
Sodium:

897mg
Carbohydrates:

8g
Fiber:

1g
Sugar:

3g
Protein:

22g
Nutrition facts are provided as a courtesy, we do not guarantee any of this information. It's to be used as a general guide for you.