Have you been on the hunt for some Last-Minute DIY Valentine's Gifts? Guess what! You've come to the right place.
I'm super excited to share this easy Valentine's Day gift idea. It's simple to make and you will light up someone's world when you give them out.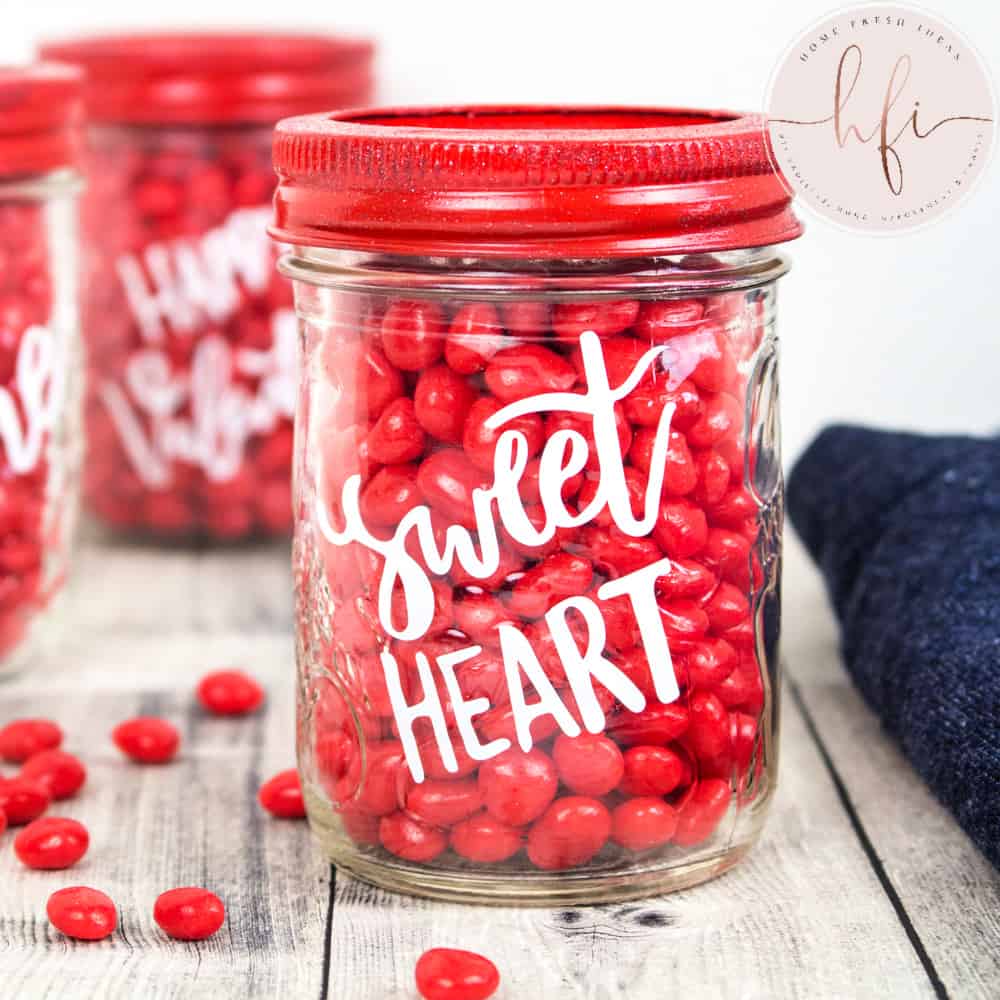 Last-Minute DIY Valentine's Gifts
Whether you have waiting until the last minute or you are trying to get a jump on Valentine's Day gifts, these candy jars are what you need! They are so adorable and you can easily throw them together for the best last-minute Valentine's day gifts ever!
They seriously take no time at all and are perfect for teachers, friends, neighbors, daycare workers, co-workers, bosses, and anyone else you feel like giving a Valentine to.
What Do I Need To Make These Cool Valentine's Gifts?
There are a few things you will need to make one of the best gifts for Valentine's day. Here are the things you'll need to get started.
How To Make DIY Valentine's Gifts
1. Clean the jars with soap thoroughly using hot water. Allow them time to dry all the way before beginning.
2. Next, you'll need to upload Valentine's SVG File into your Cricut Design Space.
3. Adjust the size of each phrase one at a time. The "Happy Valentine's" and "Sweet Heart" should be sized to 2.25 inches tall. The "Be Mine" should be 2 inches high
4. Click and drag each phrase separately. Next, you'll need to select "Group" and then "Attach" before going to the next step.
5. Now you need to click "Make It" in Design Space.
6. You'll need to adjust the setting for material type to the Premium Vinal setting.
7. After following the directions and prompts on the Cricut for loading and cutting the vinyl, you need to unload the mat.
8. Take the vinyl off of the mat.
9. It's easiest to work with when you cut out the words using some sharp scissors. Use the weeding tool as needed to remove the excess vinyl and throw the extra in the trash.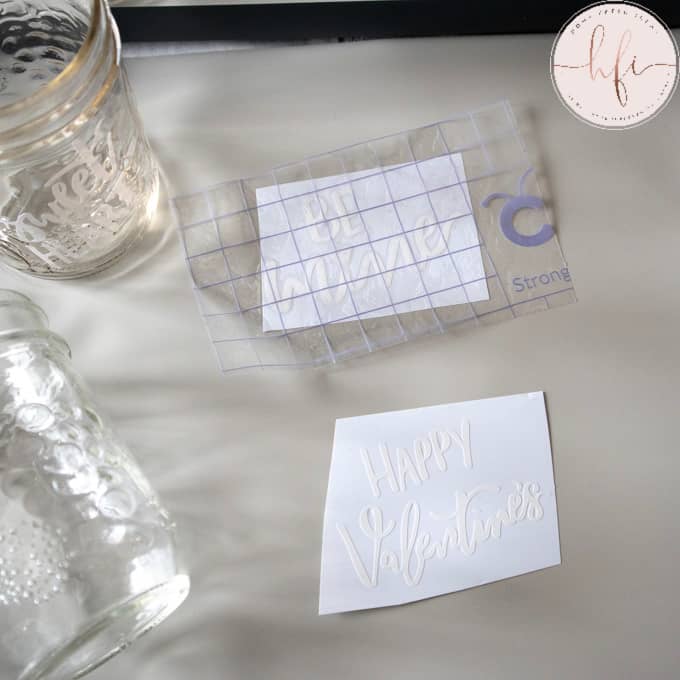 10. It's important to make sure the transfer tape is larger than the actual size of the words.
11. After removing the back of the transfer tape, put it on top of the phrase. Then you will need to rub it gently so it sticks to the transfer tape.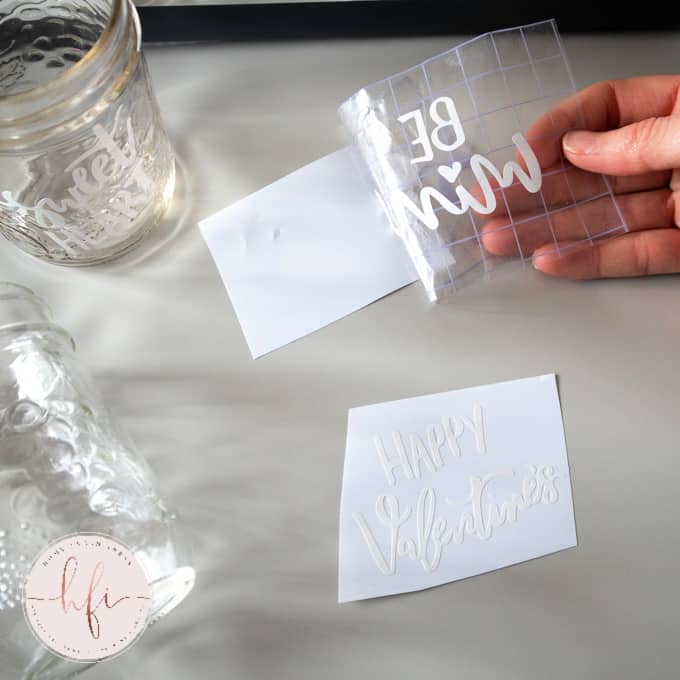 12. Take off the vinyl backing so the only thing that's left is the words stuck to the transfer tape.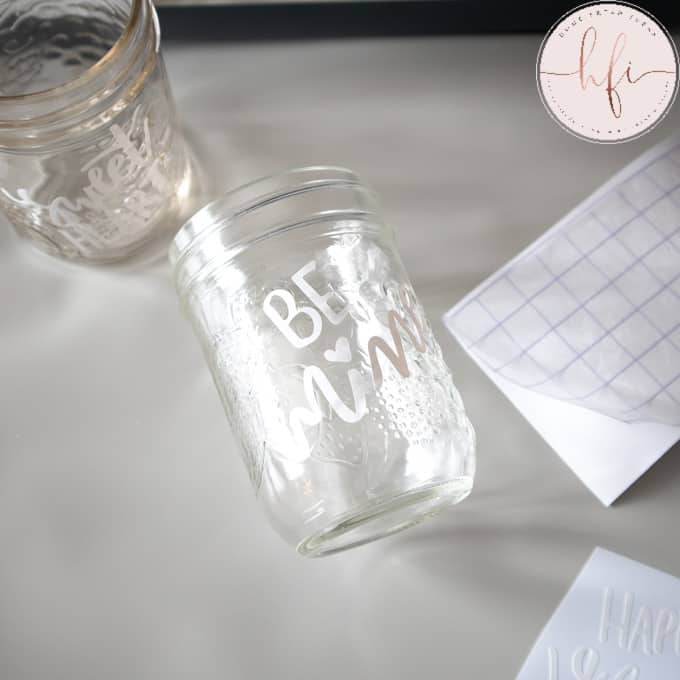 13. Put the words on the flat side of the jar. Press it down so it stays in place. Use your fingers and a scraping tool to adhere the words to stick to the Mason jar.
14. After the words are stuck to the jar take the transfer tape off of the vinyl. The words should stay attached to the jar.
15. Put one coat of paint to the mason jar lid and allow it to dry. After that coat has dried completely you can add another coat. Repeat this process until it's the desired color and coverage you are looking for.
16. Once the color is what you like, add a layer of the glitter paint on top of it. Let it dry all the way.
17. After the lid has dried, fill up the jars with cinnamon candy and give them away!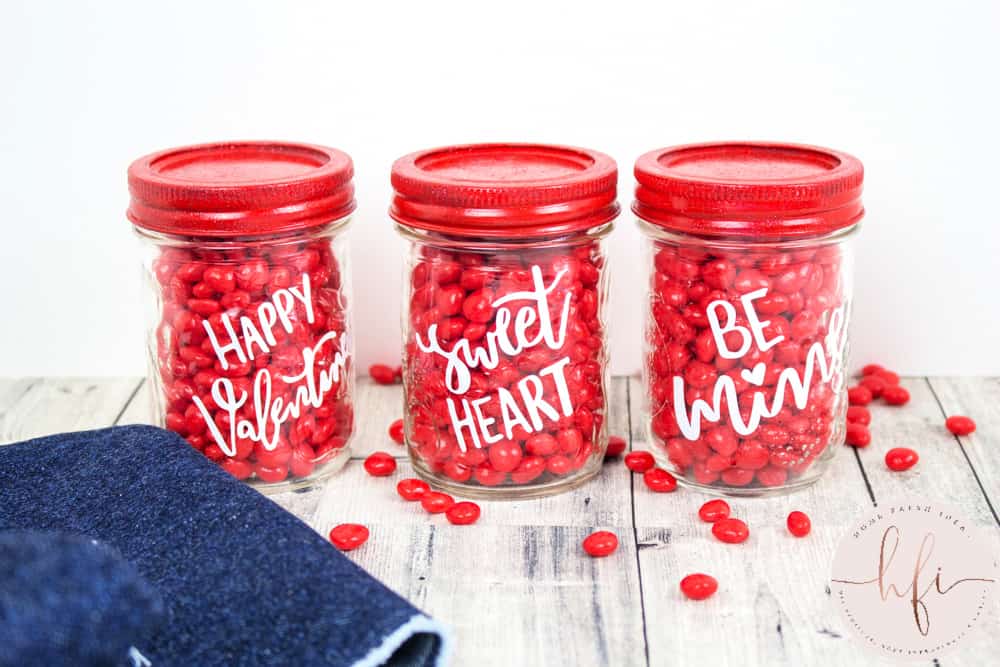 Do I Have To Use 8 Ounce Jars?
No, you can use any size of jar that you want. Don't be afraid to use something much bigger or smaller if that fits your needs better. That's what I love about this adorable Valentine's Day homemade craft idea, it's completely versatile.
Do I Have To Use Cinnamon Candy?
Nope, you can use a variety of candies if you want. I love the red hots because they look so cute and make the white lettering really pop. Here are some great ideas that I think you will like:
Valentine's Day Gift Basket Idea
If you're like me you love to give Cricut teacher gifts and gift baskets to friends and neighbors.
I wanted to take a second to talk to you about making an entire gift basket. You can go as big and fancy as you want or keep it low key depending on who you are giving it to.
Either way, it's a great gift that everyone will love to receive. Take a look at some ideas on what to put in the basket.
Basket Or Gift Box – Find a cute basket or gift box that you think will easily hold Valentine's day craft jar and other items you put in.
Heart Garland – There are tons of varieties of heart garland out there and it's a lovely filler for the basket. This is especially cute as a teacher appreciation gift.
Chocolate Gift – Even if you fill the jar with cinnamon or another kind of candy, you can still add some pieces of chocolate to the basket too.
Socks – Cute little Valentine's Day socks would be adorable.
Gift Cards – You can always add in a gift card to their favorite movie theater or coffee shop.
Bath Bombs – Tossing in a few bath bombs is a great way for someone to relax for Valentine's Day!
Take a look at some other amazing ideas you are going to love: