Fall is such a fantastically fun time of year. I have the perfect idea for you; this easy wooden Halloween craft is a blast to make and screams autumn. Don't you just love making your own Halloween craft decorations? Yes, you can absolutely buy them finished already, but I just enjoy the quiet time relaxing and crafting.
I especially love cute Halloween crafts because I am not into the spooky or scary aspects of the holiday. I don't like to be scared at all, and many Halloween items just plain creep me out. That's why I steer towards the adorable crafts instead.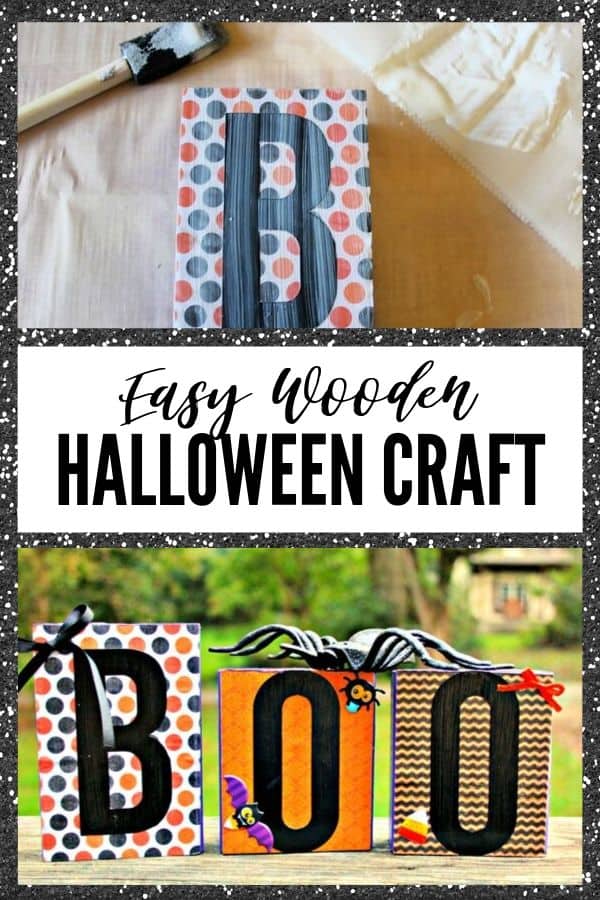 Looking For More Craft Ideas And DIY Projects?
Take a look at some of my other crafts and DIY projects for some inspiration for your next craft idea too. Here are some of our favorites:
Halloween Crafts To Sell
This is one of the best Halloween crafts to sell because they are so easy to put together. Not to mention, you don't have to spend an arm and a leg to do so. If making and selling crafts is your thing, you should really consider making a set or two of these to try out. People will love them, and you could actually make several sets for each holiday.
This Halloween craft is also a great gift idea for family, friends, and neighbors. They will be delighted if you bring a gift just because.
Plus, if you work for a business and give thank you gifts, this would be an adorable idea too especially, if you are in real estate or something like that. Really the options are endless!
Some of the links in this post are affiliate links. This means if you click on the link and purchase the item, I will receive an affiliate commission at no extra cost to you. All opinions remain my own.
How To Make This Halloween Craft
Crafting is about so much more than slapping some glue and wood together. It's about decompressing, relieving stress, using your imagination and creating something beautiful.
That's what I love about this easy Halloween craft. It encompasses it all and looks really great on my mantle! Okay, let's get to the important stuff!
Supplies
3 Wooden blocks approximately 4-5" x 4-5". I chose to make the "B" larger than the "O."

Coordinating Scrapbook Paper (3 pieces)

Letters (stick-on or stencil)

Decorations like ribbons or Halloween stickers
Directions
First Step: Begin by cutting your wood to the size you want. Then start sanding your blocks to remove any rough edges or spots.
Second Step: Paint the sanded blocks. We used spray paint, but you could use whatever paint you have on hand. All the blocks to dry completely.
Third Step: Trace each of the blocks on the backside of a piece of scrapbook paper. Cut the paper along those lines and make sure to make one for each block.
Fourth Step: Carefully paint on Mod Podge the scrapbook paper onto the front of each wooden block. You want it to be smooth and free of bumps. Allow time for drying.
Fifth Step: Use your letter sticker and place it where you want it on each block. Then repeat a layer of Modge Podge and let dry entirely.
Sixth Step: Once it's been dried for a while, place a layer of polyurethane all over each block. It will keep the sticker letters from peeling up, and it will last longer.
Seventh Step: Add ribbons, decorations, stickers, or anything else you would like.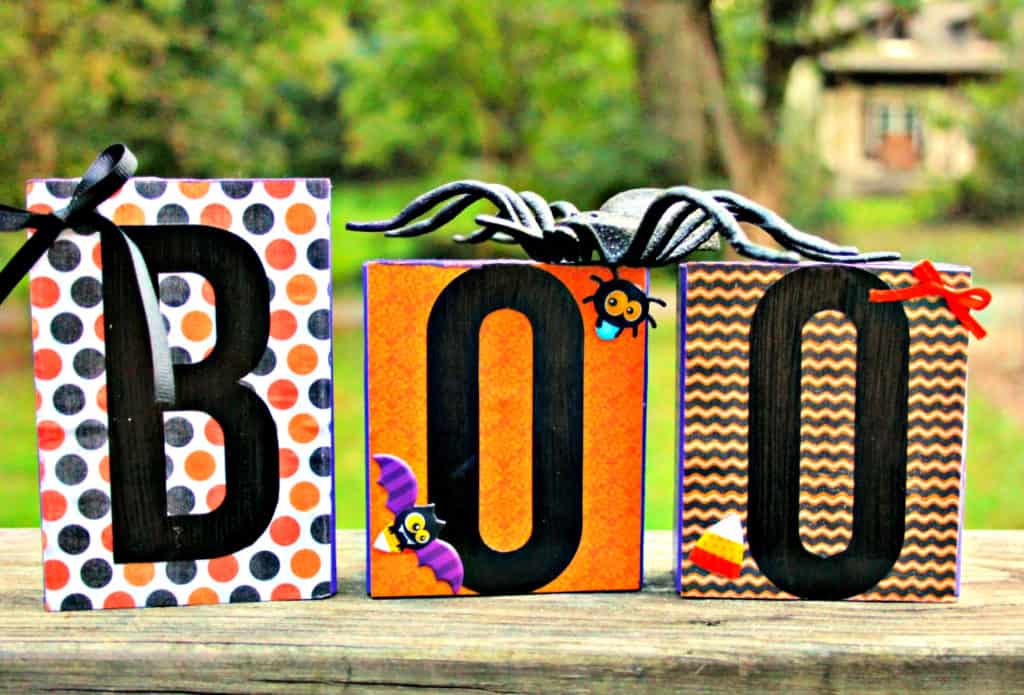 Can I Make This Halloween Wood Craft A Different Size?
Yes, you can actually make this Halloween wood craft any size you want to. I went with smaller sized blocks because I had a small spot to place them in my home. If you are making these for friends that would put them on a desk or smaller area, I would make them the same size as I did.
But, if you have a large area to fill, then go ahead and make them big. No matter what size you go with, Halloween craft for adults will look awesome.
Can Kids Make This Halloween Craft?
Yes, this is a perfect Halloween craft for kids. They will need some help, and I wouldn't recommend letting them do the polyurethane, but that's just my opinion. They can easily help with painting the blocks, adding Modge Podge, and decorating each of the wooden blocks.
Can I Customize This DIY Halloween Craft Idea?
Oh, absolutely, you can customize this DIY Halloween craft idea! You don't have to make it just like mine; these were just the colors that I had on hand and wanted to get crafty!
You can easily change out the colors, add some glitter paint, or make the letters with a Cricut. The options are endless, so play with it and see what you like.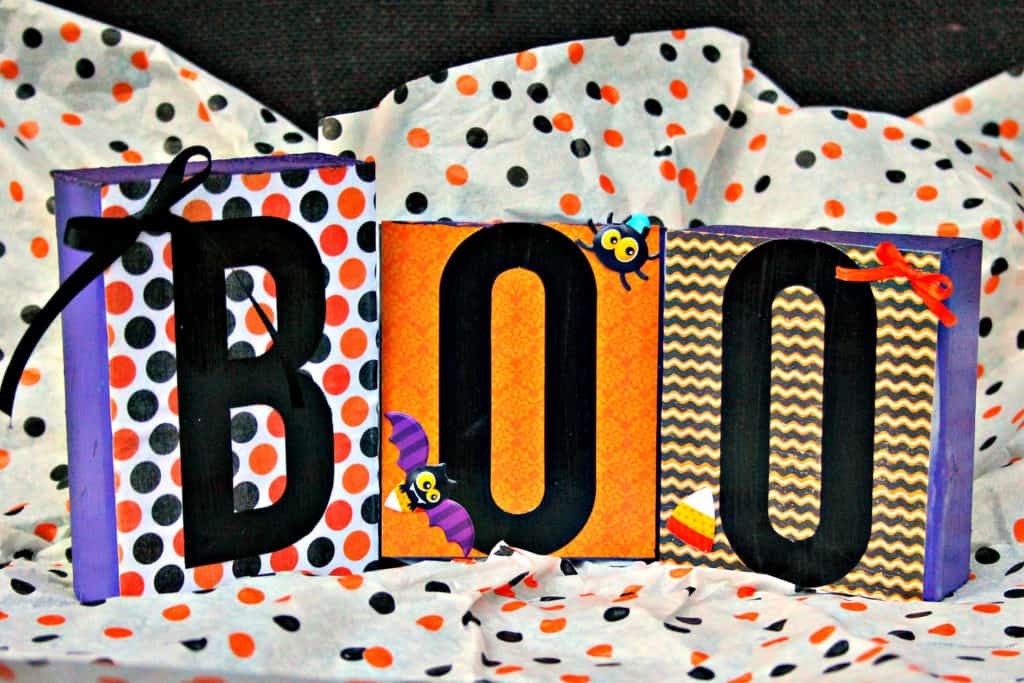 Some of the links in this post are affiliate links. This means if you click on the link and purchase the item, I will receive an affiliate commission at no extra cost to you. All opinions remain my own.
Helpful Supplies & Tools
All of these ideas would be fantastic on this wooden Halloween Craft. Take a peek to get inspired:
If you would rather buy Halloween decorations that are already made, take a look at these adorable ideas too: