These are The Best Easy Air Fryer Southwest Egg Rolls ever! They have a crispy exterior that is packed with Pepper Jack cheese, cheddar, beans, fiesta corn, jalapenos, Tex-Mex seasonings, and cilantro.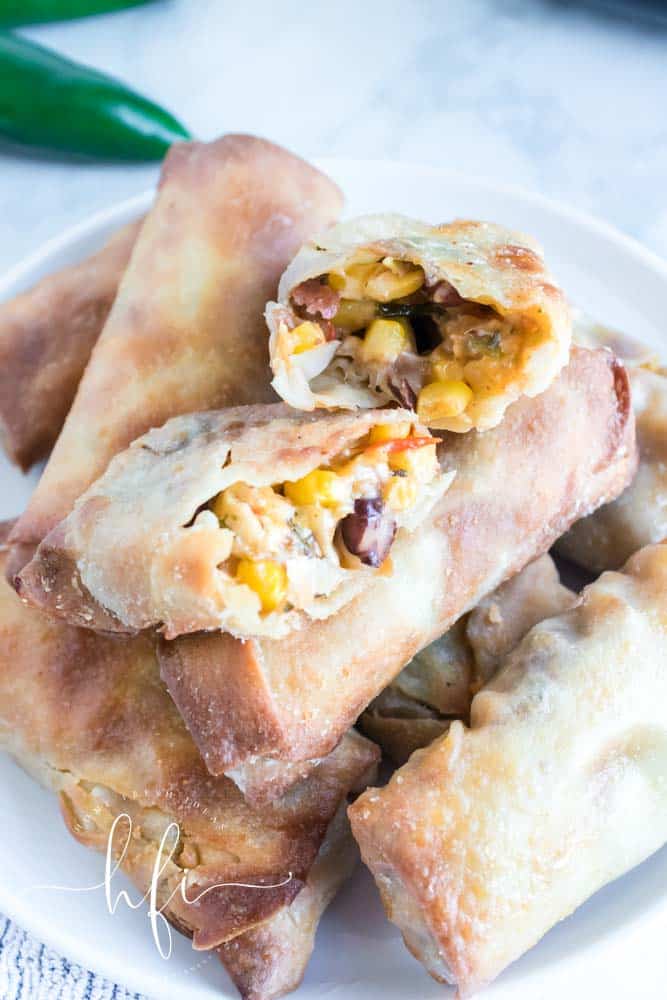 This Tex Mex cuisine is perfect for parties, get-togethers or events. Everyone is in love with the crispy egg rolls that are filled with lots of yummy stuff. What sets these southwest egg rolls apart from other recipes is the Tex Mex seasoning. It's so flavorful!
I wanted something with TONS of flavor and knew that I wanted to break out the air fryer. Using the air fryer to make this southwest egg roll recipe was a hit.
They are crispy!
They are packed with yumminess!
AND it's impossible to resist all their goodness.
🌽 Ingredients
Tri-Bean Blend (Combination of kidney, pinto, and black beans) OR a can of black beans
Fiesta or Mexican Style Corn
Cooked Chicken
Shredded Cheddar Cheese
Shredded Pepper Jack Cheese
Jalapeno
Minced Fresh Cilantro
20 Egg Roll Wrappers
Water
Olive Oil
🌶️ Directions
Start by mixing the corn, beans, chicken, cheese, diced jalapeno, cilantro, and Tex Mex seasoning in a bowl. Use a wooden spoon and mix until blended.
Place an egg roll wrapper out in front of you so it's a diamond shape. Put the corner closest to you. Then put 2-3 spoonfuls of filling in the center of the wrapper. Carefully fold the bottom edge towards the center of the wrapper. Then fold in the two sides and roll the wrapper towards the top. When it's almost wrapped, take a basting brush and lightly add water to the egg roll wrapper. Finish rolling and place seam side down in the air fryer.
Once you have the air fryer filled up, lightly coat the southwest egg rolls with olive oil. I recommend spritzing or using a basting brush.
Turn on the air fryer to 365 degrees and heat them for 7 minutes. Turn them over and add a little more olive oil. Cook for another 6 minutes. If they aren't crispy enough, cook another minute or two.
Serve with your favorite sauce and enjoy!
🍱 Storage
Place the leftover southwest egg rolls in a sealed airtight container. They will last in the fridge for up to 4 days or in the freezer for 3 months.
To reheat the homemade egg rolls, place them in the air fryer at 365 degrees for 5 minutes or so until they are hot. Or you can microwave them. I will warn you that microwaving the egg rolls, the exterior may be a little bit mushy.
🍴 Variations
You can easily adjust many of the ingredients to fit what you enjoy! Here are some of my favorite ideas to use with these egg rolls.
For more heat, add in some extra jalapenos. They are spicy and tasty! Another option would be to sprinkle in some cayenne pepper or crushed red pepper flakes.
While I love Pepper Jack and Cheddar, you could swap the cheese for a Mexican blend or Mozzarella. Go wild with the cheese!
Ground beef, sausage, or turkey would all be great substitutes for the grilled chicken.
You can use fresh oregano leaves instead of cilantro if you'd rather. Parsley is another good option.
🥑 Sauce Options
There are lots of yummy sauces that will go splendid with these southwest egg rolls. Here are a few ideas to taste!
Sour Cream
Ranch Dressing
Spicy Ranch Dressing
Avocado Ranch Dressing
Guacamole
Salsa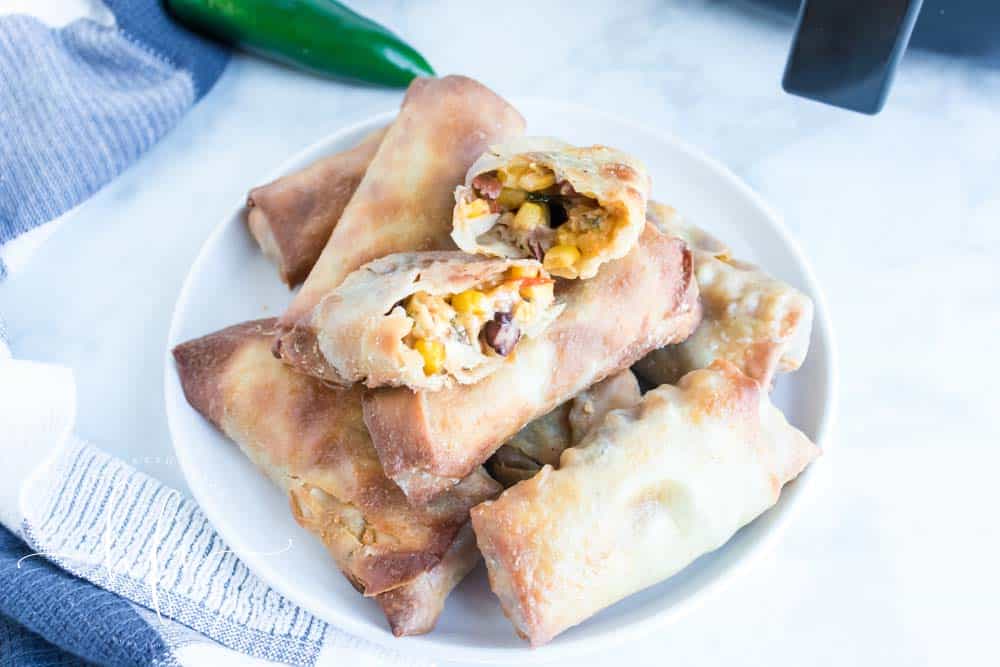 ⏲️ FAQs
What Goes Well With This Recipe?
Honestly, I can whip up a batch of these egg rolls and eat them by themselves. Typically, they are an appetizer though. I recommend serving them with some cilantro lime rice, tacos, or any of your favorite Mexican or Tex Mex recipes.
Are They Spicy?
No, they aren't really very spicy at all. Once in a while you may get a hot jalapeno bite, but that's about it. I recommend adding more jalapenos, red pepper flakes or cayenne pepper to taste if you want more heat.
Can I Use Store-Bought Shredded Cheese?
I recommend grating a block of your favorite cheese instead of using bagged cheese. Honestly, it just tastes so much better! Try it both ways to see what you like best, but I am guessing it will be the cheese you shred yourself.
What Kind Of Chicken Do I Use?
You can use a variety of chicken for this recipe. I like to use grilled chicken, but you can use canned chicken or leftover rotisserie chicken too.
🔪 Helpful Supplies
I wanted to share a few items that I think you may like to have in your kitchen.
Some of the links in this post are affiliate links. This means if you click on the link and purchase the item, I will receive an affiliate commission at no extra cost to you. All opinions remain my own.
Related Recipes
💘💘💘 If you tried this recipe or any other, please leave us 5 Stars in the recipe card below. Show us some love and stay connected by joining my newsletter below. Check us out on Facebook or join my Facebook Group for fun giveaways. Also, be sure to follow me on Pinterest too!
Yield: 20
The Best Easy Air Fryer Southwest Egg Rolls Recipe
These are the Best Easy Air Fryer Southwest Egg Rolls ever! They don't take a lot of time and leave a lasting impression. They are the perfect appetizer too!
Ingredients
15 ounce can of Tri-Bean Blend (mix of kidney, pinto, and black beans) OR a can of black beans
11 ounce can of Fiesta Style Corn (or Mexican Style)
2 Cups Cooked Chicken (Can use rotisserie, canned, or grilled chicken)
1 Cup Shredded Cheddar Cheese
1 Cup Shredded Pepper Jack Cheese
1 Jalapeno (seeded and diced)
1 Tablespoon Minced Fresh Cilantro
1 Tablespoon Tex Mex Seasoning
20 Egg Roll Wrappers
Water
Olive Oil
Instructions
Combine the beans, corn, chicken, both kinds of cheese, jalapeno, cilantro, and Tex Mex seasoning in a large bowl. Mix with a spoon until well blended.
Lay out the egg roll wrapper so it's in a diamond shape with a corner closest to you. Place 2 - 3 spoonfuls of filling in the center of the wrapper. Fold the bottom edge of the egg roll wrapper at the center. Fold in the 2 sides and roll towards the top of the wrapper. When you are almost at the end, use a pastry brush to add water to seal the wrapper. Finish folding. Repeat the process until all the egg rolls are wrapped.
Lightly coat the egg rolls with olive oil. Use a basting brush or spritz it. Never use non-stick cooking spray or it can damage your air fryer.
Place the egg rolls in the air fryer so they aren't touching. Close the door, and turn it on to 365 degrees for 7 minutes. Turn the egg rolls, add a little bit more olive oil, and cook for an additional 6 minutes. If they aren't crispy, you may need to cook them another minute or two. Work in batches until they are all cooked.
Drain on a paper towel-lined plate and serve with your favorite sauce.
Notes
Add additional flavors by mixing in different meats, cheeses, or veggies.
Work in batches so you don't overcrowd the air fryer.
Don't use non-stick cooking spray because it can mess up your air fryer. Stick with olive oil.
Nutrition Information:
Yield:
10
Serving Size:
1
Amount Per Serving:
Calories:

457
Total Fat:

14g
Saturated Fat:

6g
Trans Fat:

0g
Unsaturated Fat:

7g
Cholesterol:

53mg
Sodium:

990mg
Carbohydrates:

58g
Fiber:

6g
Sugar:

2g
Protein:

25g
I'm not a dietician, these numbers can change based on the actual ingredients used. They are here as a guide to help you.