Charcuterie Platters are popular right now and they are so adaptable to any type of event or activity. You can make a simple charcuterie board or be as elaborate as you want. This Ultimate Breakfast Charcuterie Tray is perfect for family time or a romantic morning. You can add as many or as few items as you want and even make this Charcuterie platter kid-friendly. Everyone will be excited about this fun and unique breakfast.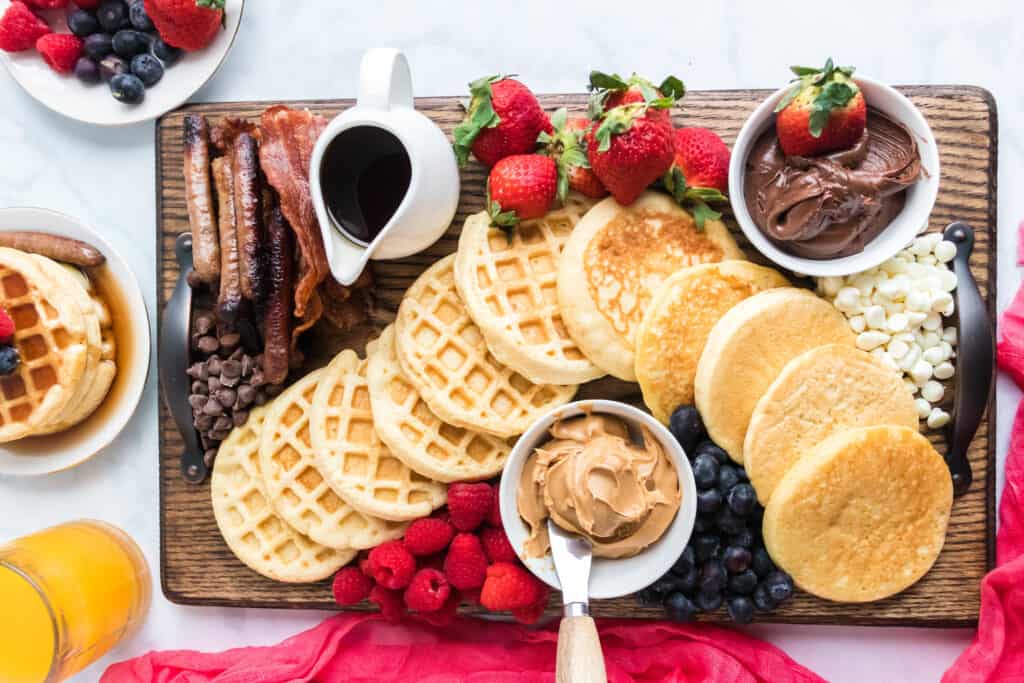 Putting together a Charcuterie Platter is easy and you can make it fancy for parties or simple for an easy dinner. We enjoy planning a family breakfast on Saturday or Sunday and spend time talking about our week, it's a perfect family activity! Adding dips and spreadable items gives everyone a chance to personalize their breakfast. The best charcuterie board includes things that everyone in the family will enjoy.
The kids love when we add Birthday Cake Funfetti Pancakes!
Why this recipe works
Your food selection can vary based on taste
Easy Prep
Can be put together pretty quickly
Everyone loves charcuterie platters
You can leave it out for grazing
You can let the kids help you put it together
Everyone will have something they will like
🍓 Ingredients
Use anything that your family likes to snack on for breakfast
Syrup
Sausage Links
Bacon
Waffles or Pancakes
Strawberries
Raspberries
Blueberries
Marshmallows
Mini white chocolate chips
Nutella
Peanut Butter
Almonds
Brie or Goat cheese
⏲️ Directions
First, put anything that is in a container on the tray such as peanut butter or syrup.
Add the larger items such as pancakes, waffles, etc.
Add your fresh fruit, meat, and anything else that your family will enjoy.
👩‍🍳 Expert Tips
Cut your fruit ahead of time so that you can just add it to the tray.
Choose foods that your family will enjoy.
Have your charcuterie tray planned out before going to the grocery store.
While many think charcuterie is just a meat and cheese board there are so many different options.
Ask your family for some charcuterie board ideas.
🥯 Recipe FAQs
🥣 Pampered Chef Pick
I have the Pampered Chef Charcuterie & Cheese Board Accessories and love them! They are awesome for picking up meats, drizzling, or spreading. I also have the Lazy Susan that can be used as a charcuterie board too. I didn't use it for this application because my hubby had made me a homemade board and I am IN LOVE with it!
When it comes to Pampered Chef, the list of things I have and the list of things I want are both long. HA! I want to share these things with you, because they are my honest opinions and I do not receive any compensation.
📚 Helpful Supplies
I wanted to share a few more things you may love! I made the waffles and pancakes using the Mini Dash and it worked beautifully!
Some of the links in this post are affiliate links. This means if you click on the link and purchase the item, I will receive an affiliate commission at no extra cost to you. All opinions remain my own.
Related articles
💖💖💖 If you tried this cheese ball recipe or any other, please leave us 5 Stars in the recipe card below. Show us some love and stay connected by joining my newsletter below. Check us out on Facebook or join my Facebook Group for fun giveaways. Also, be sure to follow me on Pinterest too!
Yield: 12
The Ultimate Breakfast Charcuterie Tray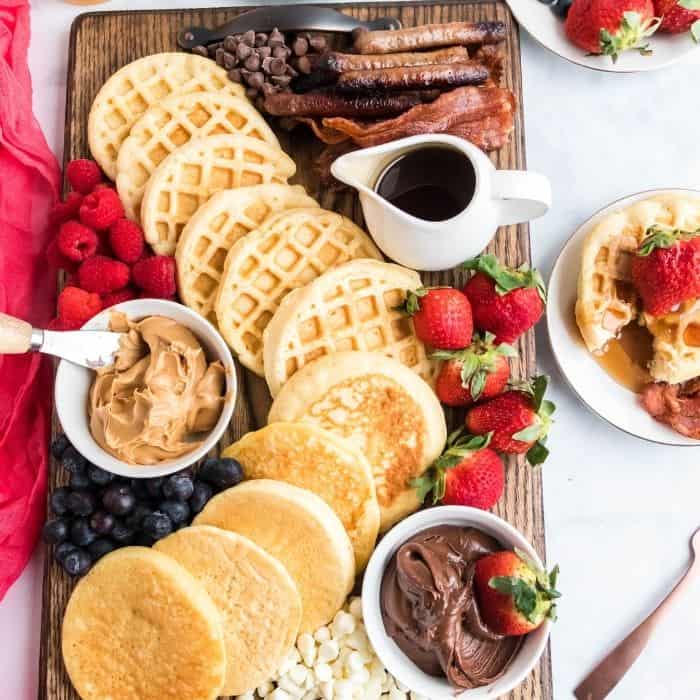 Impress your guests with this Ultimate Breakfast Charcuterie Tray! It's super easy, versatile and everyone will be happy to devour it.
Ingredients
You can use any variety of food you want. This is what I used:
Sausage links
Bacon
Waffles
Pancakes
Strawberries
Raspberries
Blueberries
White Chocolate Chips
Semi-Sweet Chocolate Chips
Syrup
Nutella
Peanut Butter
Instructions
Start by placing anything that is in a bowl or container such as syrup or peanut butter.
Then fill in with the larger items such as pancakes and waffles.
Add in the berries, chocolate, and any meat.
Notes
There is no wrong way to fill your tray. The fuller it is the better it's going to look, so don't be afraid to fill in every nook and cranny.
Recommended Products
As an Amazon Associate and member of other affiliate programs, I earn from qualifying purchases.