Enjoy a cool, crisp, and refreshing glass of Instant Pot Pineapple Blueberry Fruit Infused Water. Cool off after a workout, a long day, or take it with you anywhere you go. It's so easy to make and using your Instant Pot allows the flavors to really marry together and there is no waiting!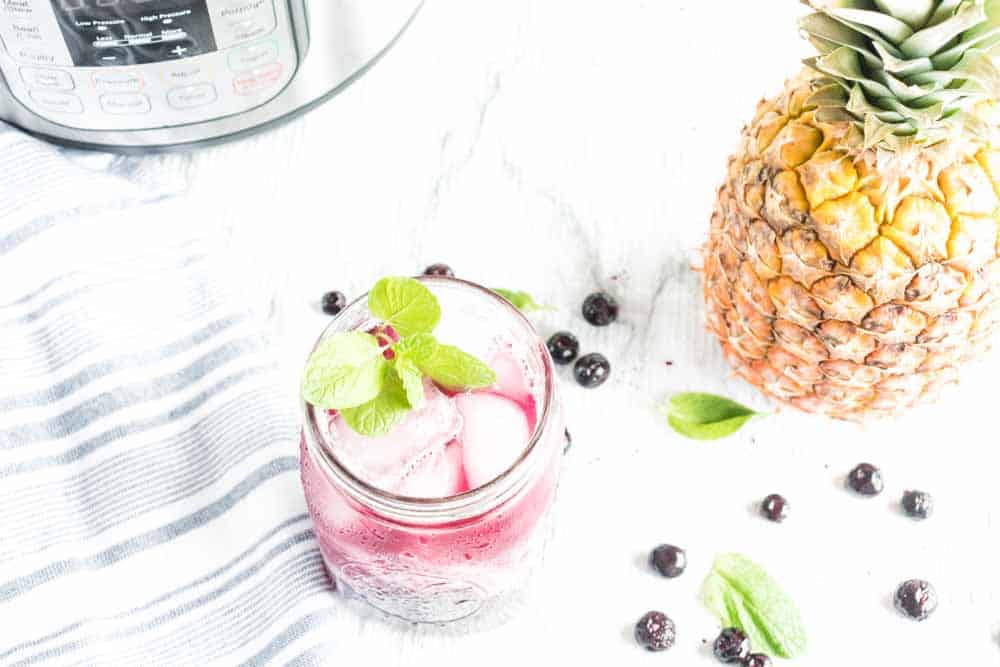 I have always been a fan of fruit in my water. It just gives you a subtle flavor that isn't too overwhelming. What I don't like is how long it takes to infuse water using the traditional method.
Using a pressure cooker means that you only need a few ingredients and 5 minutes, plus the time it takes to come to pressure. It took our Instant Pot around 7 minutes to come to pressure then 5 minutes to cook.
How To Make Infused Water
Normally when you make a batch of flavored water, you have to put the fruit in a container with water for 12- 24 hours. Call me impatient, but who has time to wait that long? Okay, maybe I have time, but I would much rather be sipping on my pineapple infused water right way.
To get started you just need to add 2 cups of fruit into a mesh strainer in your Instant Pot. I used 1 cup of blueberries and 1 cup of pineapple, but you can adjust it however you like. Then add 4 or 5 cups of water to the pressure cooker.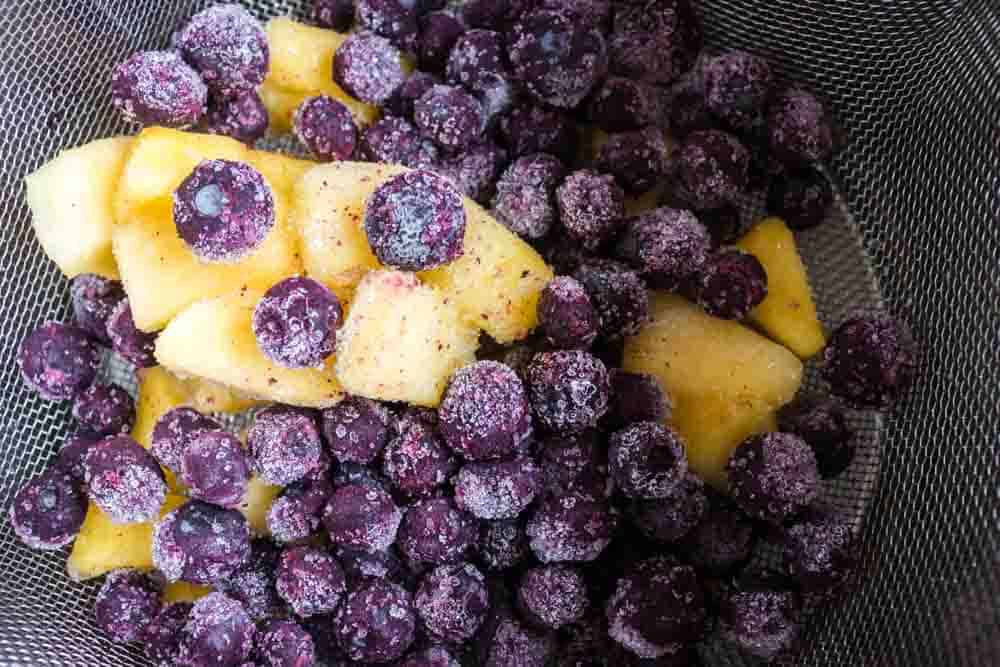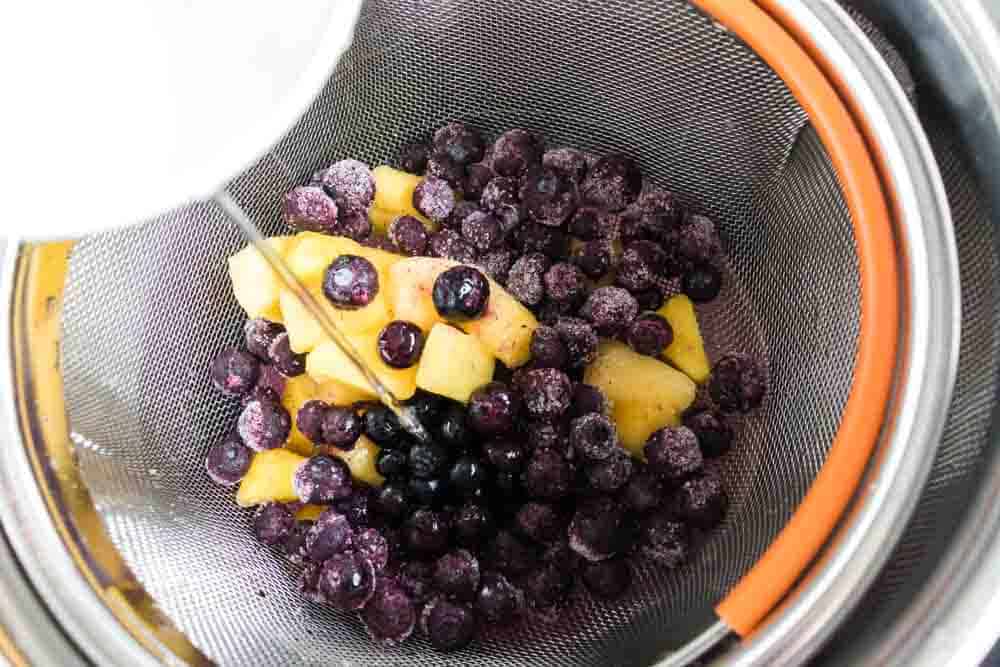 Place the lid on the Instant Pot and make sure it's set to seal. Then turn it on manual, high-pressure, and 5 minutes.
After the pressure cooker is finished, do a quick release. You can refrigerate it or pour it over a glass of ice and enjoy right away. The ice will melt rather quickly, so make sure to use a lot.
Garnish with pineapple and mint or basil. It adds some lovely color and flavor too.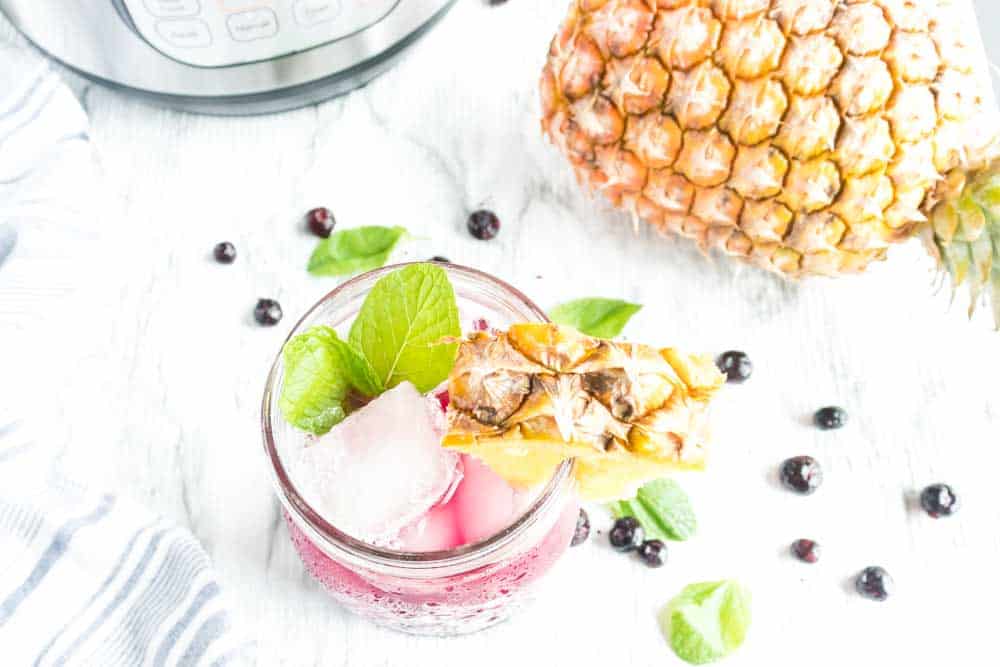 Do You Use Fresh Or Frozen Fruit?
I had some frozen pineapple and blueberries in the freezer, so I opted to use it up. You can use frozen fruit and have fantastic results. If you happen to have fresh fruit on hand you can easily use fresh instead.
Some people also use freeze-dried fruit too. I haven't tried it myself, but I hear it works well.
Is The Flavor Of the Infused Water Strong?
Yes, the flavor is pretty strong. You can simply water it down if you want or drink it at full strength. Whichever way you like it will work perfectly. Just keep in mind that it's supposed to be stronger than the other method.
Infused Water Benefits
You guys, there are TONS of benefits of drinking homemade fruit water. First, I want stress that when you use your INstant Pot to make the water that the fruit retains it's nutrients. This is AMAZING and means that you will be getting lots of nutrients from the fruit.
Pineapple and blueberries are loaded with potassium, vitamin C, folate, fiber, magnesium, ribflavin and more.
When you drink enough water, your skin will be soft and you'll look younger and refreshed. Water helps you stay full longer and is great for your muscles too.
Combined with a well balanced diet, drinking enough water is also helpful in weightloss too.
Honestly, the benefits are endless when it comes to drinking water. But when you add fruit to it it's even better. So drink up
Do I Need To Have A Mesh Strainer?
No, if you don't have a mesh strainer that will work in your Instant Pot, that's no big deal. I happen to have one, so it works well. You can always strain the fruit with a strainer after you are done making the water. It's completely up to you.
Supplies To Make Instant Pot Water
There are a few things you are either going to want or need to make this blueberry infused water. Here are my favorites to give you an idea.
Some of the links in this post are affiliate links. This means if you click on the link and purchase the item, I will receive an affiliate commission at no extra cost to you. All opinions remain my own.
More Easy Recipes
This really is the best flavored water and I can't wait for you to try it. While you are at it check out even more amazing recipes that you are sure to love.
Yield: 5
Instant Pot Pineapple Blueberry Fruit Infused Water Recipe
Making Fruit Infused Water in your Instant Pot has never been easier! The combination of pineapple and blueberry is incredible and refreshing.
Ingredients
1 cup blueberries (frozen or fresh)
1 cup pineapple (frozen or fresh)
4 - 5 cups water
Sprig of fresh mint
Instructions
Fill a mesh insert with fruit in Instant Pot.
Pour water on top of the fruit for the infused water.
Add the Instant Pot lid and make sure it's sealed.
Turn to manual for 5 minutes, high pressure so the fruit infused water can cook.
After the fruit water has finished, do a quick release and remove the lid. Pour over ice or refrigerate until ready to serve.
Add some mint leaves and a piece of pineapple as a garnish.
Nutrition Information:
Yield:
5
Serving Size:
1
Amount Per Serving:
Calories:

34
Total Fat:

0g
Saturated Fat:

0g
Trans Fat:

0g
Unsaturated Fat:

0g
Cholesterol:

0mg
Sodium:

39mg
Carbohydrates:

9g
Fiber:

1g
Sugar:

6g
Protein:

0g