I'm obsessed with the vintage style of decorating trees. I am so excited to show you how to make vintage Christmas ornaments! You'll be so thrilled to find out how easy they are to make. Plus, they look positively stunning on your tree.
When I was growing up, I remember having homemade Christmas ornaments. They were never as beautiful as these Christmas tree ornaments though. 🙂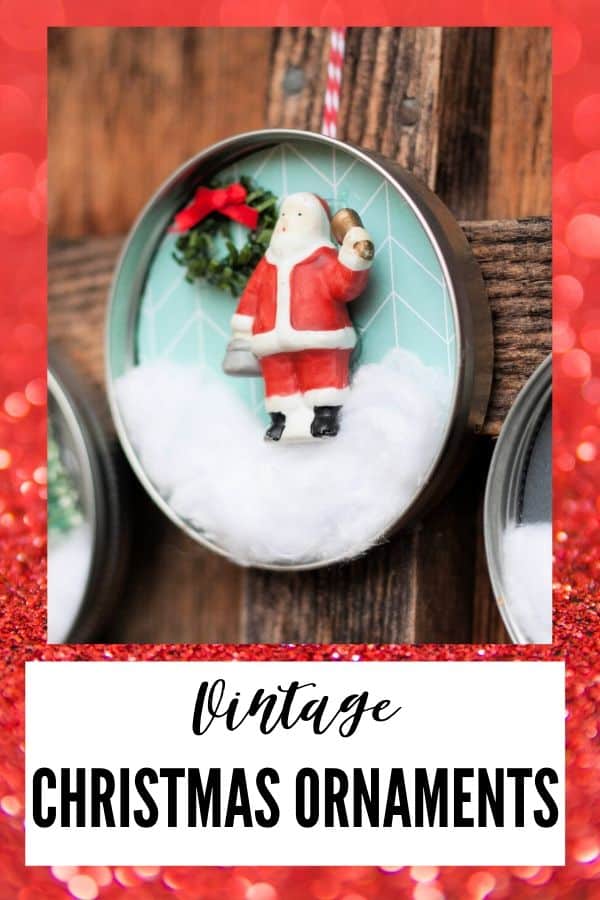 More DIY Projects
If you love working on projects, check out some of these other DIY projects for inspiration.
DIY Christmas Ornaments
When you make these charming custom Christmas ornaments you can naturally decorate your tree with them. However, you can also give them away as gifts too. Here are a few people who would love to receive these unique Christmas ornaments:
Teachers – If you give gifts to teachers, they will appreciate how adorable these vintage Christmas ornaments are.
Neighbors – I often give treats to neighbors for the holidays and think it would be nice to add a homemade Christmas ornament too.
Co-Workers – Surprise all your co-workers with a set of rustic DIY ornaments.
Boss – If your boss is difficult to buy for, consider giving an ornament instead.
Some of the links in this post are affiliate links. This means if you click on the link and purchase the item, I will receive an affiliate commission at no extra cost to you. All opinions remain my own.
How To Make Vintage Christmas Ornaments
There isn't any long drawn out project here, it's simple and doesn't take much time at all. Time to get those crafting supplies in order and start creating!
Supplies Needed:
Directions
1. Take a piece of scrapbook paper and lay the inner portion of the lid down and trace. This will be your background and each one can be completely different. Choose complementary colors.
2. Carefully cut your circles with the scrapbook paper. You'll need to adhere to the tape it to the inside portion of a mason jar lid. The tape goes on the same side as the rubber on the lid.
3. Apply an even line of hot glue to the inner rim of the outside pice of the mason jar lid, and place the inner portion of the lid on the glued area. The paper should be facing out so it's visible.
4. Using a cotton ball, pull it apart so it resembles snow.
5. Place the characters and trees on the snow to see how you wan them to sit. Don't glue them until you are happy with where they are.
6. Glue your miniature pieces on the lids and allow at least 2 minutes of drying time.
7. Cut some string and form a loose knot at one end. You'll only need about an 8-inch piece of string.
8. After you have a knot, you'll need to glue the string to the ornament. This is what you will use to hang it up with so make sure you add plenty of glue.
Host A Craft Party
If you've never hosted a craft party before, you are missing out. It's an incredible time! You can easily make these DIY Christmas tree ornaments at a craft-making party.
You may be wondering what you have to do to make this happen. Well, I will tell you. 🙂 Okay, follow these steps and you will be well on your way to crafting the night away.
Make a list of potential guests – You can quickly make a Facebook group and invite guests that way. Invite friends that you want to spend the evening or afternoon. Even kids could make them too!
Collect funds to order supplies. You don't want to have to pay for everyone to make these easy DIY Christmas ornaments. So, it's best to collect money upfront. Plus, only people who are serious about coming will pay.
Make sure you have everything you need. Don't go in with the mistake of forgetting something. It's embarrassing for you and guests may get frustrated. So, print off the list and triple check to make sure you are prepared.
Set up tables and chairs. You will want to make sure you choose a location with good lighting and plenty of space.
Plan some easy snacks and drinks. You don't have to go overboard, just some simple snacks like these pecan cheeseball bites.
How Many Ornaments Go On A Christmas Tree?
Depending on the size of your tree will make a difference in how many ornaments you need. Think of it like this: if you have a 5-foot tree, you are going to need 50 ornaments. If you have a 9-foot tree, then 90 ornaments.
You can always add more than 10 per foot of tree height if you want. It's your tree decorating project, so make it fit your needs. Many people choose to just put a few on and call it good. I like to keep it somewhere in the middle of tons and just right.
Some of the links in this post are affiliate links. This means if you click on the link and purchase the item, I will receive an affiliate commission at no extra cost to you. All opinions remain my own.
More Vintage Ornaments
If you love the vintage Christmas ornaments as I do, then you have to see these! They are all gorgeous and will be a perfect complement!
New Christmas Tree Options
If you are on the hunt for a new tree this year, you should see these. I am one of those people that has several styles of trees because you never know what I am feeling year to year! Ha!
I hope you enjoy making crafts as much as I do. These ornaments are so easy and make a huge impact on your decorating style. Once you get your tree decorated, please tag me in a post! I would love to see your results.