We have found the best Rae Dunn Home Goods that you can't live without! All of the items are either Rae Dunn or inspired by Rae Dunn and they are simply gorgeous. The simple, but elegant lines are perfect for decorating your home and office.
Rae Dunn Home Goods You Can't Live Without
If you haven't been introduced to all things Rae Dunn related, you are in for a special treat. The clean look is both stylish and perfect for farmhouse decor. I think you are going to love Rae Dunn as much as I do! Let's get started so you can fall in love!
Some of the links in this post are affiliate links. This means if you click on the link and purchase the item, I will receive an affiliate commission at no extra cost to you. All opinions remain my own.

Rae Dunn Rotating Decorative Organizer
How pretty is this! It's the perfect place to put all that extra stuff that doesn't have its own drawer!
Rae Dunn Decorative Laundry Room Plaque
This would make a lovely decor for the laundry room! I love how simple yet beautiful it is!
Hand and Dish Soap Dispenser Set Inspired By Rae Dunn
The best way to clean up your sink and still know what kind of soap you are grabbing!
Rae Dunn 3 Tier Wheeled Organizer
Perfect for any room or area! You can use it as a side table, shelf, or anything else you might need it for!
Rae Dunn Bracelet Holder
An excellent place to put all of your beautiful jewelry! Plus, it looks terrific on your dresser or nightstand.
Rae Dunn Letter Holder
This is perfect because nobody likes that giant pile of bills and other mail that you are obligated to keep.
Toothbrush Holder Inspired By Rae Dunn
Add some fun style to your bathroom with this adorable toothbrush holder. It also makes a lovely gift idea too.
Rae Dunn Easter Canister Treat Jar
The best place for all your extra candy, cookies, or other Easter treats.
Rae Dunn Berry Fruit Basket
Perfect place to put your freshly washed fruit in the fridge or on the countertop.
Block Calendar Inspired By Rae Dunn
What a beautiful way to remember the day!
Rae Dunn Hand Towels
How cute! I just love this adorable kitchen towel!
Tea Bag Caddy Inspired By Rae Dunn
What a fun way to add style to tea time!
Salt and Pepper Set Inspired By Rae Dunn
The best way to confuse your friends!
Rae Dunn Notebook and Pen Set
This is excellent for those of you that enjoy writing!
Rae Dunn Sleep Mask
The best way to end your day, relaxing!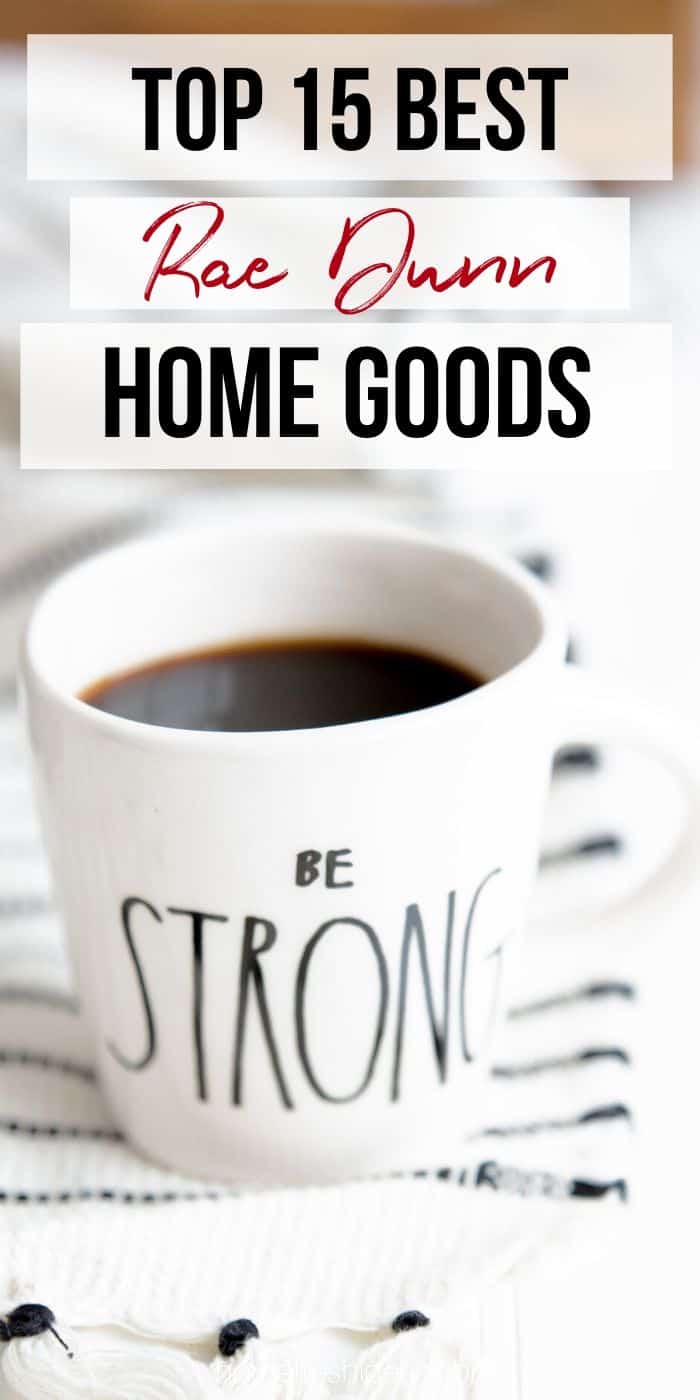 Decorating Your Home
Don't forget to check out some of these other ideas for decorating your home. Each idea is fantastic and sure to add some pizzazz to your home or office.