Blackstone Fried Rice is made with tender chicken, Jasmine rice, garlic, veggies, and has the perfect amount of soy sauce! This chicken fried rice Blackstone recipe is a family favorite!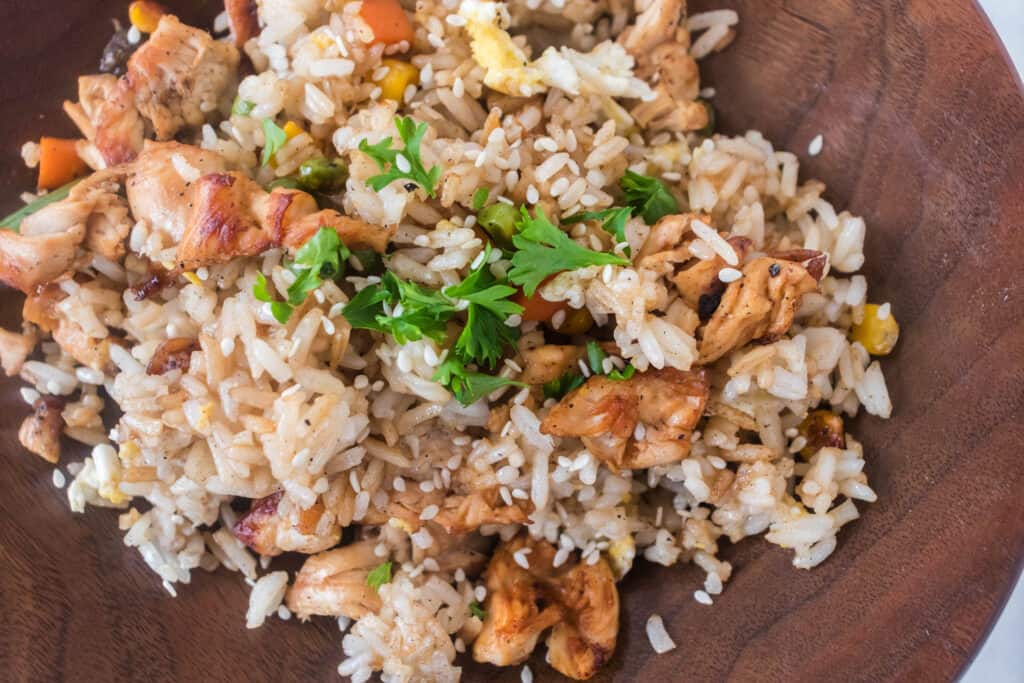 Hibachi fried rice is easy to make on the Blackstone Griddle! Whether you are a pro at Hibachi cooking or are just learning how to use a Blackstone griddle you can do it!
Another favorite dish is sure to be my Blackstone Steak Fajitas, Blackstone Chicken Fajitas, or Blackstone Shrimp Fajitas. They are all so good, it's hard to pick a favorite.
Why You Will Love This Recipe
Super simple recipe
15 minutes to cook
Great for entertaining guests
Crowd pleaser
Fun to cook on a Blackstone grill
Ingredients
Chicken Breasts
Jasmine Rice
Minced Garlic
Frozen Vegetables
Eggs
Soy Sauce
Sesame Oil
Salt
Pepper
Parsley or Green Onions
Sesame Seeds
Directions
Please see the printable recipe card below to view how to make fried rice on Blackstone.
Pro Tips
Pre-cook the rice – Before you begin the rice should be cooked and cooled down. I usually use cold rice because it fries up perfectly and doesn't get soggy. You can even use pre-packaged rice to save time.

The heat needs to be high – To get the chicken, veggies, and rice sizzling properly you must use high heat. Once each ingredient is cooked, you can move it to a cooled side of the blackstone griddle. We usually keep one side on low heat for cooked food to stay warm.

Add sauce to taste – I don't measure the sauce, and simply add as I go. You don't want the flavors to be overwhelming or boring, so taste test as you cook.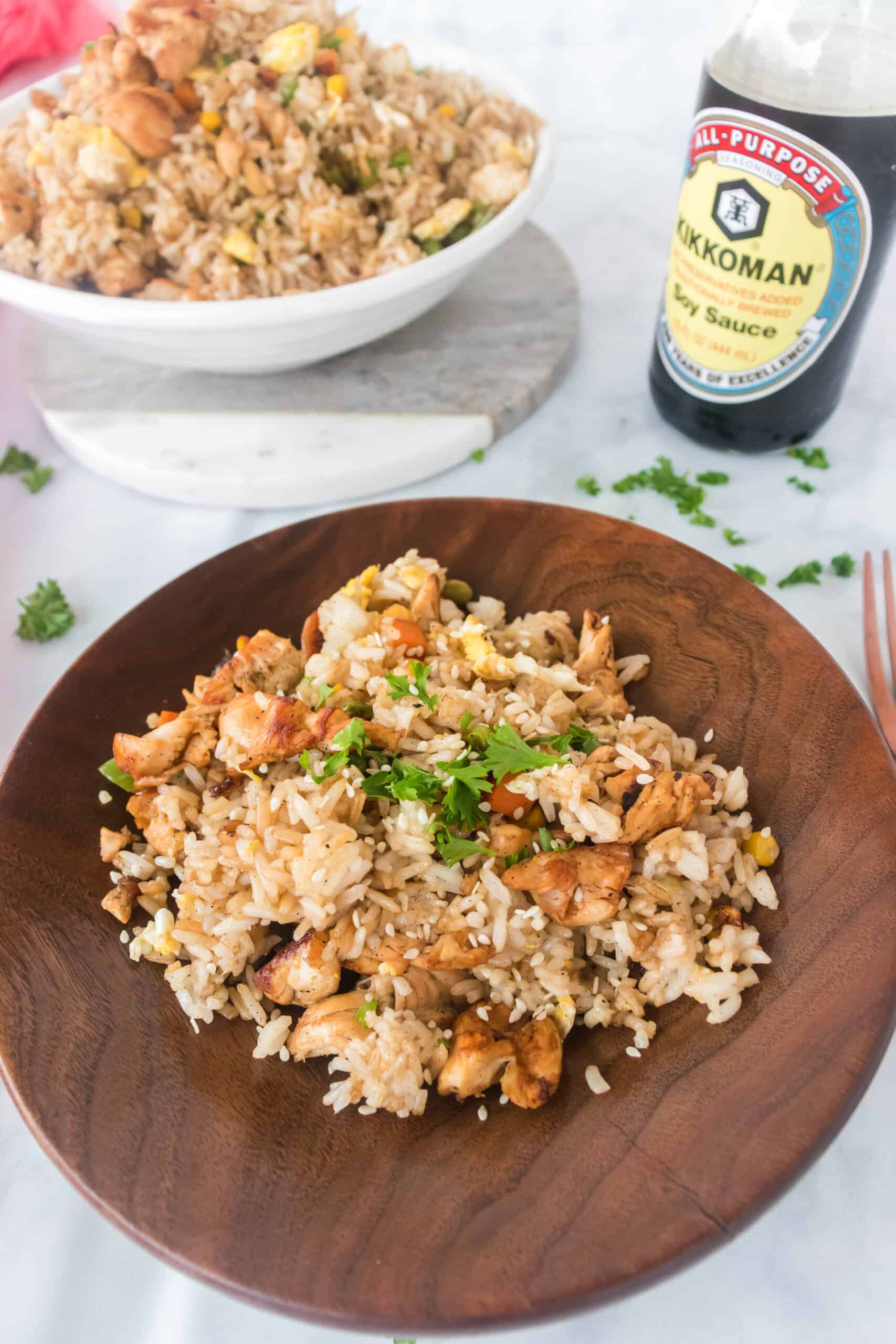 FAQs
Do you have to add chicken to fried rice?
Nope, you can omit the chicken if you want. Fried rice is delicious whether you have chicken in it or not. If you are serving it as a main dish it's a little more filling with chicken, but it's certainly not required.
How do you store fried rice?
After the Blackstone fried rice has cooled down, you can store it in a food storage container. Glass containers work well, especially for meal prepping.
Chicken fried rice will last in the refrigerator for 3-4 days. Heat in the microwave until the rice is all the way hot then serve.
You can also reheat fried rice with chicken in a skillet using a little bit of hot oil. Stir frequently until hot.
Can I cook fried rice on the stovetop?
Yes, you can cook fried rice on the stovetop. For best results, use a wok. If you don't have on hand, no problem a non-stick skillet will work also.
Begin by cooking the chicken, then set aside. Add in the veggies and cook until done. Set aside and follow up by cooking the rice. Once everything has been cooked, mix all ingredients together. Serve and enjoy!
Related Recipes
Yield: 6
Blackstone Fried Rice (Chicken)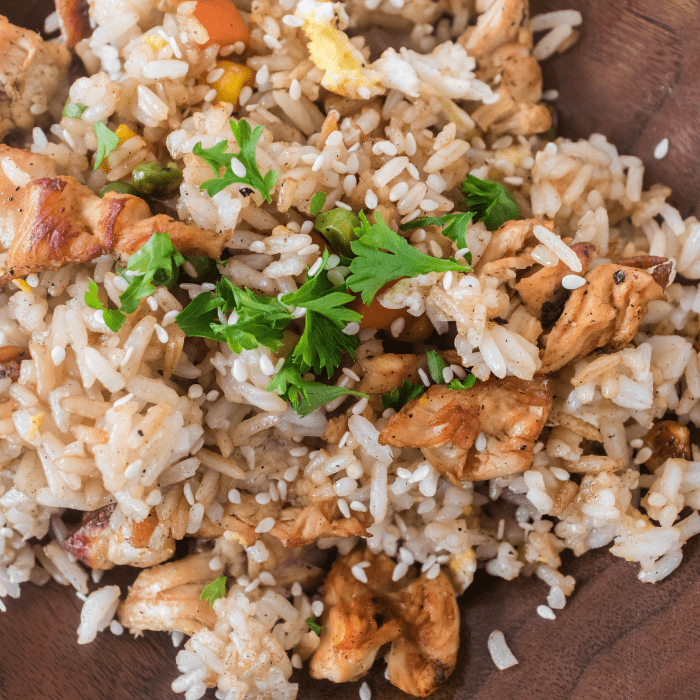 Blackstone Fried Rice is made with tender chicken, Jasmine rice, garlic, veggies, and has the perfect amount of soy sauce! This chicken fried rice Blackstone recipe is a family favorite!
Ingredients
2 - 3 chicken breasts
4-6 cups Jasmine Rice
1 tablespoon minced garlic
1 cup frozen mixed vegetables
2 eggs
soy sauce, to taste
sesame oil, to taste
salt, to taste
pepper, to taste
parsley or green onions, optional
sesame seeds, optional
Instructions
Dice the chicken and add to an oiled Blackstone griddle. Make sure it's hot before adding the chicken.
Brown the chicken and add soy sauce and sesame oil. Sprinkle with salt and pepper, turning the chicken frequently. Once done, move off to the side of the griddle to keep warm.
Add oil to griddle and add vegetables. Drizzle with soy sauce and cook until vegetables are tender. Move off to the side of grill.
Add cold rice to the hot griddle. Mix in soy sauce, garlic and some sesame oil and stir well. Once hot, move off to the side.
Crack two eggs onto greased griddle and scramble. Once done, mix all ingredients together. Add some more soy sauce, salt and pepper.
Remove from heat, serve and enjoy!
Recommended Products
As an Amazon Associate and member of other affiliate programs, I earn from qualifying purchases.
⭐⭐⭐⭐⭐ If you tried this recipe or any other, please leave us 5 Stars on the recipe card below. Check us out on Facebook or join my Facebook Group for fun giveaways. Also, be sure to follow me on Pinterest too!