These delicious Pink Sugar Cookies are so easy to make and the best part is you don't even have to chill the dough! I love no-fuss Valentine's Day Cookies, and I think you will too!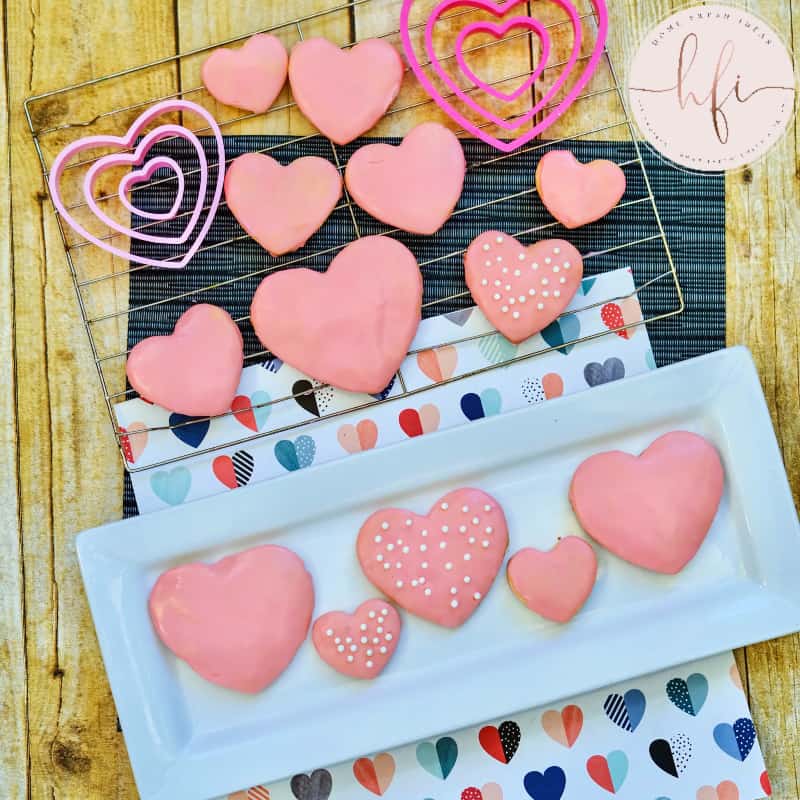 Valentine's Day Pink Sugar Cookies Recipe
These heart cookies are adorable and make fantastic gifts too! When you bite into these Valentine sugar cookies you can't help but love the flavor and tasty frosting too.
Plus, they are pink frosted cookies and would be lovely for birthday parties, spa days or any other time when you want cookies. It makes me happy that I can make Valentine's Day sugar cookies within an hour from start to finish. So making them for friends is thoughtful and doesn't take a ton of effort on your part!
Don't forget to try my 2 Ingredient Valentine's Day Baked Donuts, or Valentine's Day Cake Mix Cookie Bars.
Why You'll Love Pink Sugar Cookies
Easy
Adorable
Makes a great gift
Delicious
Family friendly
How To Make Valentine's Day Sugar Cookies
Thankfully you will be so happy that these heart sugar cookies are a quick and painless process. Oh, and they taste heavenly too!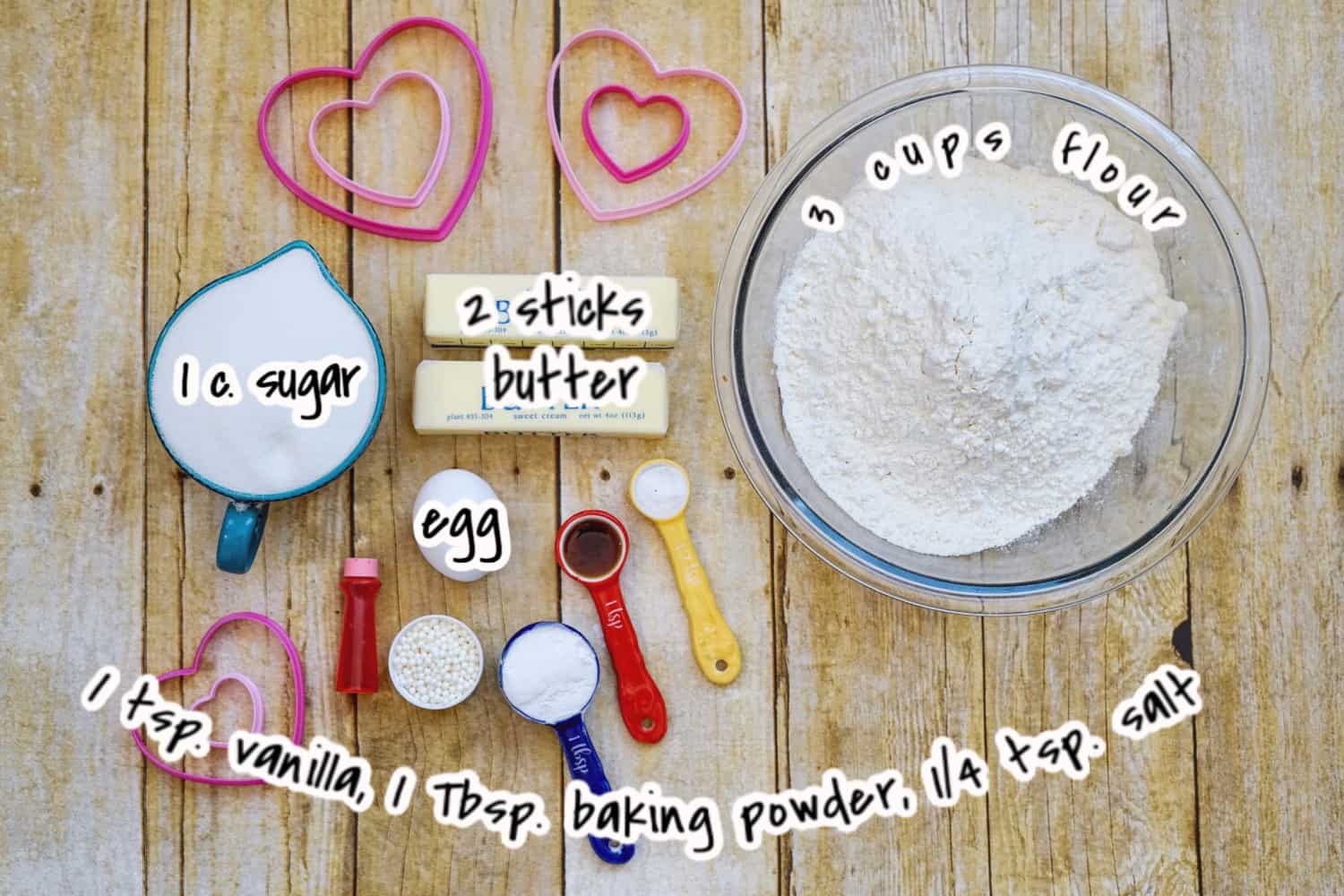 First Step: Warm the oven to 350 degrees F.
Second Step: Blend the butter and sugar together until it's a smooth and creamy texture.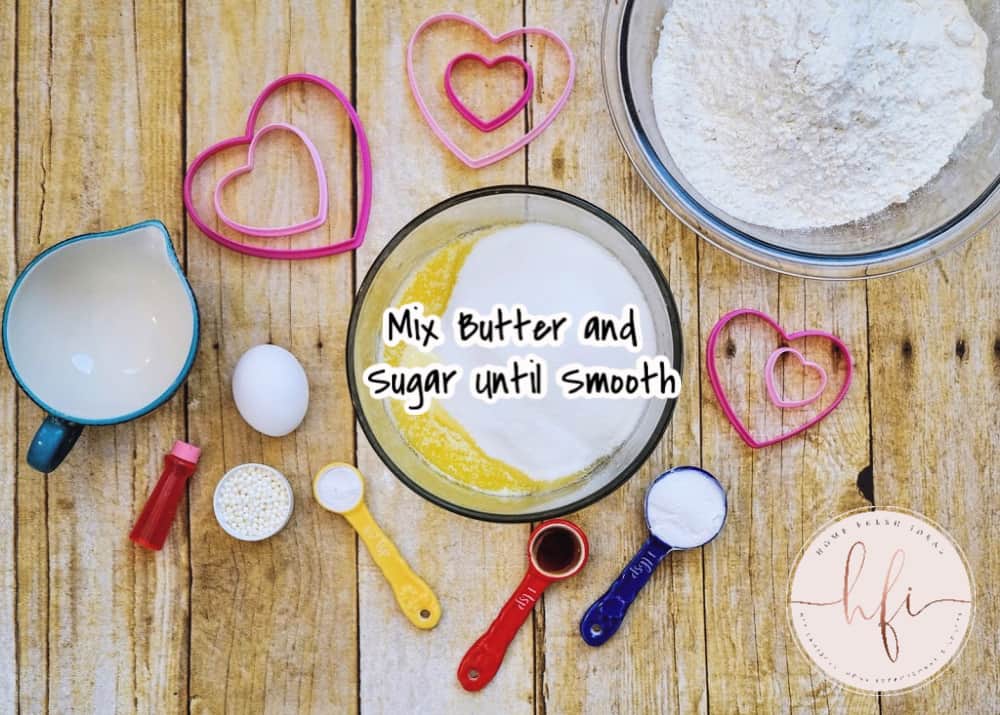 Third Step: Add in the egg and vanilla, make sure the egg is incorporated well.
Fourth Step: Whisk together the flour, baking powder, and salt in a large bowl. Slowly add the dry ingredients to the wet and blend until combined. The sugar cookie dough should be stiff and there is not a need to refrigerate it.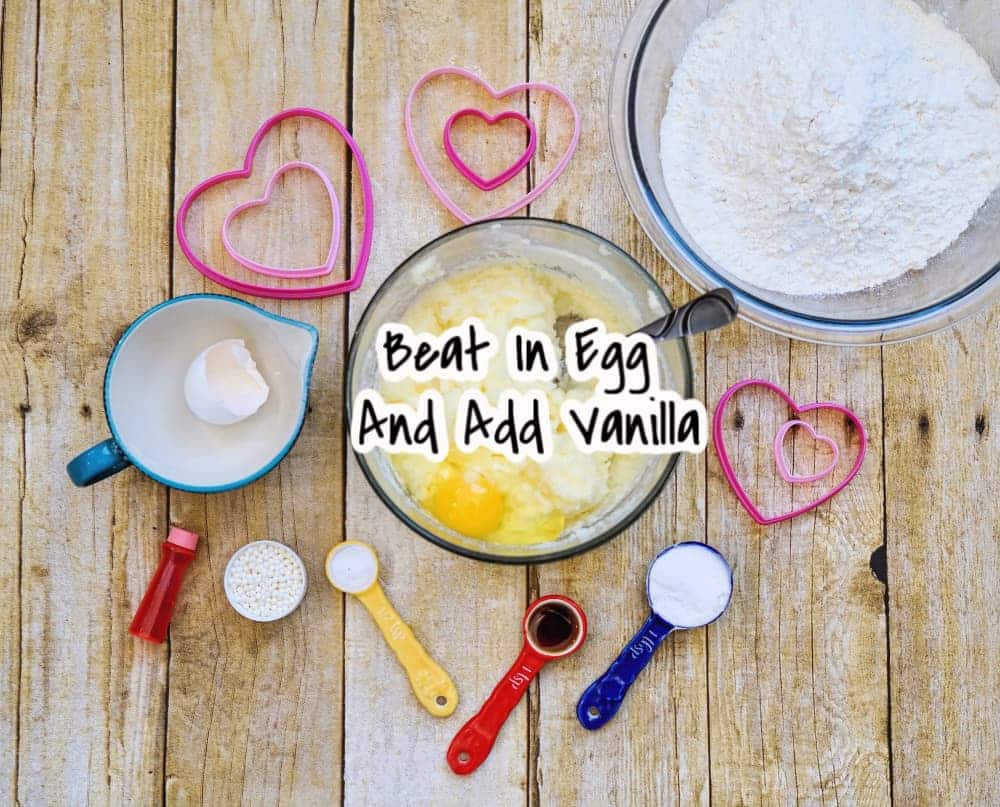 Fifth Step: Roll out the dough and I find it's less of a mess when you use parchment paper. It prevents sticking and will save your sanity.
Sixth Step: Bake the pink sugar cookies 8-10 minutes or until they are a light golden brown color. Don't overbake them or they will be hard and dried out.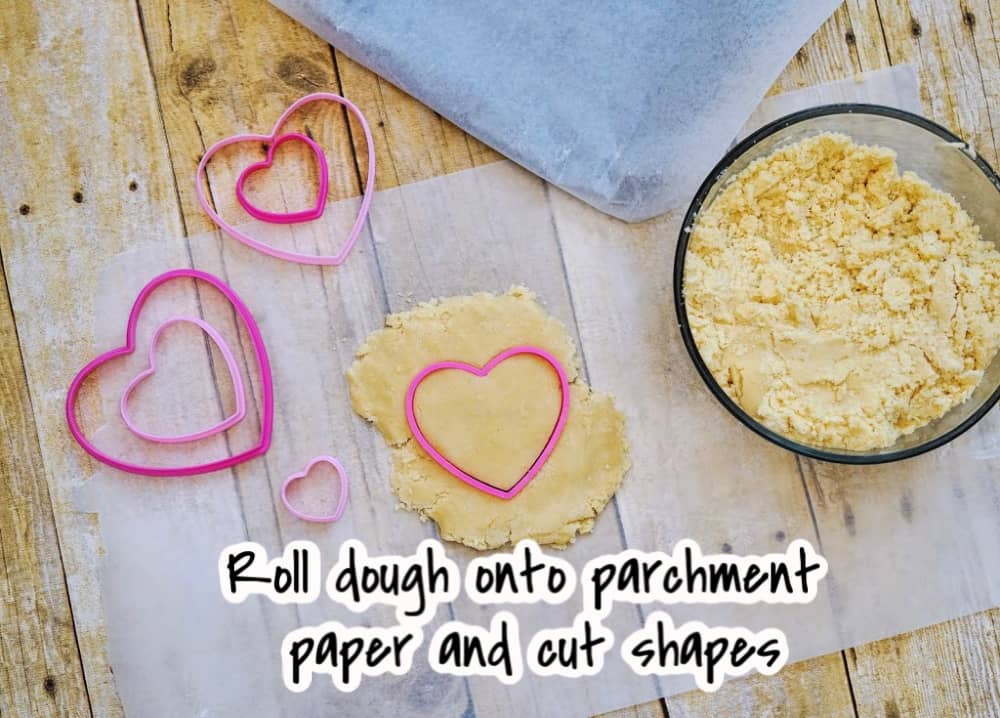 Seventh Step: Let the cookies cool on the baking sheet for 5 minutes then place them on a cooling rack so they cool completely.
Eighth Step: While the heart-shaped cookies are cooling, begin making your frosting. Mix together the powdered sugar, milk, and vanilla until smooth. Then add your favorite food coloring until it reaches your desired color. Frost the cookies, decorate and enjoy!
FAQs
Can I Make Different Shapes With This Cookie Dough?
Yes, of course, you can make different shapes with this cookie dough. It's easy and you just pick the cookie cutters you love. Here are some of my favorite cookie cutters to use:
How Do I Store Sugar Cookies
You should store these pink sugar cookies in a storage container with a lid. The Valentine's Day cookies will last 3-4 days at room temperature or you can refrigerate them for the same amount of time.
You can also freeze the pink frosted cookies for 1-2 months in an airtight freezer-safe container.
Pink Sugar Cookies Sprinkles
Oh my goodness, when it comes to sprinkles, there are TONS of options out there. You can keep them delicate with simple or dainty sprinkles, or you can add some big and wild ones. Go with your style, and they will turn out lovely! Here are some sprinkles I love to keep on hand when baking cookies.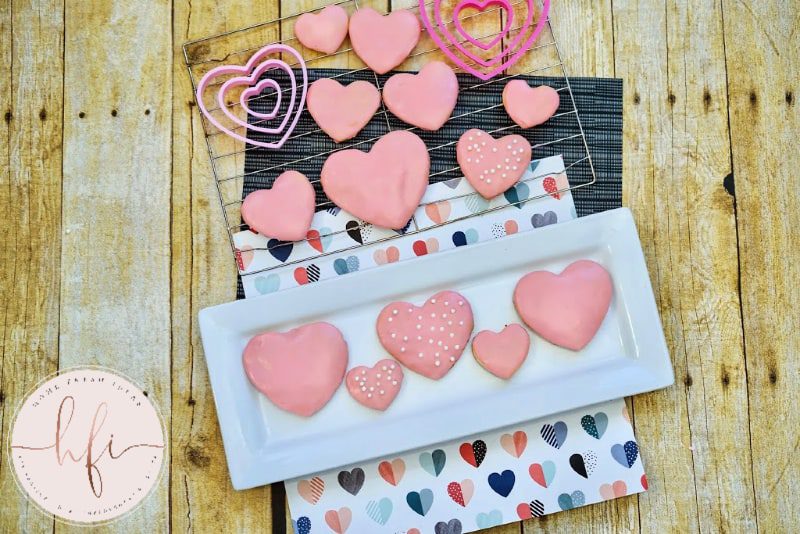 Don't forget to check out some of these awesome ideas too:
Items Needed For Making Pink Sugar Cookies
If you are a sucker for anything that goes in your kitchen, like I am I thought you may enjoy these items.
Yield: 12
Valentine's Day Pink Sugar Cookies Recipe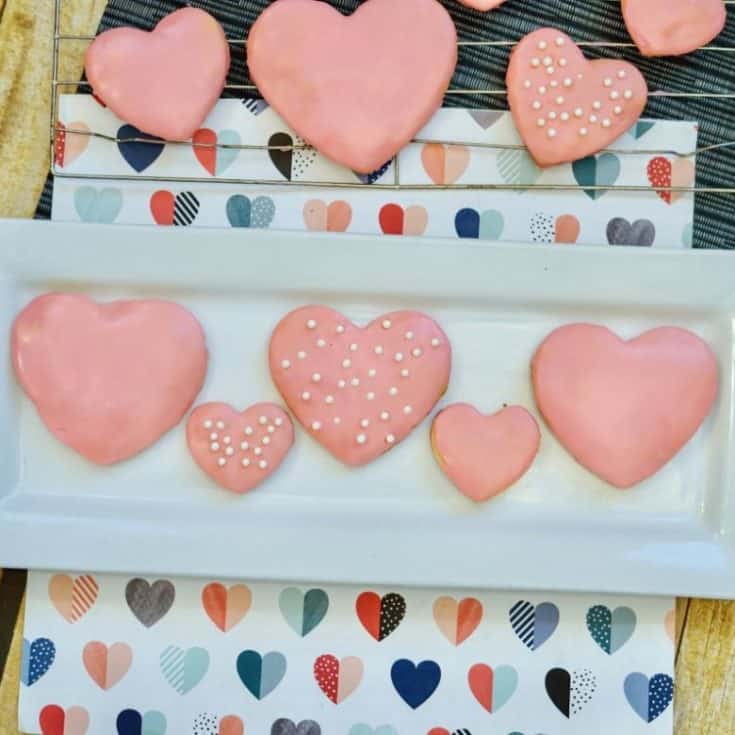 These adorable Valentine's Day Pink Sugar Cookies taste amazing and are super EASY to make! You can quickly whip up a batch with no refrigerating the dough.
Ingredients
2 Sticks of Unsalted Butter
1 Cup Sugar
1 tsp pure vanilla extract
1 Egg (room temperature)
1 Tbsp Baking Powder
1/4 tsp salt
3 cups All-Purpose Flour
Instructions
Warm the oven to 350 degrees F.
Cream the butter and sugar together until they are smooth.
Add in the egg and vanilla, mix until combined.
Using a different bowl, mix the flour, baking powder and salt together. Then slowly pour flour mixture into the egg/butter mixture and mix until incorporated.
Roll out the dough on a piece of parchment paper and cut shapes. Bake cookies for 8-10 minutes then allow them to cool on the pan for 5 minutes. Remove cookies from pan and place on cooling rack until completely.
Mix powdered sugar, milk and vanilla together. Add food coloring as desired then frost cookies. Enjoy!